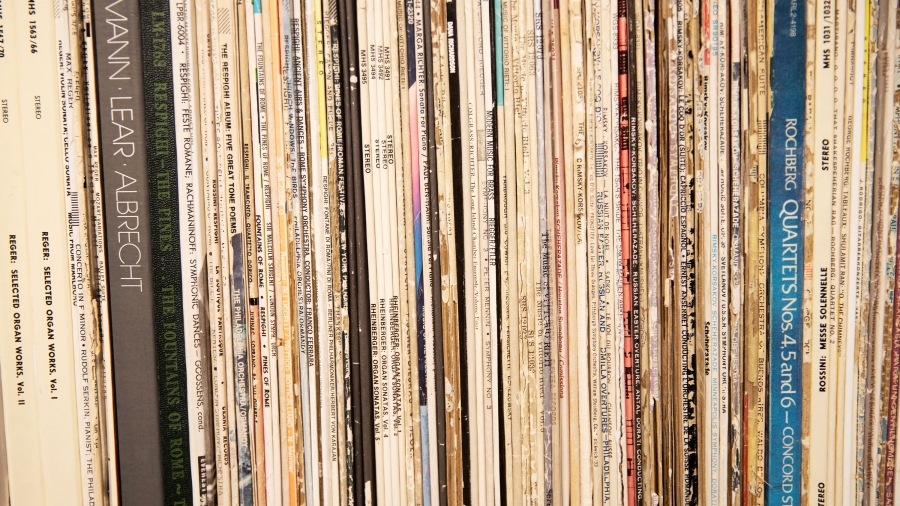 No one knows how it happened, but Samuel L. Jackson once recorded a promo spot for WKCR.
Fiddling with the controls in one of the station's studios on a recent Thursday, Zachary Vanderslice CC'25 pulls up the actor's unmistakable voice: "You're listening to the home of the Columbia Lions, WKCR FM, New York." The clip is less than 10 seconds but, as Vanderslice says afterward, "Awesome."
It's an unexpected sound bite, yet not surprising for a station with a history as storied as KCR's. Vanderslice, director of operations and a host of the morning show Daybreak Express, is clearly well versed in its lore. He, along with former director Benny Magid CC'23 and station manager Ale Díaz-Pizarro CC'25, are generously touring a visitor around WKCR's warren-like home on Lerner's second floor. A saxophone and piano, music from the show currently on air, sound in the background.
Though I am there to talk about KCR's post–Covid-19 rebound, it's hard not to brush up against the past — quite literally, as we sidestep boxes overflowing with record albums and other related paraphernalia. The students point out the so-called Dizzy Gillespie chair, where musicians and other luminaries — from Duke Ellington to Betty Friedan to Mel Brooks, and of course the famed trumpeter — have sat for conversation. The archive room, meanwhile, is jammed with live music recordings and interviews from the studio's 80-plus-year history.
For the uninitiated, KCR has been Columbia's student-run radio station since 1941. Its earliest offerings were eclectic but leaned classical; the focus changed in the 1970s, when that era's cohort embraced a new commitment to alternative programming. Since then KCR has been an important home for jazz, hip-hop and experimental music. It's also known for its 24-hour (or longer) festivals that go deep into the oeuvre of a single artist, as well as for its round-the-clock, 365-day programming — rare for a college radio station.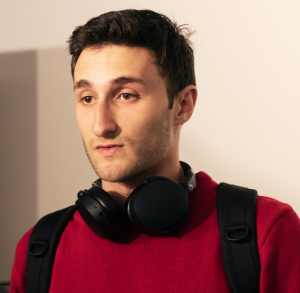 The gears of normal operation came to a halt, however, when the pandemic sent much of the campus packing in spring 2020. And though the music played on, so to speak, it was largely in the form of reruns or pre-recorded content. When students returned, Magid recalls, "We had about five people actively involved who knew what life had been like pre-Covid — that was our nexus of institutional memory. And from there we started onboarding leadership, for really the whole of the 2021­–22 school year, and recreated our board of about 15 or so students who manage the whole thing."
Today, the station is finally back to its old self, with a staff roster around 140 strong. Students have resumed live programming — hosts in the chair — nearly 24/7; negotiated contracts to again broadcast Columbia sports (they also have their eyes on covering the Mets and Yankees); and are booking bands to perform on-air. Just as important is the camaraderie. "KCR is again this place where people are meeting," Vanderslice says. "People are here doing their shows, hanging out, getting ready for other things. You're constantly meeting people who are excited about the thing that you're excited about."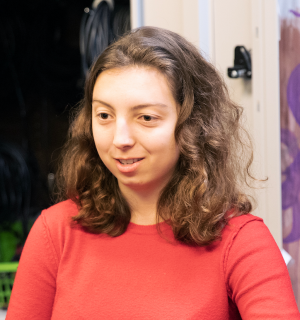 Díaz-Pizarro also points out that they've revamped the schedule, adding several new shows (more typically, new hosts take over existing ones). "We now have a couple of cross-departmental shows, like Extended Technique, which is our combination classical and new music show," she says. "We wanted to get people who liked classical to move away from the standards and try new composers, or to get people who didn't like classical — but did like video game and movie soundtracks — to try it out. [It ties back to] this paradoxical mission the station has: preserving history, but also pushing the envelope."
Outside of the DJ booth, students are working on a number of projects, including organizing the station's vast library. They're also aiming to strengthen generational connections by establishing a KCR alumni network; so far they've identified around 1,400 potential members. "When I think about what I want to do as an alum, I want a similar sense of community [that I have at the station], but with a much larger group," Magid says. "Plus there's a lot of expertise and passion there. I'd love to see that be transferred to students in any way possible."
But as much as students have done to restore operations, they still have concerns. Significantly, only two of the station's three studios are in working order, and the soundboard in the main studio is teetering on the brink of disrepair. (Earlier, the students pointed out a gaping hole in another studio's soundboard, which was cannibalized of its parts to keep the main one going.) "This is what keeps me up at night," Vanderslice says. The cost of a new board is out of easy reach for a station on a tight budget. KCR is non-commercial and must fundraise to cover its expenses.
Funding is also needed to help pay for summer housing for students who want to stay in NYC and keep KCR going between academic years. "We want to get to a point where we're fundraising to do new things we want to do, not fundraising to stay alive," Vanderslice says.
Díaz-Pizarro echoes the sentiment. "We want to get KCR to a place where it can safely dream about continuing. If the station has the resources to keep going, then it can be available for future generations of students to learn about music, to learn about broadcasting, to learn about journalism, to learn about interviewing." Even for a person who doesn't intend to go into radio, she adds, there's much valuable experience and exposure to be had. "I think that's unique. KCR is not your average radio station."
WKCR's annual fund drive starts Monday, April 10, and runs through Sunday, April 16; for more information, visit the station's website.