When news of the Covid-19 pandemic arrived at Columbia, Szabolcs (Szabi) Márka, the Walter O. LeCroy, Jr. Professor of Physics, was ready to help. Márka and his colleagues in the physics and biology departments immediately got busy donating all the protective gear they had from their laboratories, and then Márka set up a Slack workspace for the team to brainstorm new ideas — from making ventilators, to repurposing drug treatments, to creating alternative forms of personal protective equipment (PPE).
Now PPEs are being prototyped in Márka's home in Morningside Heights. His daughter Emese Márka CC'22 is the moving force in the family's creation of a mask that is functional and ergonomic, but also fashionable. "Covid might stay with us for a long time," Szabi says. "We need protective items that are not scary or repulsive to people. If we need to wear a mask, why not make it a work of art?"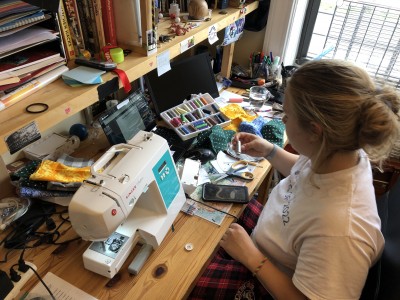 Photo courtesy of Szabolcs Márka
Emese, a biophysics major, likes to make clothes and had fabric and a sewing machine at home. She drafted eight custom-sized mask patterns for the family and then created an assembly line of sorts, with her younger brothers Zsolt (17), Árpád (15) and Gyula (12) cutting the masks out of fabric. They had some obstacles; it took the boys too long to cut the intricate patterns by hand. Luckily, because they are a family of scientists, (mom Zsuzsa is a research scientist in the Columbia Astrophysics Laboratory) the Márkas have a laser cutter at home, and the brothers were able to use it to create precise 2-D shapes. "A design that scales with the person is important, because it needs to fit," Emese says.
Father and daughter are testing the tie-on masks, washing them, seeing how they behave and how comfortable they are. "I let Emese worry about the design, and I worry about the function," Szabi says. "We're satisfying the law, but we want to protect ourselves and others so it needs some functionality." The masks are made from two layers of densely woven fabric, so very little projectile motion will go through. Emese is considering inserting wires for better fit around the nose; Szabi is considering adding changeable, laser-cut HEPA filters for extra protection.
The Márkas' goal is not mass production — "We're not highly productive people that way," Szabi laughs — but rather to create a functional prototype that people can replicate and customize. "People can take pride in making something protective for themselves," Szabi says; Emese adds, "It allows for even more self-expression that way."
In addition to being a source of personal protection, Emese and Szabi hope their masks will also protect the environment. It's an important concern for the family, who have spent their summers cleaning up polluted rivers. Szabi believes that people will take better care of a mask they can make themselves and not casually dispose of it. "We have to get used to the idea of taking care of our objects," he says. "When you put effort into making something, it becomes more valuable."
— Jill C. Shomer