Thursday, January 19, 2023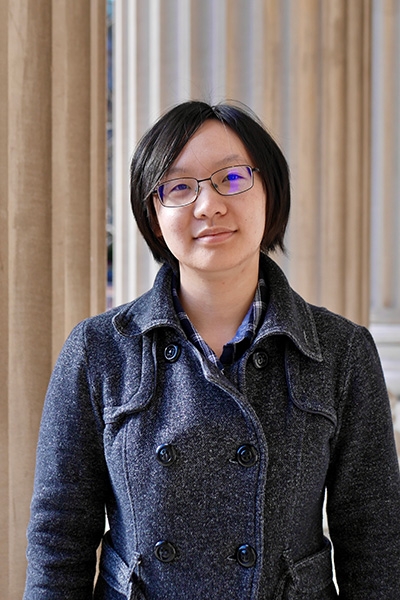 Marie Jiang CC'24 (she/her, they/them), an English major who grew up in South Dakota, performs with and is co-secretary of the Columbia University Lion Dance team. A traditional form of Chinese dance in which performers in large, colorful lion costumes create movements mimicking those of a lion, the style ushers in good luck for the community. With Lunar New Year on January 22, the CU Lion Dance team is already busy, with several weeks of shows planned to celebrate the new year.
---
What got you interested in CU Lion Dance?
I joined sophomore year, which was my first in-person year at the College. I went to the club fair and one of my friends from Lit Hum was there with Lion Dance and said, "Hey, you should join!" I didn't know anything about it at the time, but the nice thing about the club is that you don't need experience. I found myself really liking it, and have met some wonderful people. I really like the community — it has an array of people from different grades, even grad students.

Lion dance has a long history. It's called dance but it's closer to martial arts — it's like martial arts in lion heads, and you interact with the audience a lot! We perform across Manhattan, so there are a lot of opportunities to explore the city and visit places where I might not otherwise go. We perform occasionally throughout the year, but it really picks up during Lunar New Year, during which we will perform almost every day. We are already almost fully booked for three weeks around the new year! We post show updates on our Instagram (@CU_liondance) for anyone who wants to see us around town.
What has been your favorite performance with CU Lion Dance?
In my sophomore year, we did a joint show with Columbia Wushu [wushu is a style of traditional Chinese martial arts]. It was my first performance, so it holds a special place in my heart. It was very small scale compared to shows we've done since — it was just on College Walk — but I was so exhilarated to be out there with the other club members for the first time.
What's been your favorite class so far at Columbia?
I've had two! One is "Tudor-Stuart Drama," with Professor Lauren Robertson; I didn't think I would like it that much because I didn't know much about theater or know what to expect, and I ended up loving it. Professor Robertson is super passionate and great at breaking down concepts. She really knows the material and makes you appreciate it in ways that I wouldn't have otherwise. The other is "The Bildungsroman" with Professor Sharon Marcus; she is also an amazing professor. It was a big class, but she made it feel like a seminar with the way she lectures. That class is probably the only one so far for which I can say I genuinely liked every book on the syllabus.
What do you like to do outside of class and lion dance?
I like to write and draw — I prefer to write fiction.

How do you like to take advantage of living in New York City?
Growing up in South Dakota my family didn't go out to eat often, so I really enjoy all the great food and restaurants.