Friday, February 14, 2020
Multicultural Affairs, a unit of Undergraduate Student Life that serves Columbia College and Columbia Engineering students, is pleased to announce that on Tuesday, February 18, the Multicultural Affairs space in 505 Lerner will be renamed the Audre Lorde Community Space.
Inspired by Audre Lorde LS'60's life and legacy, the space will establish a home for identity-conscious community building. This marks the first time in which a space on the University's Morningside Heights campus has been named after a Black woman.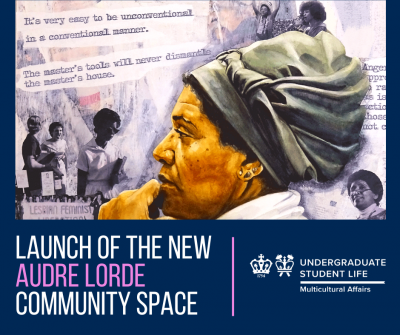 "Audre Lorde was foundational in articulating intersections of race, class and gender, and spent her life confronting and addressing injustices in these realms. Her work continues to resonate, inspire and challenge us to work as a collective towards racial and social justice," said Cristen Scully Kromm, dean of Undergraduate Student Life. "We are thrilled her family was supportive of our ask to honor her legacy by naming this community space, and hope that her legacy will inspire our students and all those who enter the new Audre Lorde Community Space."
Lorde — a graduate of Columbia's School of Library Science (which closed in 1992) — was a self-described "black, lesbian, mother, warrior, poet." Born in New York City to West Indian immigrant parents, Lorde found poetry early and had her first poem published in Seventeen magazine while a student at Hunter College High School. Throughout the 1960s she was a librarian in New York City public schools, and went on to be a professor of English at John Jay College and Hunter College as well as poet laureate of New York State (1991–92).*
According to Poetry Foundation, "her work was central to many liberation movements and activist circles, including second-wave feminism, civil rights and Black cultural movements, and struggles for GLBQT equality. In particular, Lorde's poetry is known for the power of its call for social and racial justice, as well as its depictions of queer experience and sexuality."
Multicultural Affairs, which celebrates its 15th anniversary this year, chose to name its space in Lorde's honor after sourcing inspirational figures from students. While many names were suggested, the conversations kept returning to Audre Lorde. "In all of the different iterations, it just kept coming back to Audre Lorde," said Melinda Aquino, dean of Multicultural Affairs. "So it became a clear choice from almost the get-go."
Along with the main space's name, two adjoining conference rooms will also be renamed — one as the Community Room and the other as the Liberation Room — in honor of the ways in which Lorde has inspired Columbia's community.
"What we hope is not only just to center Audre Lorde and the spirit of her work of intersectionality in what we do with students and how we work with our University partners in supporting students," said Aquino, "but that it also serves as a reminder that, in thinking about both smaller communities and the larger community, we need to have intentional spaces to think about where it has been difficult to come together — particularly around identity. The hope is that we will really be able to think both institutionally and personally: what is our obligation in order for each one of us to be able to find liberation?"

The ceremony to honor the space's naming will take place in 555 Lerner, with an introduction to Lorde's work by students from P.S. 163 as well as speeches by Lorde's daughter, Dr. Elizabeth Lorde-Rollins PS'93; by Mignon Moore CC'92, professor of sociology and chair of the department at Barnard College; and by current Columbia students. The ceremony will conclude with a plaque unveiling. Attendees will be invited to a reception in the Audre Lorde Community Space immediately after the ceremony. This ceremony will also kick off Audre Lorde Week, a series of events for College and Engineering students that honor Lorde's legacy.