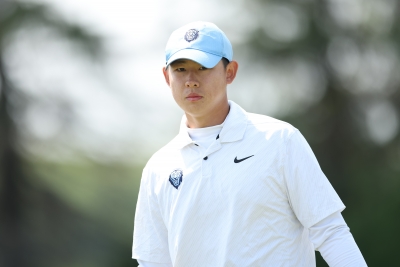 Columbia University Athletics / Matthew Mitchell Photography
Meet Nathan Han '24 (he/him), a math major from Somers, N.Y. A star on the men's golf team, Han was the 2022 Ivy League Player of the Year, holds the record for Columbia's best single-season scoring average (71.96) and was the first Lion to qualify for the NCAA Regionals golfing tournament as an individual. Here, he shares what it's like to represent Columbia on the course and how he spends his free time.
---
What does a typical day look like for you during the golf season?
It depends — the team likes to load different types of practices on different days. On Tuesday and Thursday, we usually get out of class a little earlier; we try to plan our schedules so that our last class lets out by 12:55 p.m., and we spend that extra time playing as much as we can. We play on courses in either Westchester or New Jersey, so it's a bit of a drive. On Wednesday, we either go to a course or practice on our own time, depending on our class schedules. On Friday, Saturday and Sunday, we're most likely competing, but if not, we make an effort to get to a course to play!
What is your favorite thing about being on the golf team?
My favorite individual experience was probably The Genesis Invitational Collegiate Showcase. I flew to Los Angeles, and it was really cool to get to play with Columbia alumni and to get to know them, and then compete in the tournament with them. As for best team experience, I can't pick a winner — every tournament is pretty fun with the team!
What has your favorite class been at the College, and why?
I really liked Contemporary Civilization. It was very intellectually stimulating for me, because I'm not used to those types of reading-heavy classes — I'm studying math. I enjoyed that it forced me to read a lot of interesting concepts and to learn about philosophy. And the class discussions about the readings were so cool.
What do you like to do outside of class and golf?
I'm involved in a campus ministry, SOON Movement. It's a global fellowship of Christians.
How do you like to take advantage of being in New York City?
I love exploring the city and walking everywhere! It's kind of a weird spot, but I really liked Little Island — it really is just a little island; I thought that it was nifty. I also love the Brooklyn Bridge, especially around sunset — that's one of my favorites. I like going anywhere on the outskirts of the city because you get to see the city as a whole, which is really cool.