Wednesday, September 17, 2014
For Paula Gaither CC'17, the opportunity to dig at Hadrian's Villa in Tivoli, Italy, a UNESCO World Heritage site and the most important of the Roman imperial villas, during the summer of 2014, was a transformative experience.
"Digging at Hadrian's Villa was one of the most amazingly indescribable experiences of my life," she said. "Being able to work so closely and collaboratively with upperclassmen, grad students, and professors gave me an entirely new insight into academic and career pathways. I was able to see how my studies can be implemented in context and it changed my academic coursework."
Gaither was one of 24 students, including five Columbia College students, who attended the new hands-on summer program organized by the Art and Archaeology department in collaboration with the Office of Global programs. The four-week program combined daily fieldwork with late-afternoon seminars and workshops, offering students of differing backgrounds, interests and levels of archaeological experience the chance to discuss key issues and develop advanced technical knowledge. 
Students digging at Hadrian's Villa. Photo: Courtesy Office of Global Programs
The program was co-taught by Francesco de Angelis, associate professor of classical art and archaeology, and Marco Maiuro, assistant professor of ancient history. "The idea underlying the program is that we combine different skills, different interests, different world views, if you like, and different cultures," said de Angelis. "We're using archaeology as the common ground for the study of the past."
Michael McKay CC'15 plans to use the research and guidance he gained from the program to write his senior thesis. "Prof. de Angelis and Prof. Maiuro have an encyclopedic knowledge of classical antiquity," he explained. "They are world-class scholars, and yet their dedication to their undergraduates is exceptional.... Their care and concern for their students made this campaign a surreal experience."
For some of the participants, the opportunity for such intense engagement with the course material helped inspire future academic plans.  "I would like to pursue a pathway toward archaeology," said Gaither. "And I know that without having gone on the dig, I would not have the same conviction and drive that I now do."
Along with the Hadrian's Villa program, the Office of Global Programs also launched two other study abroad programs this past summer: a Japanese film studies program at Waseda University in Tokyo and a Middle Eastern and North African studies program jointly held in Amman, Jordan, and Paris, France.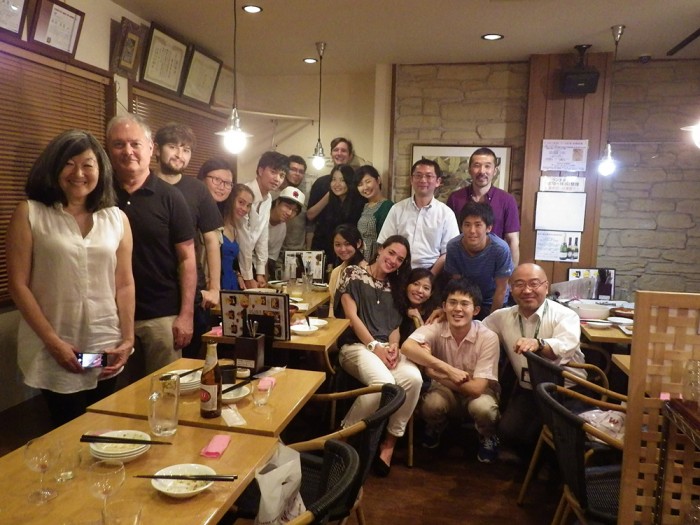 Columbia-Waseda Program participants in Tokyo. Photo: Courtesy Office of Global Programs The Columbia-Waseda program, offered in collaboration with the Department of East Asian Languages and Cultures and taught by Paul Anderer, the Fred and Fannie Mack Professor of Humanities and professor of Japanese literature, gave students an opportunity to explore the influential works of Japanese filmmaker Akira Kurosawa, while also interacting with local students and strengthening language skills. The program included site visits to locations related to Kurosawa's filmmaking and upbringing, such as the Kyobashi Film Center, the Ueno black market district and the Toho Studios.
The program, which was only offered during the summer of 2014, was developed out of a grant provided by the Andrew W. Mellon Foundation, which seeks to globalize the undergraduate liberal arts curriculum by extending the seminar-style instruction that is the hallmark of the Core Curriculum to courses taught abroad by distinguished Columbia faculty. During Summer 2015, the Department of East Asian Languages and Cultures will offer a summer program in Seoul, Korea funded by the same grant.
The Middle East and North African Studies (MENA) joint-program was the result of a collaborative effort between the Columbia Global Centers in the Middle East (Amman) and Europe (Paris) and was co-directed by Taoufik Ben-Amor, Tthe Gordon Gray Jr. Senior Lecturer in Arabic Studies; Madeleine Dobie, associate professor of French; and Emmanuelle Saada, associate professor, director of graduate studies for the Department of French and Romance Philology, and director of the Center for French and Francophone Studies.. The program offered a multifaceted introduction to the languages, history and culture of the Maghreb, emphasizing the region's relations with the Middle East and France.  The nine-week intensive program gave students the opportunity to hone their Arabic-language and Maghreb-dialect skills, while being exposed to the most recent developments in scholarship on the Middle East and North Africa.
Michael Pippenger, dean of Undergraduate Global Programs, said the three new programs created unique academic and cultural experiences for students. 
"In some cases, what they want are rich intellectual experiences that have a practical component, which was the case with the archaeology fieldwork program at Hadrian's Villa," Pippenger said. "In some cases, they are looking at an intellectual question from multiple perspectives, which requires them to be in disparate places at different times, which was the case with the Middle‐East/North Africa Summer Institute in Amman and Paris."
"And in still other cases, like the East Asian Languages and Cultures course in Tokyo," he added, "students are looking to focus more deeply on a specific topic and to immense themselves in a particular landscape, culture and community, to gain a deeper resonance of the topic in question." 
---
This story appeared in the 2013–2014 Columbia College Annual Report.