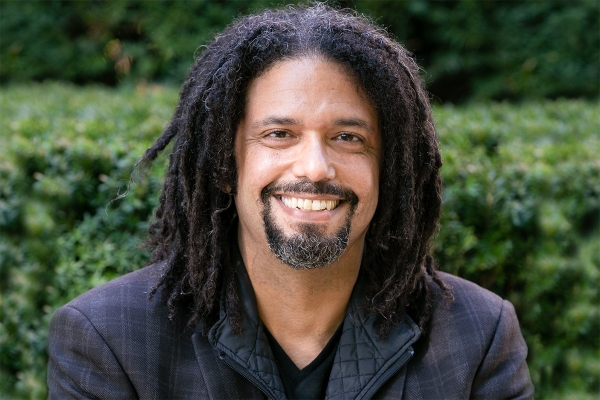 Frank Guridy, associate professor of history and African-American studies, will be the new executive director and senior scholar of The Eric H. Holder Jr. Initiative for Civil and Political Rights. Named for its co-founder, former U.S. Attorney General Eric H. Holder Jr. '73, LAW'76, the Holder Initiative sponsors courses, public events, internships and fellowships that extend the themes and questions of the Core Curriculum into a contemporary context.
"Since 2017, the Holder Initiative has been a distinctive experience for Columbia undergraduates that encourages and supports their civic action on and beyond campus," says Dean James J. Valentini, who co-founded the Initiative. "I am confident that Frank's leadership will propel our work in exciting, innovative and meaningful directions during its next phase."
Guridy starts in his new role on July 1; he replaces Bernard E. Harcourt, Isidor and Seville Sulzbacher Professor of Law, professor of political science and founding director of the Initiative for a Just Society at the Columbia Center for Contemporary Critical Thought. A Bronx native, Guridy completed his Ph.D. at the University of Michigan, Ann Arbor, in 2002; he taught at the University of Texas, Austin, for 12 years before starting at the College in 2016. He was the 2019 recipient of the Mark Van Doren Award for Teaching, which is awarded by the College annually in recognition of a faculty member's humanity, devotion to truth and inspiring leadership. He specializes in sport history, urban history and the history of American social movements, and is the author of the award-winning Forging Diaspora: Afro-Cubans and African Americans in a World of Empire and Jim Crow (University of North Carolina Press, 2010).
"I am thrilled to have the opportunity to be the next director of the Holder Initiative," Guridy says. "I am especially excited to continue fulfilling the program's mission to combine humanistic thinking with outward-facing social justice work here in New York City. I look forward to working with Columbia students and our surrounding communities to create visions for racial and environmental justice, voting and labor rights, equitable housing and public health. I believe that students at Columbia are well positioned to address the challenges faced by the city in which they live and study."
Focusing on what Holder describes as "the duties, the rights and the weighty responsibilities of American citizenship," the Initiative hosts "The American Voter Project," a discussion series that brings together leading scholars, politicians, journalists, activists, students and community members to explore key issues that influence American voting today. The Initiative also offers courses such as "Power, Rights, and Social Change: Achieving Justice," its gateway lecture, and "Incarcerated Yet Inspired," a creative writing seminar.
"Frank is an acknowledged national leader in areas critical to the Initiative's core mission," Holder says. "His study of our racial and ethnic past and his brilliant analyses of America today make him singularly suited to lead the participants in the Initiative.
"I am extremely grateful that he has decided to give of himself and to help make real for Columbia students the need for transformational involvement in community endeavors as studied in the Core. I'm glad to have my fellow native New Yorker with me as this journey continues."