Monday, September 26, 2016
Kellie Jones, associate professor and director of undergraduate studies in the Department of Art History and Archaeology, was named as a 2016 fellow of the John D. and Catherine T. MacArthur Foundation. The MacArthur "genius grant" is awarded annually and comes with a $625,000 stipend. Jones joins a distinguished group of 23 talented people in a variety of fields who received fellowships this year for creative work that demonstrates notable originality, dedication and self-direction.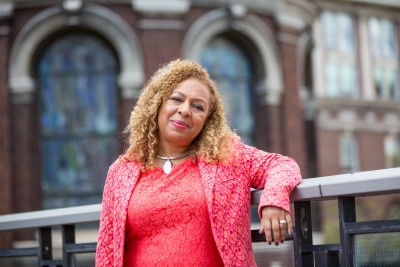 Kellie Jones. Photo: John D. & Catherine T. MacArthur Foundation "This is major recognition for the arena that I have dedicated so much time and energy to," said Jones, whose research includes African American and African diaspora artists, Latino/a and Latin American artists, and issues in contemporary art and museum theory. "The efforts I have put towards making art history and museum culture more reflective of the world we inhabit by recognizing global and gendered creators has paid off."
Jones joined Columbia in 2006 after seven years as a professor at Yale, where she received her Ph.D. She has received numerous awards for her work including a Creative Capital | Warhol Foundation Arts Writers Grant in 2013. Her writing has appeared in exhibition catalogues and journals such as Artforum, Atlantica and Third Text. Her book EyeMinded: Living and Writing Contemporary Art was named one of the top 10 art and architecture books of 2011 by Publishers Weekly.
The eldest daughter of the poets and writers Amiri Baraka and Hettie Jones, whose respective archives are in Columbia's Rare Book & Manuscript Library, Jones is also a curator with numerous exhibitions to her credit. They include the 1997 Johannesburg and 1989 São Paulo biennials and the exhibition "Now Dig This! Art and Black Los Angeles, 1960-1980," at the Hammer Museum, Los Angeles. "Now Dig This" was named one of the best exhibitions of 2011 and 2012 by Artforum, and best thematic show nationally by the International Association of Art Critics (AICA). In 2014, she was a co-curator of The Brooklyn Museum's exhibition "Witness: Art and Civil Rights in the 1960s," which celebrated the 50th anniversary of the Civil Rights Act.
"Kellie Jones is a path-breaking scholar, an influential critic, and an inspiring teacher," said Michael Cole, chair of Columbia's Department of Art History and Archeology. "From an academic post, moreover, she has become one of the most visionary curators of modern and contemporary art working anywhere in America. Few of us can aspire to follow her example, writing with the learnedness, originality and insight that made her a leader of her field while also establishing an important public voice. It's exciting to work daily with such a colleague."
The MacArthur Foundation also recognized Sarah Stillman, director of the Global Migration Program at Columbia Journalism School, and poet Claudia Rankine, a 1993 graduate of the Columbia School of the Arts whose work shows the relevance of poetry to contemporary social issues. 
A version of this story originally appeared in Columbia News.