The Academic Awards Committee of the Columbia College Student Council has announced the winners of the 2014 Mark Van Doren Award for Teaching and the 2014 Lionel Trilling Book Award. The Mark Van Doren Award for Teaching, which recognizes a faculty member's "humanity, devotion to truth and inspiring leadership," will be presented to Professor of Mathematics Robert Friedman. The Lionel Trilling Book Award, given to a member of Columbia's faculty whose book was published in the previous year, will be presented to Rashid Khalidi, the Edward Said Professor of Modern Arab Studies and Literature in the Department of History, for his book Brokers of Deceit: How the U.S has Undermined Peace in the Middle East (2013).
The honorees are selected annually by a student committee to honor faculty members for their contributions in the classroom and in print. The awards will be presented at a ceremony on Monday, May 5, from 6:00–7:30 p.m., in Faculty Room, Low Library. All are welcome to attend.
"It means a great deal to me to have been awarded this prize by the students of Columbia College," Khalidi said. "In a sense, it is the highest honor a professor at Columbia can get: to receive such appreciation for their writing from their students."
"So many of my colleagues, both in Mathematics and across Arts and Sciences, are deeply committed to teaching, so it is an incredible honor to be chosen for this award," Friedman said.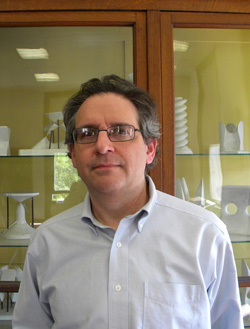 Professor Robert Friedman. PHOTO: Department of Mathematics.
Friedman has been a faculty member in the mathematics department for more than 20 years, and was department chair from 2001–2004. His research interests include algebraic geometry, low dimensional topology and mathematical physics. He earned a B.A. and an M.A. from Harvard in 1976, and a Ph.D., also from Harvard, in 1981. He was the recipient of a National Science Foundation Postdoctoral Fellowship and an Alfred P. Sloan Foundation Fellowship. Friedman has been a member of the Institute for Advanced Study and a visitor at the Mathematical Sciences Research Institute and has served on the editorial board of Communications in Analysis and Geometry and The Journal of Algebraic Geometry. He is the author of the books Smooth Four-Manifolds and Complex Surfaces (with John Morgan) and Algebraic Surfaces and Holomorphic Vector Bundles, as well as numerous research papers.
His dedication to improving the undergraduate educational experience on campus is displayed through his work as a member of the Education Policy and Planning Committee, the Committee on Instruction, the Policy and Planning Committee and the Executive Committee of the Faculty of Arts and Sciences, which he chaired in 2007–2008. The Academic Awards Committee was impressed with the clarity of Friedman's teaching, for both beginner and advanced classes, and wanted to recognize him for his lasting mentorship to students and his involvement with the greater College community.
"Professor Friedman is really invested in making sure each of his students can grasp the material he's covering," said Robert Lyman CC '15, a mathematics major and member of the Academic Awards Committee. "During review sessions, he not only answers specific students' questions thoroughly, but he sheds insight on how to solve similar problems in the future."
"He embodies the liberal arts ideals of teaching 'how to think critically,'" added Matthew Buck CC '17, a committee member who is taking Friedman's multivariable calculus class.
Professor Rashid Khalidi. PHOTO: Alex Levac.
Khalidi, who has been at Columbia since 2003, earned a B.A. from Yale in 1970, and a D.Phil. from Oxford in 1974. He also taught at Columbia from 1985-1987. He is the editor of the Journal of Palestine Studies, and was president of the Middle East Studies Association and an adviser to the Palestinian delegation to the Madrid and Washington Arab-Israeli peace negotiations from October 1991–June 1993. In addition to Brokers of Deceit, he is the author of Sowing Crisis: American Dominance and the Cold War in the Middle East (2009); The Iron Cage: The Story of the Palestinian Struggle for Statehood (2006); Resurrecting Empire: Western Footprints and America's Perilous Path in the Middle East (2004); Palestinian Identity: The Construction of Modern National Consciousness (1996); Under Siege: PLO Decision-Making During the 1982 War (1986); British Policy Towards Syria and Palestine, 1906–1914 (1980); and was co-editor of Palestine and the Gulf (1982) and The Origins of Arab Nationalism (1991), as well as many scholarly articles. 
The committee was impressed by Brokers of Deceit, which examines the power of language to shape perception of the modern world and its conflicts, specifically within the U.S.-Palestinian-Israeli relationship. 
"Brokers of Deceit was such a good book because it took an unconventional, almost Orwellian approach to an issue everyone knows so much about and combined it with multi-layered, solid historical analysis to revitalize this time-worn conflict and make a very convincing — if not definitive — point," said Luis Octavio Szafir Bochner CC '16, an economics and political science major and member of the Academic Awards Committee.
"Khalidi's book is an excellent choice for the Lionel Trilling Book Award because it is uncovers sources and discusses the power of language all in a well-written, well-organized book especially relevant in today's age," added Caroline Chen CC '17.
The Mark Van Doren Award for Teaching has been awarded each year since 1962 in recognition of a faculty member's "humanity, devotion to truth and inspiring leadership." The award was established in honor of Mark Van Doren GSAS '21, a Pulitzer Prize-winning poet as well as a novelist, playwright, critic, editor and biographer, renowned scholar and legendary teacher who inspired generations of Columbia students.
The Lionel Trilling Book Award is given to a member of Columbia's faculty whose book was published in the previous year and upholds a level of excellence commensurate with the work of Professor Lionel Trilling CC '25, GSAS '38. The award was established in 1976 in honor of Trilling, a gifted and dedicated teacher who was deeply committed to undergraduate education, as well as a public intellectual known nationally for his scholarship and literary criticism, which appealed to a wide audience.
The Academic Awards Committee of Columbia College is responsible for awarding the Van Doren and Trilling awards each year. The committee consists of 15 students, representing a cross-section of classes and majors in the College. The committee members collectively audit approximately 600 hours of classes of the Van Doren nominees, read books under consideration for the Trilling award and have lively, informed and fulfilling discussions before selecting the winners. The Trilling nominations are considered for style, accessibility, scholarship, relevance and whether the committee would recommend the book to peers. Van Doren criteria include class presentation of material, undergraduate community involvement and mentorship of students. Each May, the committee hosts an awards ceremony to honor the awardees and their work and celebrate the faculty-student relationship.
Internal Communications Chair Sarah Libowsky CC '15 said the Academic Awards Committee has been one of the most meaningful parts of her Columbia experience. "It's been an immersive part of my academic and intellectual growth," she said. "Every week, we are lucky enough to sit in on classes with brilliant professors and read their newest ground-breaking theories and findings, sometimes even before the publication date."
"The Academic Awards Committee has given me the opportunity to explore the diverse courses and recent research of Columbia's greatest professors," added Samantha Ayoub CC '14, who has been a member of the committee for four years. "I came to Columbia to experience the rich academic culture, and I will always appreciate the student-led discussion and debates we had during AAC meetings."