Wednesday, September 14, 2016
Robert M. Rosencrans CC'49, BUS'52, a cable TV pioneer and dedicated alumnus, died on August 3, 2016, in Greenwich, Conn. He was 89. Born in New York City on March 26, 1927, Rosencrans grew up in Woodmere, N.Y., with his parents, Eva and Alvin, and older brother, Herbert. In February 1945, Herbert died in WWII. Rosencrans chose to stay close to home and enrolled at the College, where he pitched for the baseball team. He also became a top amateur golfer in the New York metropolitan area and was an eight-time club champion at Birchwood Country Club.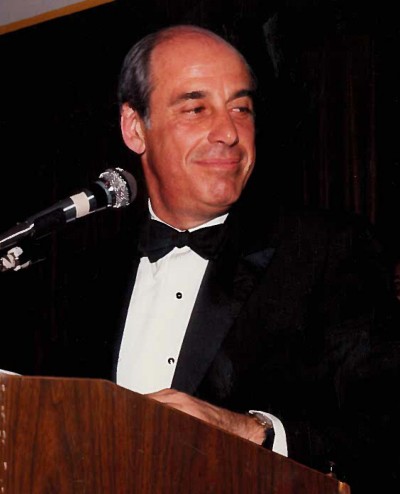 Robert Rosencrans CC'49, BUS'52 Upon graduation with a degree in economics, Rosencrans served in the Air Force. He worked briefly in retail, but then a friend referred him to Box Office Television, which was hoping to help movie theaters compete with television by offering closed-circuit programming. The referral began Rosencrans' professional career, and he helped create what is now the modern cable television industry. He started with a collection of small cable systems in the Pacific Northwest in 1961 and went on to form UA-Columbia Cable, which evolved into UA-Columbia Cablevision. He was dismissed when the company was divided in 1984, but then started Columbia International, another operator, which he sold in 1995 for an estimated $600 million.
In the late 1970s, after Brian Lamb, C-SPAN's founder and executive chair, pitched the channel's concept to cable operators, Rosencrans wrote a $25,000 check on the spot and persuaded other industry executives to pony up $450,000 in seed money. A private, nonprofit, industry-financed service, C-SPAN began as the Cable-Satellite Public Affairs Network in 1979, at a time when fewer than one in five homes was wired for cable. Rosencrans, a political liberal, invested in C-SPAN with his Columbia Cable partner, Kenneth S. Gunter, a conservative, and was its first chair.
In conjunction with Madison Square Garden, Rosencrans drove the creation of a sports channel featuring Knicks and Rangers games. When general programming was added, it evolved into the USA Network, although the MSG Network still exists separately as part of Madison Square Garden. Investing nearly $100,000, Rosencrans' Columbia Cable Systems was credited with being the first cable operator to install a satellite receiving station in 1975, to deliver the Muhammad Ali-Joe Frazier championship fight from Manila to its Florida subscribers.
Rosencrans enjoyed sharing his entrepreneurial spirit with others, investing in and advising other early ventures such as Blogging Heads TV as well as PublicAffairs, a publisher of literary fiction and topical nonfiction founded in 1997 by Peter Osnos. Rosencrans was a board member of the Dr. I Foundation and in 1999 was inducted into the Cable Television Hall of Fame by the Cable Television Museum.
In Greenwich, Rosencrans became involved in local civic organizations and was chair of the United Way's annual fundraising efforts. He also was dedicated to Columbia, serving on the Columbia College Alumni Association's Board of Directors from 1991 to 1992 and the Board of Visitors from 1993 to 1999, serving as chair from 1996 to 1999. He was a Class Agent for the Columbia College Fund from 2005 to 2009. Rosencrans was presented a John Jay Award for distinguished professional achievement in 2000.
He is survived by his wife of 59 years, Marjorie "Margie" Meyers; sons, Richard, Ron and Robert; daughter, Robbie; daughters-in-law Marjorie, Beth and Barrie; son-in-law Kurt Heidinger; and 11 grandchildren; as well as sisters-in-law and brothers-in-law Rene and Ed Bermas and Joan and Al Sherman, and their families. A memorial was held on campus on September 18. Memorial contributions may be made to the Rosencrans Core Curriculum Fund, an endowment that supports the Center for the Core Curriculum. Contact Heather Siemienas, coordinator, fund development: 212-851-7855 or hs2843@columbia.edu.
— Lisa Palladino