Wednesday, February 15, 2023
Paris at sunset, a Maasai warrior in Kenya, a Turkish meal to remember — these are some of the winning images from the Center for Undergraduate Global Engagement's 2022 photo contest. With categories that invite students to highlight the culture and customs of another country and show how they got outside of their comfort zone, the annual contest illustrates the breadth of experiences that Columbia students have studying abroad. We recently caught up with some of the CC winners to get the story behind their prize-winning pictures.
First place: "Landscapes and Cityscapes"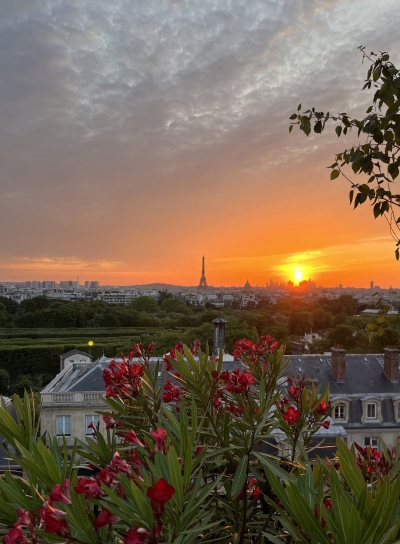 Name: Alan Chen CC'25
Major: History and philosophy

Which program did you participate in, and why?
I chose to attend the Summer in Paris program because it offered Global Core courses entirely in French. As someone who entered the College as a French and Francophone studies major, this prospect — to fulfill some of my Core requirements while doing so in French — really appealed to me.
What was the highlight of your study abroad experience?
I met so many incredible people, ate a lot of great food and got to hit quite a few landmarks of French culture. But beyond the cliché, I really cherished speaking with random members of the community. One day I paid a visit with some friends to le Marché aux Puces de Saint-Ouen — which I believe is the largest flea market in the world. While there, I walked up to a small jewelry stand tucked away in a small alcove where its vendor, an old woman, struck up a conversation with me. She asked where I was from and was surprised that an Asian American could speak French. Even though our conversation may not have lasted longer than 10 minutes, it has given me so much to think about.
Tell us about your winning photo.
I took this photo while hanging out with some friends on a Parisian balcony near Jardin du Luxembourg (the Luxembourg Gardens). I decided to take it not just because of the city's romantic skyline at sunset, but because that marked the first time I truly registered that I was in France. Despite having spent so much time in high school studying French, I had neither been to France nor a francophone country before, so this moment was especially meaningful to me.
---
First place: "Lottery"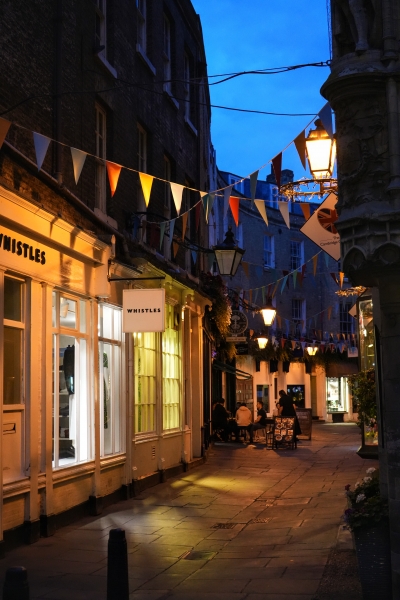 Name: Jennifer Chen CC'25
Major: Economics, with a visual arts concentration
Which program did you participate in, and why?
During summer 2022 I visited The University of Cambridge and conducted research through the Global Behavioral Science program. My focus was analyzing cognitive bias patterns to see whether socioeconomic status affects financial decision making; my peers and I collected data on more than 27 countries. The research provided valuable insight into how individuals and households make financial decisions, and I found it to be an interesting bridge between my love for both economics and culture. The pandemic also has brought financial issues to the forefront, making our research even more relevant.
What was the highlight of your study abroad experience?
Meeting people from diverse backgrounds and at different stages of their lives. While I might've been the youngest on the team, I was welcomed with open arms. It was valuable that I got to learn from and hear about varying perspectives from my peers. The social and cultural activities I participated in, such as punting [boating] and visiting Buckingham Palace, served as great bonding experiences that brought us together and created a sense of community.
Tell us about your winning photo. This category invites many different types of entries!
When I took this pic I was celebrating the culmination of our research and hard work, along with the friendships I had formed during my time at Cambridge. I was walking to a bar that features live music, and it just happened that the bar was located on Rose Crescent, a quaint lane with boutiques and restaurants that held many fond memories from my stay — grabbing a bite at the Greek kebab shop, or getting ice cream from a nearby parlor. Although I was far from home, that moment, that atmosphere, made me feel at home. I wanted to capture that feeling of fulfillment and being in peace amid the joyous laughter of my friends.
---
First place: "Out of My Comfort Zone"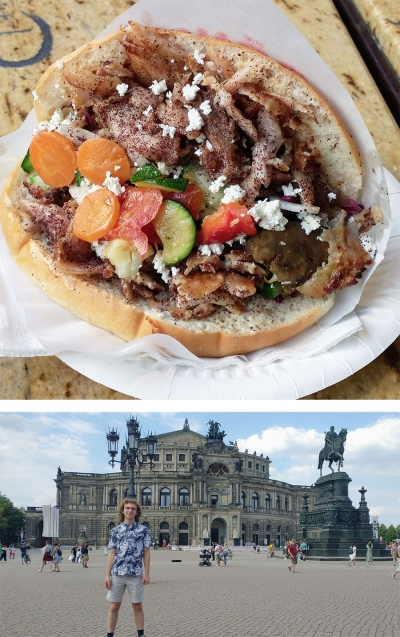 Name: Harrison Gerson CC'25
Major: Sustainable Development
Which program did you participate in, and why?
The Freie Universität Berlin International Summer German Language Scholarship Program. It interested me because the Department of Germanic Languages provided me with a scholarship and the guidance to immerse myself in my grandfather's language while in the multicultural capital city of Berlin.
What was the highlight of your study abroad experience?
Using the Deutsche Bahn, the German high-speed railway system, which allowed me to sustainably travel throughout Eastern Germany. All the local and regional transportation cost just nine euros a month. My friends and I traveled to Dresden, where I took the photo [second place in the "Lions Abroad" category] in front of the Saxon State Opera House (die Semperoper). We had such a fun time, and I am so thankful for the opportunity!
Tell us about your winning photo.
Many Berliners will tell you that the city is not exactly known for its regional cuisine but rather for its multiculturalism and diverse food options from the many immigrant populations that the country has embraced. Döner, a Turkish adaptation of a kebab, is the most popular of these and is served everywhere in large portions at a great price. I tried it for the first time at my first meal in Berlin! It was amazing!
---
First place: "Customs, Cultures and Traditions"
Name: John Nguyen CC'23
Major: Environmental Biology
Which program did you participate in, and why?
The Columbia in Kenya program during the Spring 2022 term; I was drawn to the opportunity to study tropical ecology and wildlife and to participate in fieldwork. My passion for nature and for research on biodiversity made this program particularly appealing to me. I was really excited at the prospect of trading cityscapes for rolling savanna landscapes for a few months.
What was the highlight of your study abroad experience?
The chance to gain insight into the groundbreaking research and personal experiences of Kenyan researchers. I was inspired by their dedication to finding innovative solutions to pressing issues in savanna ecology and sustainability. I had the privilege of meeting with a diverse group of researchers, including intrepid fossil hunters in the Turkana Basin who are uncovering the secrets of ecologies, conservationists who are working tirelessly to save an endangered zebra species and naturalists who are dedicated to cataloging Kenya's rich biodiversity.
Two of your photos were honored. Tell us about them!
I chose to shoot all of my photos in Kenya on film, as I believed it to be the best medium to fully capture the country's natural beauty. I captured the winning photo of the Maasai warrior at the Kuku Group Ranch in Amboseli National Park; it features David Kanai, leader of the Simba Scouts, which is a team of former Maasai warriors dedicated to protecting the lions of Kuku Group Ranch and minimizing human-wildlife conflict. As the sun set and David finished explaining their techniques for collaring and tracking lions in the field, I snapped this photo. The backlit glow highlighted his strength and determination as he firmly held a spear, making him resemble a superhero. I was inspired by the Simba Scouts' commitment to wildlife conservation and feel this photo truly embodies their courage and purpose.

My other photo [second place in the "Free for All" category] was taken at Salt Lick Safari Lodge in Tsavo West National Park. Pictured is a superb starling (Lamprotornis superbus), a bird that I learned about in our first course with Professor Dustin Rubenstein and one that I developed a deeper appreciation for with each encounter. The superb starling is a bird of striking beauty, characterized by the iridescent blue-green feathers covering its neck and tail, and a vibrant red-orange belly. As I was strolling back to my room, I spotted this one perched austerely on the post of a wooden bridge. The sun was breaking through the dark clouds after a storm, and the starling seemed to be basking in the warmth of the sun's rays, welcoming its return. I knew I had to capture this serene moment on film.
For more information about study abroad opportunities and to see all the winning pictures from the annual photo contest, visit the Center for Undergraduate Global Engagement's website.