When a pandemic was declared in the U.S. in the middle of March, Anna Beloborodova CC'21 knew she wanted to help.
Four days into a new reality brought on by the COVID-19 crisis — with online learning under way and Beloborodova sequestered in her family's NYC apartment — she asked herself what she could do. "I kept telling my parents that only a week ago, I never could have imagined something like this happening," she says. "I really didn't want to sit around and do nothing. I wanted to put my time to good use." But what was even possible given the strictures of social distancing?
Her answer: Hearts Over Hands, a volunteer organization she started to virtually match university students with families nationwide who are in need of childcare support. Assistance might be anything possible digitally, from leading art projects and reading stories with a grade schooler, to tutoring and homework help for a high school student. Although the goal is to help anyone who applies, Hearts Over Hands prioritizes finding "big sibs" for children of essential workers, single parents, and parents dealing with illness or who are otherwise particularly impacted by COVID-19.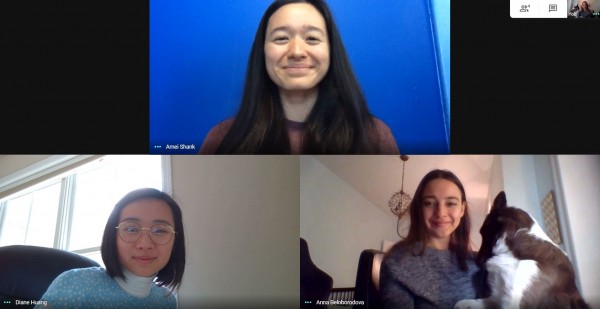 "I was thinking especially about families being left without the usual childcare services, because everything was getting shut down," Beloborodova says, "and especially how that would be really hard for parents who are essential workers, or single parents, or in otherwise difficult situations."
Shortly after Beloborodova designed and launched the Hearts Over Hands website, Diane Huang CC'21 got in touch; the two have known each other since their first year at Columbia. "When Anna posted [about Hearts Over Hands], I got really excited to volunteer," Huang says from her parents' home in Minnesota. "I also thought, 'Oh my goodness, Anna is spending all of her energy, she's the only person running this entire thing.' I really wanted to help out" in a bigger way.
Now the two are overseeing daily operations together. A lot of their effort is focused on managing the platforms where volunteers and families sign up; speaking with families to learn about their needs; and interviewing prospective volunteers (there's both an initial screening and an in-depth follow-up session).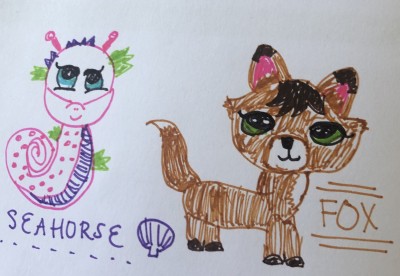 Huang estimated they already have 200 volunteers, roughly half of whom have been on-boarded and begun working with their matches. They promote themselves primarily on social media, though word of mouth is also a powerful tool (the family events website Mommy Poppins, which has networks in cities nationwide, is among those helping to spread the word). They also recently broadened their reach to include student volunteers from schools other than Columbia. Their growing network now includes Yale, the University of Pennsylvania, University of California – Davis and University of Chicago.
Though both had some background as teachers — Huang as an educator in a public zoo; Anna as a tutor — the experience of setting up and leading an organization like this has largely been new. Beloborodova is an English major and Huang is an economics-mathematics joint major, concentrating in computer science.
"I love interviewing volunteers, it's fun to see the real people behind the program we're doing," Huang says. "It's been so rewarding to hear that volunteers are excited to have the opportunity to do something."
"I'm on the same page about the rewarding part of it — hearing from parents, hearing from volunteers, seeing that it's actually making some kind of a difference," says Beloborodova. "I'm just really excited that we get to help people during this time, it feels really good that we're putting our time to good use. It's been a lot of work but feels completely worth it.
For more information and to volunteer, visit heartsoverhands.org.