Monday, November 20, 2017
Columbia College awarded University Trustee Jonathan S. Lavine CC'88 the Alexander Hamilton Medal on November 16 at a black-tie dinner held in Low Rotunda. The medal is the highest honor awarded to a member or members of the College community for distinguished service to the College and accomplishment in any field of endeavor.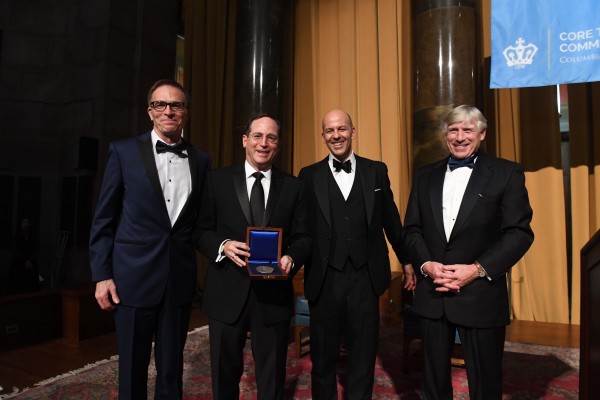 More than 400 guests joined Dean James J. Valentini, President Lee C. Bollinger and the Columbia College Alumni Association to honor Lavine, who is vice chair of the Trustees of Columbia University. "Over and over again, Jonathan has invested in our students, current, and future, and in our faculty," said Columbia College Dean James J. Valentini. "He is committed to improving situations, to helping people live healthy, satisfying lives, and especially—to enabling our students to get the most from the Columbia College Experience."
"For many years I've worked closely with Jonathan," said University President Lee C. Bollinger, "and want to emphasize that it is his deep, unrelenting inner wish to help make the world a better place."
The dinner raised an unprecedented $2.2 million, which includes a special $1.2 million-designated fund to support the Dean's initiatives for student's mental and physical wellness.
"When I was trying to describe what drives my continued commitment to Columbia, I struggled to find the exact words. The concept of 'paying it forward' came to mind. At Columbia we pay lots of things forward through the building blocks of research, creating legal precedent, knowledge and culture passed down for generations, as well as relationships we build, professorships we endow and scholarships we secure," said Lavine. "I am sure that in this room tonight, and on this campus right now, are students who will make even greater groundbreaking discoveries and rise to even greater heights. That's why we must do what we can to propel these students forward."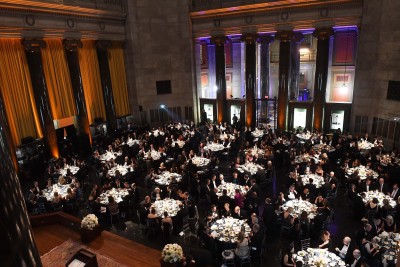 A longtime supporter of critical initiatives across the College and University, including financial aid, student life and faculty support, Lavine served on the College's Board of Visitors 2003–12 and acted as its chair from 2008–12. In 2011, he co-created the Lavine-Lenfest Matching Fund to provide ongoing support for non-tenured Core Curriculum faculty. Lavine currently co-chairs the College's Core to Commencement campaign and the University's Columbia Commitment campaign.
Lavine graduated from the College Phi Beta Kappa and magna cum laude and earned an M.B.A with Distinction from Harvard Business School. While at Columbia, he was on the Varsity Golf Team and received the David B. Truman Alumni Award for outstanding contribution to the academic affairs of the College. As an alumnus, he has received the Dean's Leadership Award for the Class of 1988's 25th reunion, a John Jay Award for distinguished professional achievement and Columbia/Barnard Hillel's Seixas Award. To read more about Lavine's off-campus background, visit the Columbia College Today website.
Present at the dinner were alumni, faculty, students and friends. Remarks in Lavine's honor were given by Michael Behringer CC'89, president of the Columbia College Alumni Association; Jonathan Schiller CC'69, LAW'73, chair of the Trustees of Columbia University; Abigail Elbaum CC'92, BUS'94, University Trustee; Victor Mendelson CC'89, chair of the Columbia College Board of Visitors; Esta Stecher LAW'82, University Trustee Emerita; Columbia College Dean James J. Valentini; and University President Lee C. Bollinger.
The Kingsmen closed the evening with beautiful renditions of "Roar, Lion, Roar" and "Sans Souci."