Tuesday, September 3, 2019
New students in the Class of 2023 arrived on campus on August 25, greeted by cheering New Student Orientation Program (NSOP) leaders who helped them move into their residence halls. Later that evening, the Class of 2023 began its Columbia journey under white tents on Low Plaza at Convocation. Following processions of student leaders and faculty, alumni marched holding banners denoting their class decades in the Alumni Procession to demonstrate to new arrivals their lifelong connection to Columbia.
Throughout the evening, which included speeches by Columbia College Dean James J. Valentini, Columbia Engineering Dean Mary C. Boyce and Columbia University President Lee C. Bollinger, student Orientation Leaders and Residential Advisers cheered emphatically.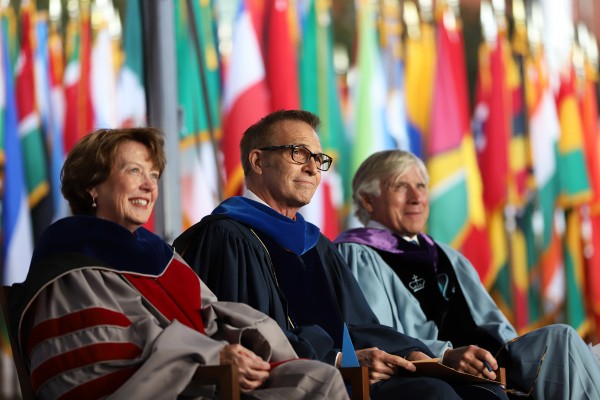 Killian Young / Columbia College
In his welcome speech, Valentini said: "Your Columbia undergraduate experience is a journey that begins with the Core but includes much more. Each choice you make — every class, extracurricular activity, internship, residential experience, research opportunity, conversation and interaction — will help you grow personally, professionally and as a citizen of the world."