By Alexis Boncy SOA'11
The Andrew F. Barth Wrestling Room in Dodge Fitness Center wears its history proudly. Banners proclaim championships; portraits of All-Americans are painted on the wall. Boldest of all is the blue-and-white sign that declares: The Nation's Oldest Wrestling Program, Established 1903.
These days, practicing in this same room, another wrestling team has served notice of its own historic intentions: the Columbia women's club program.
The team became the first of its kind in the Ivy League when it was founded in early 2020, and the women aim to lead the way again by being first of the Ivies to reach varsity status. But the club is as much about education as elite competition, a duality that's given rise to one of its most defining characteristics: an all-comers culture that embraces athletes from novice to nationally ranked.
"It's nice to have the spectrum. So much growth happens quickly with people who are new, and the experienced women become mentors in addition to fine-tuning and challenging themselves," says Coach Emma Randall, who is also head coach of the New York City Regional Training Center (NYCRTC) women's wrestling program. "It's a cycle where we all feed each other — whether it's with energy and being fans of one another, or with advice, maybe doing an extra workout together. I love the way they all lift each other up."
That lift was on display with the 15 women who turned out to practice one night in April — including in the "she just flipped her partner over her arm" sense. Maya Letona '24, a three-time All-American, frequently stepped to center to volunteer pointers and help Randall demonstrate moves. Club president Talia Fine '23, spying two teammates having trouble with a drill, jogged over to offer encouragement. There was lots of laughter, but the intensity was no joke: push-ups, sit-ups, squat jumps, knee slides (imagine dropping to one knee like you were proposing marriage, then using your other foot to push yourself across the floor — repeatedly). Later, everyone paired off to spar. "I want your head and shoulder glued to your partner!" Randall shouted.
For the uninitiated, women's wrestling has been growing in profile for close to 35 years. The first World Championships were held in 1989, and it debuted at the Summer Olympics in 2004. At the high school level, 36 states have sanctioned the sport (meaning schools have teams with a full schedule and championship opportunities) — a total of more than 33,000 wrestlers in 2022. All that interest is translating to college; as of last fall, there were 132 women's collegiate programs nationwide. The NCAA, meanwhile, is set to consider whether to elevate women's wrestling from "emerging sport" status and begin sponsoring a national championship. (NCAA teams currently compete in the National Collegiate Women's Wrestling Championship.)
At Columbia, Fine was instrumental in launching the club, taking the reins from Brianna Csontos '20. (Kyra Tirana Barry '87, a former team leader for the U.S. Women's National Wrestling Team, was also a key supporter.) A California native, Fine's passion for the sport stemmed from an experience with serious illness; afterward, she wanted to feel strong and connected to her body again. But Fine's high school didn't have a team, and she had to travel to a different school with a boys' team in order to access coaches and a gym. "There were only a couple other girls for me to wrestle with; it was really inconsistent," she said. As a College first-year, she was eager for camaraderie.
The Covid-19 pandemic made for a bumpy start, however; the ink on the team's official paperwork was barely dry, so to speak, when the University shut down, and virtual workouts weren't exactly conducive to building momentum. When campus life resumed in fall 2021, Fine and other early club members undertook a major outreach campaign. "We talked to everyone who walked by," she recalled. "Anytime someone said 'no,' we said, 'We can teach you, help you be fit, help you get strong.'
"There can be a mental block," Fine added. "People see wrestling as aggressive — you're close to another person, it can be scary. Part of growing the sport is making sure people feel confident and safe enough to try it and discover if it's right for them." Their efforts were persuasive: 75 people came to their first practice, and about 25 signed on for the year.
Today, the club has roughly that same number of members. They hit the mats for practice 20 hours a week, plus one night a week of weight lifting. For those who want it, there are opportunities to train with the men's team, as well as at the NYCRTC. The competition schedule is a mix of local tournaments and dual meets, with top-tier wrestlers traveling for national events.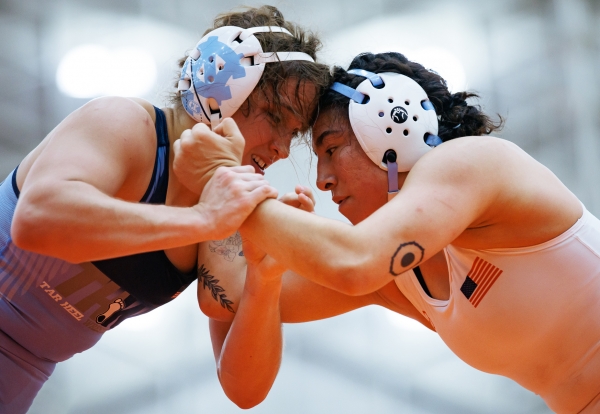 Randall, who is a former member of Team USA's national coaching staff as well as a past head girls coach and program director for Beat the Streets NYC, has been with the club since nearly the beginning. Along with Letona, other formidable wrestlers include Arian Carpio GS'28, a former representative for Team USA (she's in the midst of changing her citizenship with the goal of becoming the first Filipino female wrestler in the Olympics); and Alina Antillon BC'26, who recently fell one match short of becoming All-American at her age group trials. Among the incoming first-years are Kaylie Musard SEAS'27, a two-time state finalist from Maryland, and Kira Pipkins '27, a four-time state champion from New Jersey.
Looking ahead, it's largely up to the administration to determine whether to grant varsity status; there isn't a formal checklist of requirements, Randall says. But the club needs to continue building out a clear competition schedule as well as fundraising to endow the program "so that we can build a locker room, cover equipment needs, things like that."
"We're also focusing on creating a community on campus where our women feel welcome and loved in the room, and also have a presence — going to men's tournaments, going to the women's basketball games, being supportive. Not just [at Columbia] but also watching New York City high school girls wrestle at their events. And in turn we hope they show up at our ours."
As for Fine, moving on is bittersweet. After graduation she wants to stay involved with wrestling, perhaps by coaching or refereeing. She always knew that she wouldn't see the team become varsity, she says, but is confident it's in good hands. And she's proud to have gotten things off the ground.
"Every time I walk in the room and see girls chatting with each other, putting on their shoes, getting ready for this practice we're about to do together, I get really happy," Fine said. "Like I did something good for them and their college careers, and for their future. I really feel I found the team of women I always wanted."