Kenzo Health — a team made up of Young Joon Kim CC'20, Arjun Srivatsa CC'20 and Spencer Yen SEAS'20 — has been chosen as one of five teams to advance to the next level of The Columbia Design Challenge: Addressing the Opioid Epidemic.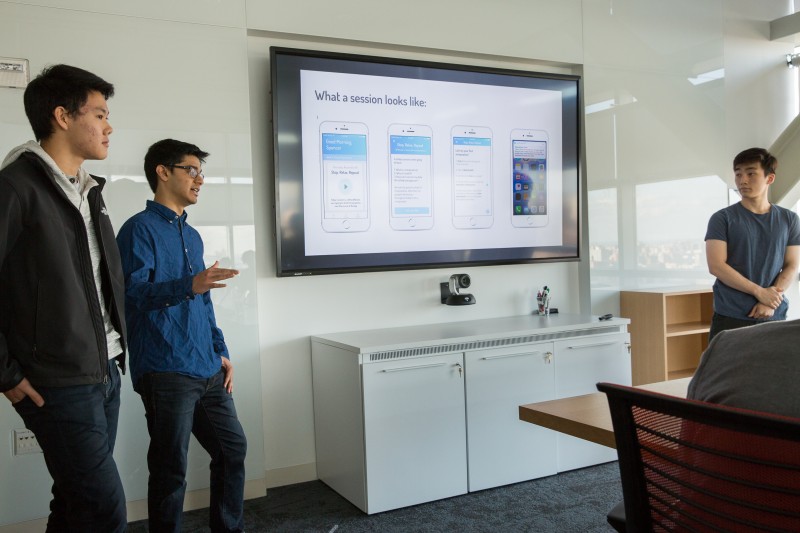 Kenzo Health is working to create a mobile app that will help guide patients through cognitive and behavioral pain management strategies as alternatives to help moderate their use of prescription painkillers.
"The speakers from the design challenge voiced the concern of opioids being prescribed for chronic pain without positive results, or excessive prescription when opioids aren't needed. Because of this, we decided to look into alternative ways of dealing with pain conditions," said Kim, who together with Srivatsa and Yen initially identified key problems from hearing the Columbia Design Challenge speakers' perspectives. They then worked to refine their evolving ideas based on research, approaching the opioid crisis from various vantage points before landing on addressing the prescription interaction between physician and patient.
Kim, Srivatsa and Yen teamed up after receiving an email about The Columbia Design Challenge, and found that their respective backgrounds in medical research, statistics and computer science worked well together.
"Each member of the team brought with them their individual expertise and this blend of diverse backgrounds and experiences was essential to the birth of our solution," Kim said. "I'm convinced that this is the special advantage that Columbia offers us, particularly its ability to bring together students who would approach the same problem from different angles."
The Columbia Design Challenge was launched by Columbia Engineering Dean Mary C. Boyce and Professor of Biomedical Engineering Elizabeth Hillman in October. Reflecting the importance of taking a multidisciplinary approach to a problem as complex as the opioid epidemic, the challenge drew more than 100 students from across nearly every school in the University, representing diverse disciplines and interests. They assembled at Davis Auditorium to meet experts from across Columbia and join forces to confront a public health crisis, convening on the very day that the White House declared opioid abuse a public health emergency.
"Winning the war on drugs used to be about stopping them at the border," said Hillman, whose participation in a National Institutes of Health focus group on the opioid crisis this summer helped inspire this year's design challenge. "But these painkillers are legally produced and distributed in America by pharmaceutical companies, and prescribed to patients by doctors."
Over the course of two intensive weeks, including sessions for refining ideas and perfecting pitches and the chance to consult with people directly affected by addiction, competitors came together to tackle the issue from various angles. These included destroying excess pills, rapidly treating overdoses and offering continuous support for people in recovery. On November 9, 15 teams made two-minute pitches before a panel of judges including Hillman and experts from throughout the University.
Along with the other four winning teams, Kenzo Health received a $2,500 grant as well as access to ongoing mentorship for further development of their work. In the coming months, the winning teams will continue to develop their ideas and prototypes and add to their teams' expertise through collaborations with faculty, experts and their fellow students. Kenzo Health's immediate goal is to work with pain specialists to design a cognitive behavioral therapy-based solution into a digital form; the team is hoping to work with faculty from the Columbia University Medical Center's Pain Management Center.
A version of this article originally appeared on the Columbia Engineering website.