Today (October 9) is the last day to register to vote in New York State. Columbia students interested in doing so can visit the Columbia University Neighbors website.
Ask Zachary Kimmel CC'21 about deadlines and he's unlikely to talk about when his next paper is due.
Photo courtesy Vera Papisova / TeenVogue
That's because Kimmel, the founder and director of outreach for ColumbiaVotes, has spent much of this term focused on deadlines of a different sort: the dates leading up to Election Day that mark the last chances for students to join the voter rolls in their respective states.
For the past few months, Kimmel and his team have been pounding the virtual pavement, spreading the word to undergraduates about the how-tos of registering and requesting absentee ballots. The group is emphatically nonpartisan. "Democracy relies on the ability of everyone who has an opinion — who wants to have their voice heard — to have the resources and the ability and the confidence to take part" in the political process, Kimmel says.
But ColumbiaVotes's work extends beyond just practicalities. "We want to make civic participation a more robust part of campus culture," he says. "To make it a staple experience to be civically and politically involved, not just during a presidential election but all the time." He envisions Lerner Hall being used as a polling site in every election, or of folding voter registration into Orientation so that it's a step "as routine as getting your key and your dining meal plan."
"'I am a Columbia voter' is the permeating idea that has driven me in this work," Kimmel continues. "There is something about being a student in this community that means you are taking a stake in the direction of the neighborhood, the city, the state, the country. Democracy is not something you do every four years; it's more of a state of being, it's a way of living in the world. You can be an American citizen, you can be an international student, and you can still be a Columbia voter. It's an integral part of our identity."
Kimmel's own commitment crystallized in summer 2018, when he did campaign work for former Georgia Democratic gubernatorial nominee Stacey Abrams. After returning to Columbia that fall, he joined several groups related to civic engagement but discovered that for all of the timely discussions that were being fostered, the "nitty-gritty work" of registering students to vote was falling through the cracks. He'd found his campus calling.
A double major in history and African-American studies, Kimmel was also instrumental in creating CU Engage, a committee of administrators, faculty and student leaders focused on civic engagement across the University. And he's part of a cross-university cohort that designed the "very friendly" Ivy League Votes Challenge this fall. "At a time when our schools are not competing athletically, we felt there was an opportunity to compete democratically," he says. "We have a nonpartisan, collective goal of 100 percent civic participation and voter representation among students."
As for ColumbiaVotes, the team has traded its traditional pamphlets and folding tables for virtual organizing, primarily by disseminating resources through the College's network of clubs and extracurricular groups. Kimmel himself has been giving Zoom presentations about voting to Columbia's athletics teams (10 and counting). "It's been fulfilling to see the extent to which my peers and the Columbia community more broadly want to make sure their voice is heard and their vote is counted," he says.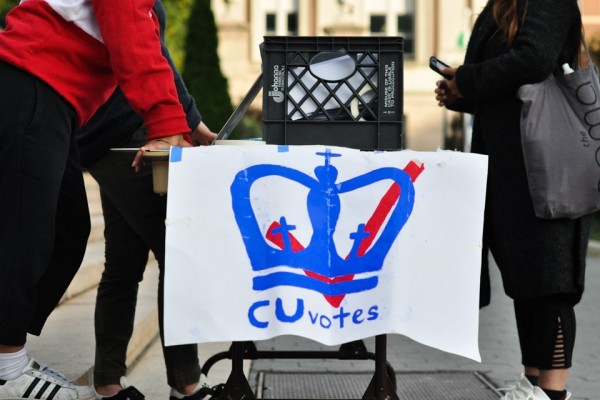 Photo courtesy Lula O'Donnell / The Columbia Daily Spectator
ColumbiaVotes draws members from the College as well as from Barnard College and Columbia Engineering; it has an executive board of 10 and recently added 26 fellows. "They're meant to be boots on the ground," he says, "working within their home communities and constituencies, as well as their campus communities, to share information about registration and civic participation."
Among the challenges, Kimmel says, is helping students overcome the "my vote won't count" mentality, especially in the context of New York State's traditionally blue leanings. But he points to down-ballot power. "If all the students at Columbia voted, that is immensely powerful in municipal elections like the ones we have in the city next fall: a mayoral election, a D.A. election. Or with congressional districts — Columbia is split between two, so the way that Columbia votes can really swing a congressional primary or election."
He emphasizes that voting is habitual. "If we can get you in the routine now of thinking about elections, keeping track of your ballot, making sure you're on track with deadlines, then you will still be checked into the political currents wherever you find yourself when you go out into the world. You will still be a Columbia voter."