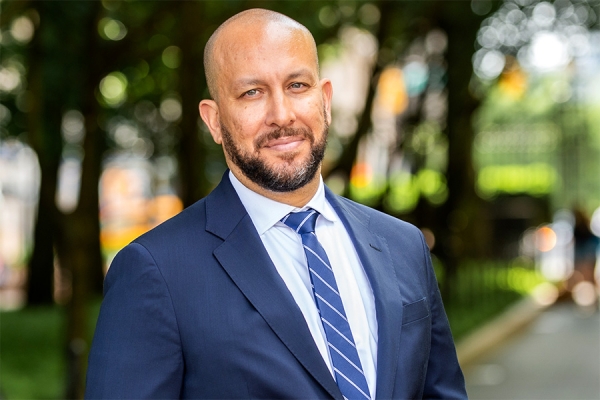 Josef Sorett serves as dean of Columbia College, the Henry L. and Lucy G. Moses Professor and Vice President for Undergraduate Education at Columbia University. As the College's chief academic and executive officer, Dean Sorett's central focus is to ensure that students have the best possible experience inside and outside the classroom. The dean stewards the College curriculum, as well as the other academic, co-curricular and programmatic services that form the foundation of the student experience at the College and across Columbia's undergraduate schools.
Prior to his current roles, Dean Sorett chaired the Department of Religion; directed the Center on African-American Religion, Sexual Politics & Social Justice; and was director of undergraduate studies in the Departments of Religion and African American and African Diaspora Studies. A recipient of Columbia's Lenfest Distinguished Faculty Award (2018) and Presidential Award for Teaching Excellence (2022), he has also sat on numerous departmental and University-wide committees, councils and boards, including the Joint Committee on Instruction, which oversees the College and General Studies, the Faculty of Arts and Sciences Policy Planning Committee, and the Inclusive Public Safety Advisory Committee.
As an interdisciplinary scholar of religion and race in the Americas, Dean Sorett employs primarily historical and literary approaches to the study of religion in Black communities and cultures in the United States, straddling the disciplines of history, literature, religion, art and music. His first book, Spirit in the Dark: A Religious History of Racial Aesthetics (Oxford, 2016), illuminates how religion has figured in debates about Black art and culture across the 20th century. His second book, an edited volume, The Sexual Politics of Black Churches, was published in 2022 by Columbia University Press. Dean Sorett's third book, Black is a Church: Christianity and the Contours of African American Life (Oxford), was published in 2023. He is currently working on a fourth, There's a God on the Mic: Hip Hop's (Surprising) Religious History.
Dean Sorett's courses, including those in the Core Curriculum, African-American Studies and gospel music, are immensely popular. In his classrooms, students grapple with profound questions about culture, identity and race. They are challenged to think freely and critically about the people and ideas that have shaped our world.
Prior to joining Columbia's faculty in 2009, Dean Sorett was a fellow at the W.E.B. Du Bois Research Institute at Harvard University, where he also completed his Ph.D. in African American Studies. He earned a B.S. from Oral Roberts University, an M.Div. in religion and literature from Boston University and a Ph.D. in African American studies from Harvard.