George Segal '55, Versatile Actor of Virginia Woolf Fame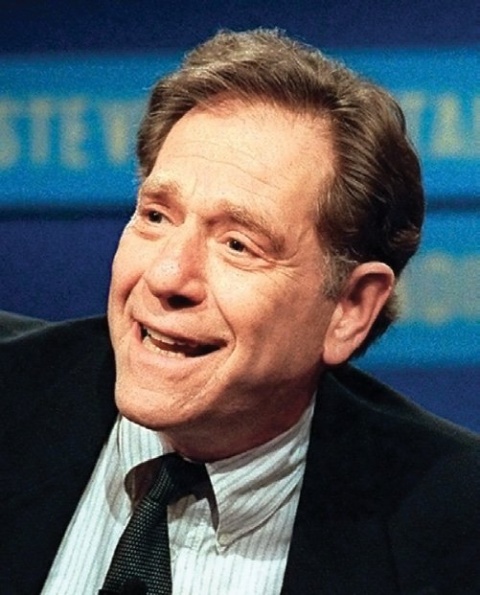 George Segal '55
was a commanding presence on stage and screen in a career that spanned 56 years and myriad acting roles. His versatility was remarkable: Early in his career he was nominated for an Academy Award for an intensely dramatic role as a young professor in
Who's Afraid of Virginia Woolf?;
decades later he was nominated for two Golden Globe Awards for portraying a rakish magazine publisher in the ensemble TV series
Just Shoot Me!

Though he never rose to the pantheon of Hollywood actors, Segal was rarely out of work. In a 1998 interview with The New York Times, he observed, "I'm like a cork in the water, you know? I keep bobbing up in all sorts of places."
His longevity was no accident. Mike Nichols, director of Virginia Woolf, put it succinctly in a 1965 interview: "What you get with George is masculinity and sensitivity, plus a brain."
Segal was born in New York City and raised in Great Neck, N.Y. After transferring from Haverford to the College, he majored in theater and dramatic arts. He died on March 23, 2021, in Santa Rosa, Calif., and was working on the TV comedy series The Goldbergs right up until his passing.
Segal was an unpaid ticket-taker, usher and vendor at Circle in the Square, a noted Off-Broadway theater, before appearing there in Eugene O'Neill's The Iceman Cometh in 1956. He married his first wife, Marion Sobol, onstage on a Monday night when the theater was dark, and shortly thereafter was drafted into the Army.
After being discharged, Segal was cast in his first film roles in The Young Doctors and The Longest Day and appeared in an Off-Broadway production of The Knack. That comedy was directed by Nichols, who subsequently cast him in Virginia Woolf alongside Richard Burton, Elizabeth Taylor and Sandy Dennis. All four were nominated for Academy Awards, with both women winning.
Segal's gift for comedy and social satire took his career in a different direction shortly thereafter, and he was among Hollywood's busiest actors in the 1970s. He starred in some of the decade's most noted films: playing a man trying to rid himself of his mother in Where's Poppa?; a nebbishy writer involved with a prostitute played by Barbra Streisand in The Owl and the Pussycat; a divorce lawyer who tries to win his wife back after she catches him in bed with his secretary in Blume in Love; a married businessman who takes up with a divorcee in A Touch of Class; a struggling gambler who keeps trying for the big score in California Split; and a man who loses his job and turns to crime (along with his wife, played by Jane Fonda) to maintain an upscale lifestyle in Fun With Dick and Jane.
During the next two decades Segal appeared in numerous lesser-known films, as well as made-for-TV movies and series. But his career took an upswing and he became known to a new generation of fans when he was featured in Just Shoot Me! (1997–2003) and The Goldbergs (2013–present).
Segal said of his lengthy and successful career: "I don't ever know how it happens. Sometimes it's being in the right place at the right time, sometimes you're just the guy they want. It's impossible to explain. This is a real gambler's business, acting. It's a crapshoot, and you keep stepping up to the table and hope that your number comes up. Or it's like being a used car in a used car lot. You're just waiting for somebody to come over and kick your tires. You've got to be crazy to do this."
Segal's marriage to Sobol ended in divorce in 1983. His second wife, Linda Rogo, died in 1996. In addition to his wife, Sonia, he is survived by his daughters from his first marriage, Elizabeth and Polly; and three stepchildren.
— Alex Sachare '71

Published three times a year by Columbia College for alumni, students, faculty, parents and friends.
Columbia Alumni Center
622 W. 113th St., MC 4530, 4th Fl.
New York, NY 10025
212-851-7852
cct@columbia.edu

Columbia Alumni Center
622 W. 113th St., MC 4530, 4th Fl.
New York, NY 10025
212-851-7488
ccalumni@columbia.edu