Thomas J. Vinciguerra '85: Inimitable Writer, Colleague and Friend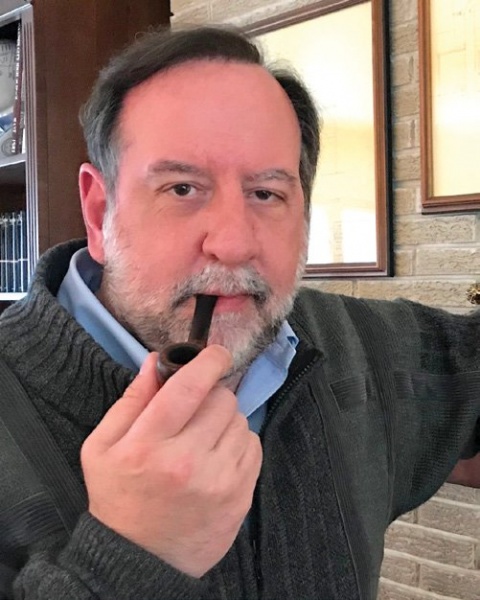 The death of longtime
Columbia College Today
editor and frequent contributor
Thomas J. Vinciguerra '85, JRN'86, GSAS'90
on February 22, 2021, left his myriad friends and colleagues grieving and his beloved Columbia diminished by the loss of one its most singular figures. A witty, eccentric and altogether charming presence, Vinciguerra enriched the life of the University for some 40 years, primarily through his stellar reporting and writing, his warm relationships with a century's worth of alumni and faculty, and his tireless involvement in Philolexian, the ancient literary and debate society he singlehandedly resurrected as an undergraduate. A longtime resident of Garden City, N.Y., he was 57.

Vinciguerra distinguished himself beyond the campus gates as well. After leaving CCT, he was deputy editor of the newsmagazine The Week and then executive editor of Indian Country Today. He contributed hundreds of pieces to The New York Times and also wrote for The New Yorker, The Wall Street Journal and other publications. Vinciguerra earned critical acclaim for his meticulously researched, elegantly written book, Cast of Characters: Wolcott Gibbs, E. B. White, James Thurber and the Golden Age of The New Yorker (2015). He also edited three volumes: Conversations with Elie Wiesel, by Richard D. Heffner '46, GSAS'47; Backward Ran Sentences: The Best of Wolcott Gibbs from The New Yorker; and most recently, A Community of Scholars: Seventy-Five Years of The University Seminars at Columbia.
When he joined CCT as associate editor in 1987, I wrote, "This is the inaugural issue for Tom Vinciguerra '85, veteran of Spectator and Philolexian, graduate of Columbia Journalism School, and an excellent writer and editor. Soon we'll teach the whippersnapper how to make a decent pot of coffee."
The good-natured office needling seldom relented during our decade working side by side and nurturing a lifelong friendship. He likened us to Kirk and Spock from the original Star Trek series, one of Tom's many cultural obsessions. Our strong rapport was grounded in shared interests and values, especially a fascination with Columbia in all its aspects and a commitment to journalistic excellence. That was the mission.
A regular at Spectator's Blue Pencil dinner, the Varsity Show, Homecoming, and the Alexander Hamilton and John Jay awards dinners, Tom relished campus traditions and rituals; the quainter or more absurd, the better. Among his favorite CCT assignments was a 1991 report on the rescue of one of the College's most unusual degree requirements, the swim test. "To some alumni it must have seemed pretty incongruous," he wrote, "that in addition to mastering the intricacies of Aristotle, Beethoven and Rembrandt, they were asked to strip naked, plunge into deep water, and then traverse — be it with graceful Olympic strokes or grotesque flailings — the perilous lanes of the University pool."
Closest to Tom's heart was the Philolexian Society. He presided over the annual Joyce Kilmer Bad Poetry Contest and devoted endless effort to guiding, supporting and otherwise celebrating the organization, which grew into a parallel-universe alumni association. He never married or had kids, but became a big brother or father figure to countless members, who reciprocated by officially dubbing him the "Avatar." Few things pleased Tom more than unearthing the Philo connection of yet another interesting alum, an eclectic list that includes Secretary of State Hamilton Fish CC 1827; historian and Columbia eminence Jacques Barzun CC 1927, GSAS 1932; theologian and author Thomas Merton '38; and poet Allen Ginsberg '48, the cover subject of Tom's one glorious issue (Fall 1997) in the captain's chair as acting editor.
Toward the end of our last conversation, just days before he died, Tom reiterated his intention to press the University Trustees to honor a 19th-century pledge to provide Philolexian with suitable quarters — this on a campus where finding more space has become a universal project. He told me they had promised an actual building. He wasn't kidding. Had he another lifetime like this one, I believe he would have succeeded.
— Jamie Katz '72, BUS'80

Published three times a year by Columbia College for alumni, students, faculty, parents and friends.
Columbia Alumni Center
622 W. 113th St., MC 4530, 4th Fl.
New York, NY 10025
212-851-7852
cct@columbia.edu

Columbia Alumni Center
622 W. 113th St., MC 4530, 4th Fl.
New York, NY 10025
212-851-7488
ccalumni@columbia.edu