The 1966–67 College Bowl winners have advice for this summer's student contestants.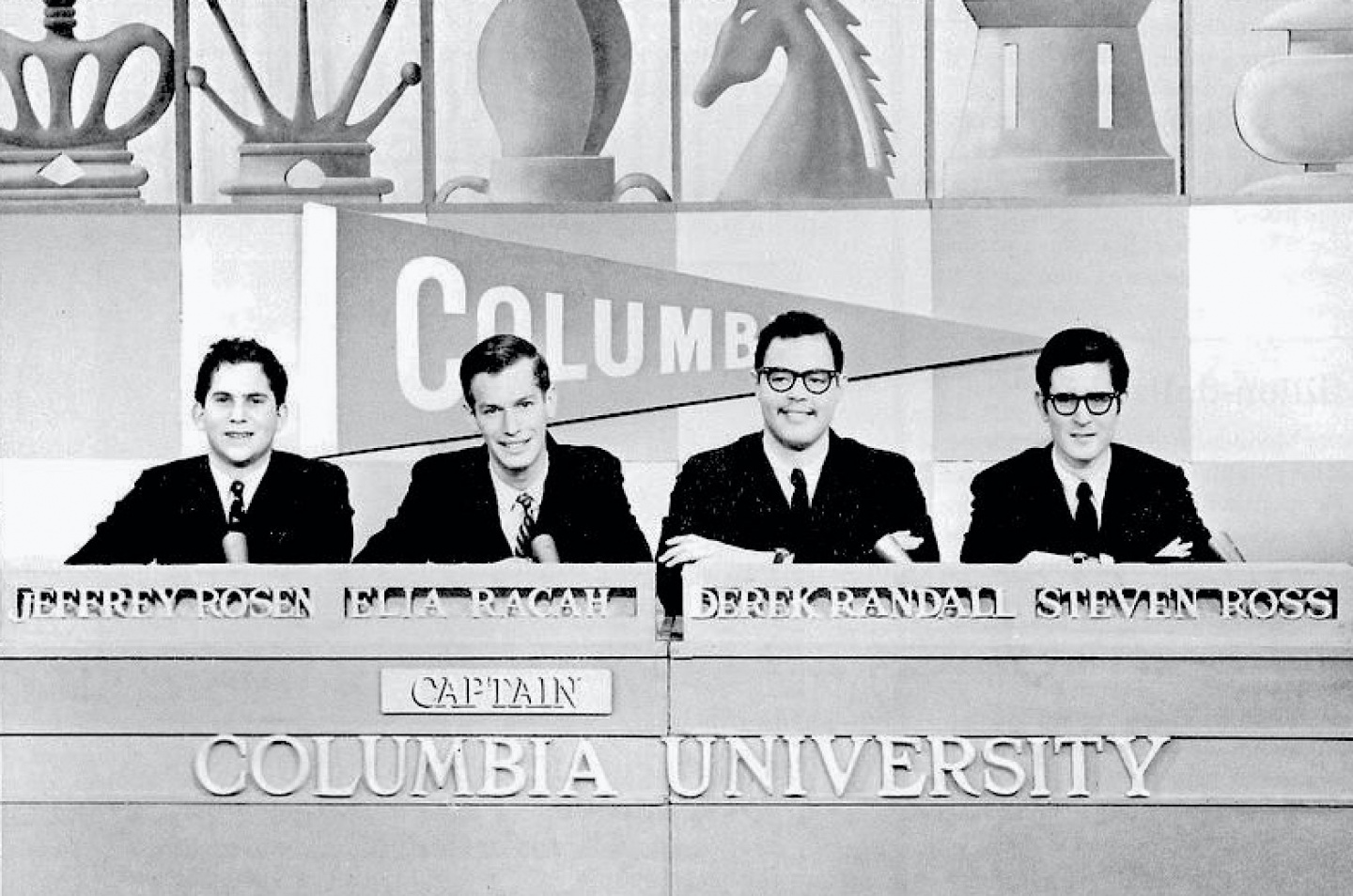 All images Courtesy Columbia University Archives

Move over Jeopardy!, College Bowl is back! The storied 1960s-era quiz show, which pitted teams of students from the nation's top schools against each other, returns to TV this summer — and a fearsome threesome from Columbia will be vying for the first championship of the new era. But did you know that Columbia had a winning team in the 1966–67 season?
Elia Racah '67, who captained the team, Jeffrey Rosen '68, Derek Randall '67 and Steven Ross '68 were Columbia's great hope for redemption in fall 1966. The "varsity scholars" were looking to avenge a loss to Northwestern from the show's inaugural televised season in 1959. (College Bowl had previously been a radio show from 1953 to 1955.) At stake were $1,500 for scholarships, awarded for each game won. After five consecutive wins, teams retired.
Columbia's road to trivia triumph included dashing student foes from Providence College, Indiana University, Michigan State University, William & Mary and, finally, Smith (which notably attempted to intimidate the Lions with a sympathy card sent before the taping). Along the way, the Lions developed a reputation for their unusual pre-show antics, a sharp contrast to the fidgeting and pacing from other teams. Rosen spouted bad puns, while Ross sang soul music in falsetto. Randall, meanwhile, retreated into himself, as Spectator said, "intimidating all present by sitting still, looking quietly intelligent."
In the end, Columbia captured $10,500 (two bonus $1,500 grants were awarded for the team's unbeaten streak). Back on Morningside Heights, the winners received the Alumni Association's first Merit Award for Outstanding Achievement, and Dean David B. Truman threw a champagne party in their honor.
As for the Columbia College Bowl trophy, its whereabouts are unknown. The Spring/Summer 1987 issue of CCT reported that it was in the possession of Fran Matsuo, then assistant to the director of Ferris Booth Hall. But Matsuo has since retired and FBH demolished, so the mystery remains.
Ahead of the Columbia team's debut on June 29, we asked some of the 1966–67 team members what they remember from their victorious run and what advice they have to offer 2021's contestants. What follows are their edited responses.

Jeffrey Rosen '68
I remember my mingled joy and astonishment after winning the five games in 1966–67 that "We did it!" — and then mercifully retired undefeated. We nearly became one-and-done in a titanic battle with Providence College, which we pulled out with a charge at the end, aided and abetted by my knowledge of the derivation of the word "necropolis." (The most useful classes for the show to me were Contemporary Civilization and Lit Hum!) I also remember having the joy and honor of coaching the Barnard team, which also won five straight later on. We were going to do a Super Bowl against BC for charity but wisely we never did. They would have trounced us!
I am fascinated that Peyton Manning is going to be the host for the summer remake. I would love to meet him! I am certain that "Tom Brady" will not be an answer to any question.
Some advice for this year's team: Have people with different specialty areas — you need a human computer/math and science whiz. We had two, neither of whom was yours truly. Make sure someone knows things like the U.S. Presidents and kings and queens of England with some idea of the dates, and is conversant with Shakepeare's plays. And the team needs to practice, practice, PRACTICE! Get used to answering questions quickly and under pressure, and working as a team. We practiced almost daily, and so did the Barnard team. It does not hurt to watch old shows, either, to be comfortable with the format and pace.
Will I watch or would it only cause deja vu angst? I probably shall watch to root for Columbia!

Steven Ross '68
I remember a few things from the 1966–67 games. There was one question that everyone, including my teammates, thought I had screwed up. The moderator, Robert Earle, asked "Edward Steichen had a bro …" and I pushed my buzzer. I answered "Carl Sandburg." And got it right!
For five weeks, my teammates and I were heroes on campus. I even got a fan note from a woman at Barnard! I remember we were invited to lunch with GE board members. University President Grayson Kirk and College Dean David B. Truman also attended. We were offered cigars by President Kirk on the ride home.
Here's my advice for this year's CC contestants:
• Relax.
• Split up assignments within the team. Each member should memorize things like kings of England and France (in order), Napoleon's battles, the periodic table, economic theorists and so on.
• Focus on quick reaction and pressing the buzzer. It doesn't help if you know the answer if you don't press the buzzer first.
• Relax.
• Psych out your opponents by telling them not to be nervous. Then act a little goofy backstage where they can see you.
• Go with your gut. It knows things your brain has to think about.
• And I should mention: Relax.
I think it's great that they're reviving this show. I will definitely watch if it's available in Canada, where I will spend much of the summer. If not, please get it onto YouTube!

Published three times a year by Columbia College for alumni, students, faculty, parents and friends.
Columbia Alumni Center
622 W. 113th St., MC 4530, 4th Fl.
New York, NY 10025
212-851-7852
cct@columbia.edu

Columbia Alumni Center
622 W. 113th St., MC 4530, 4th Fl.
New York, NY 10025
212-851-7488
ccalumni@columbia.edu