| | | | | | | |
| --- | --- | --- | --- | --- | --- | --- |
| | | || | | || | | |
ALUMNI UPDATES
Three Columbia Friends Share a Gig on MTV2
Like many interns, PJ Pesce '83, '89 Arts felt boundless hope — and limitless frustration — while working at Sigma Sound in the '80s. The Philadelphia recording studio was at the top of its game, turning out records such as Madonna's self-titled debut and the Talking Heads' Remain In Light. Meanwhile, Pesce was carrying out his internly production chores under various euphemistic titles. "My last credit was as assistant engineer on a remix of early Velvet Underground stuff, Another VU ," he says. "I was particularly proud of that."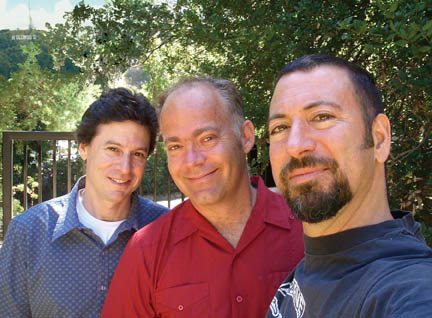 The unique world of the intern left marks on Pesce, enough to influence the antics of an animated show that airs on MTV2, for which he served as executive director/co-writer/executive producer/editor. The Adventures of Chico and Guapo, co-created with writer/voice actor/producer (and Pesce's high school friend) Paul D'Acri, debuted on June 10 and ran for eight episodes last summer, although reruns may still be seen.
The show follows the misadventures of Chico and Guapo, two catastrophic janitors-turned-interns at a New York recording studio who have hapless schemes for getting a jump in the music business, whether it be signing an all-dog band or posing as the president of the studio in hopes of jump-starting a production career. Alongside the odd couple of co-stars, the colorful cast includes a vainglorious receptionist, a boss with expertise in the martial art of "nunchuckus," a flamboyant cowboy hat-wearing music producer and Chico's beatboxing Boy Scout cousin.
Two methods and philosophies of ladder-climbing are embodied by Chico and Guapo. "We have one good guy who wants to do the right thing — Chico — and one bad guy who wants to do the wrong thing — Guapo — and we show you that neither makes a difference. It's your status that makes the difference; your status in society informs your destiny," says Simon Black '83, who co-wrote the show.
But Chico and Guapo are more than sardonic, fast-talking caricatures of Good and Morally Ambiguous paths to success. They are animated testaments to Pesce's well-rounded Columbia education, which he says helped him learn how to spin real-life people into cartoon characters. "I feel I bring a strong sense of story to the table with my partners, D'Acri and Orlando Jones. I got a great undergrad education," he says, "and the [graduate] film program at Columbia was very strong on story structure due to [the late] Frank Daniel, an amazing teacher who influenced a generation of screenwriters."
Chico and Guapo first showed up as two random characters devised by Pesce and D'Acri in summer 1983. "We lived together that summer, and we started getting a feel for all sorts of voices and characters in New York City," Pesce notes. "We would act out whole scenes, for hours, [as] these two Hispanic guys, and that became the basis for Chico and Guapo."
The Frank C. Angelo Recording Studio is racially mixed, including a white owner, black producer and Hispanic receptionist. "Our show is about racial diversity — a white, Italian guy, with black, Hispanic and disabled workers together like a family," says Pesce. However, there is nary a whiff of political correctness in Chico and Guapo. "We try to poke fun at race … race in America is a rich vein for humor," says Pesce. In one episode, for instance, a man from the NAACP shows up to investigate, only, in this case, the C stands for Caucasian. So Frank has to dress up his Hispanic interns as "Crackerbarrel," a duo of white country musicians, to prove that the studio is integrated. "It really comes down to trying to make each other laugh — that's how we do pretty much everything," Pesce says.
Originally, Pesce never imagined that Chico and Guapo would become animated characters. In the mid-'90s, when he and D'Acri moved to Los Angeles to pursue their film careers, D'Acri suggested they make the duo into a television show, possibly a sitcom. "So I said, 'Write a script, and I'll kind of oversee it.' " says Pesce, "I figured he'd just get bored and leave me alone. But he came back with a great script, really hilarious, and we worked on it a bit together … and got exactly nowhere." After various attempts at making the show a more tangible possibility (including through marionettes, à la Thunderbirds), D'Acri and Pesce taught themselves the then-new art of Flash computer animation (in 1999), settling on that as their medium. After they created a pilot that was rejected, Jones, a popular comedian/actor, took an interest in the project. "We created a bunch of new characters for Orlando to play, and he was amazing. It brought the stuff to a whole new level."
Gradually, Pesce put the pieces together, calling on Columbia friends such as Black and Adam Belanoff '84 to get the project rolling. "I started as a regular staff writer [for Pesce]," says Black, "somebody to steer the other writers in the right direction … we took some stories that weren't working and rewrote them." Belanoff, now a supervising producer on TNT's The Closer, says, "At the point I came in, they already had animatics done [all the frames ready in the equivalent of a sketch board] for half the episodes. PJ asked if I could lend a hand." Belanoff worked hard, "punching up the scripts with jokes, helping to generate the scripts, pitching stories, helping to come up with new stories and just overall helping streamline the process."
Pesce and Belanoff knew each other at the College, but the relationship grew post-Columbia. At one point in 1990, they shared an office at Paramount in Los Angeles. Pesce's friendship with Black dates to sophomore year, when Black burst into Pesce's John Jay single looking for a guitar string. "I didn't have one," Pesce remembers, "but I showed him how to tie it back together so you could get another month out of it, and we became fast friends, playing at the Postcrypt and in many bands at Columbia." The three friends' wives are friends, too, as are their toddler children: Paolo McLeod Morris Pesce, and Vivien and Archer Black. "We dream of [the kids] walking down Broadway, discussing their Lit Hum assignments and arguing about music like we did," says Pesce.
As for Chico and Guapo, a two-volume DVD of the first season was released in September. Will there be a second season? The friends are waiting to find out.
Meanwhile, Black recently published a children's book, The Dog Child, about a couple who may love their dog a little too much. And Pesce is busy raising funds for his entertainment company, Shot in the Arm, which plans to produce three or four horror and family films every year, plus animation. "I've realized that you can go further and retain more creative control," he remarks, quite the old L.A. hand, "… if you go forward and make the movie or animation yourself."
Maryam Parhizkar '09,
Sana Saleh '08
| | | | | | | |
| --- | --- | --- | --- | --- | --- | --- |
| | | || | | || | | |


CCT Home


This Issue


Previous Issue

CCT Masthead