| | | | | | | |
| --- | --- | --- | --- | --- | --- | --- |
| | | || | | || | | |
ALUMNI UPDATES
Doug Imbruce '05 Created The U for You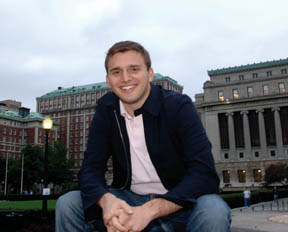 PHOTO: LISA BERG

Doug Imbruce '05 didn't think of himself as the perfect Columbia candidate when he applied for admission. Even though he was more focused on starting a dot.com business with his brother, Greg, than on high school academics, Imbruce believes Columbia's admissions officers were willing to take a risk on his passion and the success of his business rather than the way he looked on paper. If they had any doubts about admitting Imbruce, those fears must have vanished.
It was during his senior year that Imbruce, who grew up in Greenwich, Conn., got the idea to start The U — described on its website, www.theu.com, as "Uncensored College Video Tours and College Reviews. For Students, By Students" — while watching the MTV show Cribs, which showcases celebrities' homes and highlights a bit about their personal lives. It occurred to Imbruce that he "had access to intimate details about Snoop Dogg's life, but couldn't get intimate, detailed infor­mation about college life."
Imbruce views academic institutions as businesses — businesses with poor marketing tools. His motivations for The U were his tedious college visits, which were full of cookie-cutter tours and brochures. He felt that they could not give the average teenager the information he or she really wanted. Imbruce envisioned a flashy overview of "real" college life, "from the classroom to the party scene," which could be absorbed from the comfort of a living room couch via DVD, and now from a desk or laptop via the Web.
During his senior year, when Imbruce had the idea for The U, he was interning at Warner Brothers Television and working on the popular show Everwood . He befriended the star, Gregory Smith, and the creator's assistant, Drake Smith. Imbruce showed them a pilot project he developed with friends. With their help, he pitched The U to the WB's CEO, David Janollari, who decided that all of the WB's stars would host DVDs featuring the most popular American universities in five categories (the Ivy League, Northeast, Midwest, South and West).
After the project was given a green light, Imbruce spent the rest of the year pulling together the revenue he needed to film the DVDs by pitching his idea to as many companies as possible with the WB's help. He sent out the first professional crew in April 2005 and met with students on each campus in order to put the films together. Imbruce's project won the top prizes in the Columbia Business Plan Competition and the Brown University/Bryant College Business Plan Competition, both national, undergraduate competitions. That spring, he graduated from the College with a degree in English literature.
Of his success, Imbruce says, "[It] gave us confidence more than anything else, and helped us network with fellow students and alumni who were all valuable in taking the business from concept to execution. It also provided third-party credibility to potential partners and investors."
The U certainly is credible. As of publication, more than 100,000 copies of the DVDs have been sold and 500,000 copies have been donated to high school counselors since their release in January 2006. According to The U's website, they are a collaboration among more than 100 college students, "dozens of TV production experts, a seasoned Board of Advisors and a 50-person Guidance Counselor steering committee."
When he speaks about
his alma mater, Imbruce is emphatic. He loved the Core, considering it to be Columbia's strongest selling point and one of the reasons the school was his No. 1 choice. He speaks highly of his professors and the education he received, stressing the importance of the writing skills he acquired in "Logic and Rhetoric." "Being a great writer is the most important thing in business," Imbruce notes. He says his favorite Core book, The Odyssey, also serves as a model for good business sense.
The U's journey is far from over; Imbruce speaks rapidly, voice raised, when outlining his plans. In August, the website was upgraded to include all of the college tours along with a forum to discuss admissions, and 500,000 university reviews. It is still growing, with a goal of profiling 300 universities. US News and World Report and The Princeton Review are sponsors, and a partnership with Spark Notes is in the works.
Imbruce does not want to stop there. His next project is a series of documentaries about job opportunities that might profile such figures as a stock broker, a lawyer and Donald Trump. Also in The U's future is a discount card that could be used at such businesses as Target, Best Buy and Barnes & Noble.
When asked whether he would like to add anything about his business goals and his Columbia experience, Imbruce notes that it was Columbia that helped him get where he is. In sum, he says, "Go Lions!"
Oriana Magnera '09
| | | | | | | |
| --- | --- | --- | --- | --- | --- | --- |
| | | || | | || | | |


CCT Home


This Issue


Previous Issue

CCT Masthead