| | | | | | | |
| --- | --- | --- | --- | --- | --- | --- |
| | | || | | || | | |
ALUMNI UPDATES
Chris Wells '06 Tackles His First Film
By Jennifer Preissel '05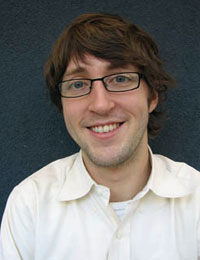 Even as a student in Columbia's film studies department, Chris Wells '06 couldn't wait to start making movies. "Since they don't let you do production, everyone's itching to write something or film something," he explains. "But I always respected the department's methodology, because before you make a movie, you should know a lot about film."
Though he admits, "I have not seen nearly enough films as someone who has the authority to make a movie should," he already has co-written and co-starred in a feature: LOL . Helmed by micro-indie director Joe Swanberg, the film has screened at festivals across the country.
"LOL" is instant-messaging shorthand for "laughing out loud," and the film takes a cue from its title in its look at how young people's romantic lives have been altered (and sometimes hampered) by tools that enable constant communication. According to The Boston Phoenix, the movie is "a witty mini-satire of post-collegiates trying to connect romantically and erotically … in a tangle of up-to-the-minute technology. Swanberg plays an impish version of himself who, even in bed with his girlfriend, looks longingly at his computer to check his e-mail."
Though he hardly had ever acted before, Wells (also playing a variation on himself) portrays a young man, one of the three male leads, who is struggling to keep a long-distance relationship afloat via his cell phone. "The funny thing is, I didn't really have to act," he says. "The character was very autobiographical. I play a guy named Chris in a relationship with a girl named Greta" (the name of his real-life girlfriend at the time).
Wells met Swanberg at the Telluride Film Festival, which he attended at the suggestion of his undergraduate adviser, film doyenne Annette Insdorf. Swanberg, a Southern Illinois alumnus who had just directed his first movie, "said 10 different things about film and I agreed with all of them," says Wells. Like Wells, Swanberg felt that American films were often too puritanical about sex and falsely portrayed intimate relationships. Later, Swanberg sent Wells a DVD of his movie Kissing on the Mouth. Wells says, "I responded to it immediately. His film represented young people in a way that I hadn't seen before — the characters were like people I know. And sex was presented as a normal part of people's lives, as routine as eating breakfast."
In summer 2005, with a cast of non-professional actors and a $3,000 budget, the two friends — with composer and co-writer Kevin Bewersdorf — began the improvisational, nine-month process of making LOL . While working 40 hours a week writing grants at an internship for the Chicago International Children's Film Festival, Wells spent three hours each night devising scenarios, improvising and shooting with his collaborators.
LOL's naturalistic acting and focus on white, middle-class 20-somethings have won it comparisons to other underground films with a do-it-yourself aesthetic, such as Andrew Bujalski's Funny Ha-Ha or Richard Linklater's Slacker. Though Wells admires Bujalski's work, he dismisses the comparison as "lazy film criticism." He and his collaborators lifted stories and circumstances that formed LOL's substance from their lives. "We incorporated real voicemails into the film that my girlfriend had left me," Wells says, "and I reenact a fight we had." For Wells, daily life is the best source of inspiration. "Movies that have no awareness of the real world are one of my pet peeves. I like it when you see characters in movies ... who seem like they have lives outside the movie as well as inside it."
LOL played in New York for a week in August at the Pioneer Theater; now Wells, Swanberg and Bewersdorf are looking into the possibility of distributing it on DVD. But even now, after LOL has played in film festivals from Boston to Austin, the self-effacing Wells seems mystified by the movie's success. "I still can't believe we get to go to festivals, they put us up in hotels and buy us free drinks," he says. "I mean, who are we? We're nobody. We're people who made a movie in our backyard a couple of months ago."
---
Jennifer Preissel '05 is the history project coordinator at the San Francisco Film Society. Her favorite films include Robert Altman's Nashville, Michael Winterbottom's 24 Hour Party People and Agnès Varda's Cléo from 5 to 7.
| | | | | | | |
| --- | --- | --- | --- | --- | --- | --- |
| | | || | | || | | |


CCT Home


This Issue


Previous Issue

CCT Masthead