| | | | | | | |
| --- | --- | --- | --- | --- | --- | --- |
| | | || | | || | | |
FEATURES
Mark E. Kingdon '71 Receives 2008 Alexander Hamilton Award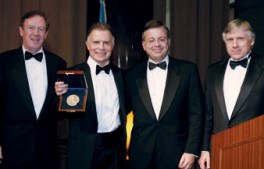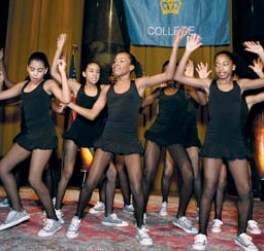 Mark E. Kingdon '71, a University trustee and investment manager, received the Alexander Hamilton Award at a black-tie dinner in Low Rotunda on November 15. The award, for distinguished service and accomplishment, is presented by the Columbia College Alumni Association and is the highest honor the College bestows.

The dinner raised a record $1.75 million for the College, an amount that University trustee and dinner co-chair Richard Witten '75 noted dwarfed the $400,000 raised by the College's two fundraising dinners a decade ago.

"Support for education at all levels is the best answer to the question of how to deal with growing income inequality in our society," observed Kingdon. "A recent IMF study suggested that globalization is not the cause of such inequality; it is technology, which favors the educated. Funding for financial aid to promote need-blind admission is part of the solution."

Other dinner co-chairs were Philip Milstein '71, co-chair of the University Trustees, and Leon Wagner, a fellow investor and longtime friend of Kingdon. A highlight of the program was a dance performance by members of the Harlem Children's Zone, on whose Board of Directors Kingdon serves.

In presenting the Alexander Hamilton Medal, President Lee C. Bollinger praised Kingdon for his intelligence and compassion and said, "There is an inner steel to Mark that when it comes to doing right for the world, you can always, always count on him."

Dean Austin Quigley, who was introduced by Senior Class President Neda Navab '08, noted how the 60th annual dinner was the biggest event on the College's social calendar and was particularly important this year because it coincided with the 100th anniversary of the opening of Hamilton Hall on the Morningside Heights campus. Quigley spoke of the College's "twin pillars of inclusiveness and excellence" and said, "For us, our excellence depends in large part upon, and derives directly from, our inclusiveness." Regarding the honoree, Quigley called Kingdon "a man who has achieved remarkable things, but has never forgotten those who are needy."

Kingdon, an economics major who graduated Phi Beta Kappa, served as sports editor and features editor of Spectator. He earned an M.B.A. at Harvard, and in 1983 he founded Kingdon Capital Management, where he serves as president, chief portfolio manager and strategist. In 1998, Kingdon endowed the C. Lowell Harriss Professorship of Economics in honor of his undergraduate teacher and mentor, whom he saluted at the dinner. He also was instrumental in financing the renovation of Butler Library, and in 2006, along with several other alumni, sponsored the Institute for Israeli and Jewish Studies and the Yosef Hayim Yerushalmi Chair in Israel and Jewish Studies.

---
Alex Sachare '71
| | | | | | | |
| --- | --- | --- | --- | --- | --- | --- |
| | | || | | || | | |


CCT Home


This Issue


Previous Issue

CCT Masthead