| | | | | | | |
| --- | --- | --- | --- | --- | --- | --- |
| | | || | | || | | |
FEATURES
A Mighty Talent
Dan Futterman '89, actor and Capote screenwriter, keeps his balance in high-pressure Hollywood
By Michal Lemberger '94 Barnard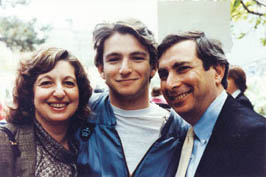 Photo: COURTESY DAN FUTTERMAN '89

Hollywood is notorious for its preening and oversized egos, and yet what comes across about Dan Futterman '89 is how unpretentious he is. So unpretentious that he slips unnoticed into a small restaurant in the Los Feliz section of Los Angeles, home to hipsters and beautiful people, wearing a comfortable-looking, no-longer-navy FDNY T-shirt, narrow wale red cords and sneakers, a boxy backpack secured over both shoulders. The first thing he does is ask his interviewer, "How've you been?"

The past few years have been busy ones for Futterman. After a successful acting career spanning 15 years, during which he appeared in movies such as The Birdcage with Robin Williams and television shows such as Judging Amy, he wrote his first screenplay. Most writers in Hollywood, even the successful ones, have a screenplay or two in a drawer somewhere, early attempts that may have helped them get a foot in the door but that never saw the light of day again. Futterman wrote Capote. Not only did it get made, it was nominated for five Academy Awards in 2005, including Best Adapted Screenplay for Futterman's work.

Because this is a Cinderella story, it has made the rounds of magazine profiles by now: Futterman had wanted to tackle the story of how Truman Capote came to write his genre-defining 1965 nonfiction novel, In Cold Blood, for a while. When he had a presentable draft, he took it to his childhood friend, Bennett Miller, director of the 1998 documentary The Cruise as well as dozens of television commercials and music videos. Miller decided to direct the film, and once they enlisted another longtime friend, actor Phillip Seymour Hoffman, to star as the title character, they were up and running.

After an intense 35-day shooting schedule, the film was edited and given a limited release in September 2005. By the time it was widely released, in February 2006, it was on its way to garnering awards and nominations for Futterman; Miller; Catherine Keener, who played Harper Lee; the film's producers; and of course, Hoffman, who won the Academy Award in the Best Actor category.

In the wake of his sudden acclaim, Futterman could have accepted any number of projects. What he chose — and was chosen for — was to play murdered Wall Street Journal reporter Daniel Pearl in A Mighty Heart, which required that he travel back and forth to Pakistan and India three times in the course of the film's shooting. All the while, he was working on his next screenplay, an adaptation of Jonathan Tropper's comic novel Everything Changes.

A summary like that, though, does not really get at the sea-change that can occur when going from an actor with a solid reputation to becoming a celebrity screenwriter to co-starring with Angelina Jolie in a high-profile film project. And yet, Futterman's friends and colleagues all emphasize that success has not gone to his head.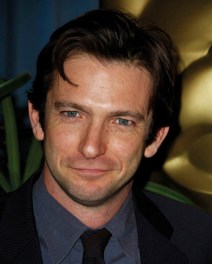 Photo: STEVE GRANITZ/ WIREIMAGE

Miller, who has been close friends with Futterman since they were 16 and enrolled in the same theater class at Mamaroneck (N.Y.) High School, says about him, "The first word that comes to mind is 'considerate,' whether with his family, his children, his wife, his friendships, his work. He's pretty steady. I think he's able to remove himself from the passions of whatever it is that's happening, look at a thing and get his perspective on it."

Caroline Baron, one of the producers of Capote, agrees. "I've never met anyone like him, who has his head on straight, especially in this business. He hit it out of the ballpark [with his screenplay for Capote] his first time out, but it didn't go to his head. I don't know how he got that way, whether the fame early on from being an actor helped, but most actors aren't that way, so that's not really good training. Maybe it was his upbringing."

Early in his career, Futterman was a typical struggling actor, taking any job he could get — including a play at the WPA theater, a pilot that never got picked up and a Liz Claiborne fragrance commercial in which he played a lover enchanted by a woman's scent. But he was blessed with "ridiculously proud parents [Stanley '61 and Linda (née Roth) '62 Barnard] who would, when I started acting, just as proudly bring their friends to see me in plays as they would to have me serve them burritos at Cantina restaurant." It was his parents who ultimately convinced him to matriculate at Columbia. As a high school senior, he wanted to join his friends and future collaborators, Miller and Hoffman, at NYU, but in time he came to see that he had been steered in the right direction.

"It took me a while to find my way [at Columbia]," he says. "You start with the Core Curriculum, so you're not only finding your way socially, but academically, too, because you're not directing yourself all that much. But I grew to really love my experience at Columbia. Growing up in Larchmont (Westchester County), New York City was Mecca. I wanted to be in Manhattan. I loved being in the city. I also loved the opportunity to get interested in something and study it." Which is why, along with some classes in his English major, such as Edward Tayler's Shakespeare lecture, Futterman names David Helfand's "Physics Without Mathematics" as one of his favorites. "I loved that class," he emphasizes. He even thought about majoring in physics, but realized that there was no way around calculus. And no way, for him, through it.


Photo: SAJJAD HUSSAIN/AFP/ GETTY IMAGES

Futterman's time at Columbia wouldn't necessarily presage a career in theater and film. He repeatedly took theater classes with Aaron Frankel '42, who gave him the space to do scenes, and was exposed to what he calls "semi-alternative ways of doing theater" with the Columbia Players. But he never embraced that stereotypical image of the aspiring actor, hounding the stage doors of Broadway or Off-Broadway plays every chance he got. "It's a little hard when you don't have spending money. I took advantage enough to know that I wanted to stay there." Instead, he somewhat sheepishly admits to spending "too much time" on Frat Row, at the co-ed Alpha Delta Phi house. He never officially joined, but it was a place to meet pretty, smart, artistic girls, which, as he says with a small smile, was good.

Futterman was prepared to study for a graduate degree in English at Columbia, but decided that, since he had always liked acting, he might as well give it a shot. Some luck, his talent and the warm support of his family saw his career in acting rise steadily. Ultimately, in addition to landing significant roles on Broadway and in film, he became a series regular on Judging Amy, a family drama starring Amy Brenneman and Tyne Daly that ran on CBS from 1999–2005. His portrayal of Vincent Gray, younger brother to Brenneman's Judge Amy Gray, garnered him a legion of fans.

But Futterman's interest in literature never disappeared, and it resurfaced when he adapted a small section of Gerald Clarke's biography to write Capote. Even then, his connection to Columbia remained: Parts of the screenplay were written in Butler Library.
"As anyone knows, normal people in NYC can't afford apartments with office space," explains Futterman. "Having a free office (actually, a daily choice of a few of them) up the road from our place on 105th Street was an enormous blessing. If I wanted solitude, I'd go hide at a desk in the Butler stacks. If I wanted to people-watch while I wrote (which I often do), I'd go to Avery or the East Asian Library — each attracts a different crowd. Or, if I wanted caffeine and the background noise of caffeinated conversations, I'd go to the Hungarian Pastry Shop on Amsterdam."



Photo: Kim spir

Although he's lived in Los Angeles for the past three years, Futterman remains a New Yorker. He hasn't gotten used to the slower pace of Los Angeles, or to the fact that it's a city that has been described as a loose collection of suburbs with no center. He misses the energy of New York and the fact that he always felt he was meeting someone new and that his world was expanding, not to mention the two million books in the Columbia library system.

Even with all his interest in literature, the only thing Futterman wrote before tackling Capote was some "horrendous poetry" in college. Ultimately, the restrictions of a screenplay — the three-act structure, length requirements and number of scenes, among others — helped see him to the finish. That, and meeting his wife, Anya Epstein, who already was a working writer for the television series Homicide: Life on the Street. He credits her with teaching him how to corral his ideas into the demanding format of a screenplay.

"I'm not someone who could write a novel," he says. "I don't really think I could write a play. It just seems too open-canvas, and I like rules. Back in school, when they said, 'Write anything you want,' I was lost."

One aspect of writing that appeals to Futterman, who maintains a small group of close friends rather than an extensive social circle, is the privacy of writing dialogue, which requires him to ponder all the questions that he'd previously asked as an actor: What does the character want? How is he going to get it? What are you really saying that you're not saying? For all that, he says that writing and acting are separate processes, which is why it never occurred to him to write a part for himself in Capote. Even so, this was a project he was very serious about from the beginning. In fact, Miller remembers Futterman "semi-bullying" him and Hoffman into committing to the project: "He was very confrontational. He said, 'You've wanted to make movies your whole life. Why don't you commit yourself to this?' I'd never seen that side of him, that willful side."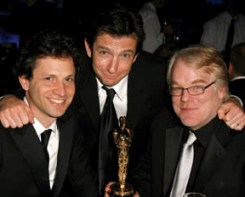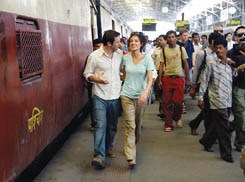 Photos, top to bottom: jeff vespa/wireimage; indranil mukherjee/afp/getty images; gale m. adler/cbs photo archive/getty images

Futterman's willfulness paid off. Shortly after he finished his first draft, word got out that another Capote film project, covering much the same material, was in the works (it would eventually be released as Infamous, but it came out after Capote and never garnered the attention that the first film did). Knowing that someone else might beat him to the punch after he had worked so long and hard to write his screenplay, Futterman galvanized the momentum that led to Capote being filmed. And although the making of the film had its challenging moments, it brought Futterman and his friends closer together.

In some ways, the same can be said of the critical and popular reception of the film, which catapulted its major players into a sphere of fame and celebrity they had never known. But Miller and Baron are quick to point out that though the experience inevitably changed them, even the newfound renown didn't seem to affect Futterman as it could have. Miller notes, "During award season, I recall there being a number of times he had to choose between some fancy event and being with his family, and more often than not he was with his family." Says Baron, "Being nominated and winning some of these awards is difficult — wonderful, of course, but intense, there are so many intense emotions. He was able to walk through it in a really graceful way."

Since the writing of Capote, Futterman has penned a script with his wife and finished his adaptation of Everything Changes, a romantic comedy told from a guy's point of view. Although he hasn't given up on acting, he's ready to focus his career exclusively on writing for now because of the pressures acting places on family life. His wife gave birth to their second child right before A Mighty Heart began filming, so each time he traveled to Pakistan or India, he had to leave his wife alone to care for two small children. For another thing, he got to see Hoffman and Jolie — whom he considers gifted actors — in action, and in his modest way, he now thinks that he should stick to what he's better at, though fans of his acting might disagree.

In A Mighty Heart, he plays journalist Daniel Pearl, who, while researching a story about the "shoe bomber" Richard Reid, was abducted and murdered by militants in Pakistan. Although the movie shows discrete moments from Pearl's last day of freedom, it focuses primarily on his widow, Marianne, and her experience after his kidnapping.

To prepare for the role, Futterman read a collection of Pearl's journalism, talked with Pearl's wife, parents and colleagues, and thought about the circumstances of the life he was about to portray. He has been repeatedly asked about having to inhabit the role of a man who became famous for his death, but Futterman sees it differently. "It was joyful. That part of his life was a really great part of his life, until what happened did. We were doing mostly the story of a happy couple. They were expecting a baby, doing work they wanted to do, exploring the world together. To me, I was almost in a different movie from everybody else." So although Futterman missed his family during filming, he could return to the time of his wife's pregnancies, which, he says, were wonderful and full of excitement. In instilling his performance with memories of those times, he was able to honor Pearl, a man whom he greatly admires and of whom he says, "Everybody loved him. It was impossible to find anyone who had a bad word to say about him."

On the day he sat down for this interview, Futterman was in a celebratory mood. He had handed in the final draft of his latest screenplay only four days before and declared, "I am currently unemployed and completely thrilled." With no projects planned, what would he do with all this newfound free time? The past few years had been full of writing, acting, promoting and caring for a baby, but now he seems open to whatever comes his way. His older daughter wants to go camping, an activity he hasn't been able to pursue in recent years, but which he considers good for the soul. So maybe that's what he'll do. Sleep on the ground. Recharge his soul.

---
Michael Lemberger '94 Barnard is a freelance journalist and editor in Los Angeles. Her work has appeared in publications ranging from LA Weekly to Publishers Weekly. She also teaches courses in poetry and poetics at UCLA Extension.
| | | | | | | |
| --- | --- | --- | --- | --- | --- | --- |
| | | || | | || | | |


CCT Home


This Issue


Previous Issue

CCT Masthead