| | | | | | | |
| --- | --- | --- | --- | --- | --- | --- |
| | | || | | || | | |
WITHIN THE FAMILY
Approaching the Final Frontier: Space
By Alex Sachare '71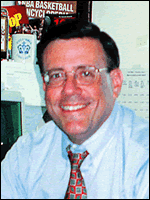 Alex Sachare '71

Since assuming the presidency nearly two years ago, Lee C. Bollinger repeatedly has cited one challenge as the biggest facing Columbia in the foreseeable future. "The University is in deep need of space," Bollinger told a town hall-style meeting of the University Senate on January 30. "That is a message that is incontrovertible."
Columbia is much smaller than its peers and much more "land-locked" by urban development. At the same time, the space demands of teaching and research are ever growing, ever expanding. That Columbia does not have enough space today is problem enough; that there are few available areas in which to expand that meet most (forget about all) of the University's criteria severely exacerbates the problem.
That is why Manhattanville has entered the University lexicon. In Columbia-speak, it refers to a 20-acre chunk of land in what otherwise might be known as West Harlem, bounded roughly by 125th and 133rd Streets, Broadway and 12th Avenue. It's smaller than it sounds, as 125th Street runs diagonally and is really more like 129th Street at that point, so we're basically talking about four square blocks.
Historically, Columbia has addressed its space needs by relocating, from Trinity Church to 49th Street to Morningside Heights. In each case, Columbia moved to a new area as it was beginning to be developed and when land was available.
That is no longer possible, at least in Manhattan, where no site could accommodate a new Columbia campus. Occasionally, there has been talk of a suburban campus in the Hudson Valley north of the city, but this has never been anything more than talk. In recent years, Columbia has gone in the opposite direction, reaffirming its status as "Columbia University in the City of New York" and embracing its connections to the city. And so it has turned closer to home in looking for places to expand, which brings us back to Manhattanville.
"This is a very special opportunity," says Bollinger. "It's contiguous, and having something that is proximate is almost always better than a satellite campus."
Columbia can't obtain the space it needs directly adjacent to the Morningside Heights campus because the area is densely developed. Manhattanville may be the next best thing.
In this vision, Columbia in a couple of decades or so would have three thriving campuses in Upper Manhattan - Morningside Heights, Manhattanville and Washington Heights. Manhattanville is within one-half mile of the Morningside Heights campus and a short subway ride from the Medical Center. Students could schedule a 10 a.m. class in Hamilton Hall and have plenty of time to get to a 1 p.m. class on the Manhattanville campus, grabbing lunch along the way.
Another virtue of the site that the University has cited is a relative lack of density. Columbia already owns or leases more than one-third of the land in Manhattanville, including Prentis Hall and a large apartment building on the south side of 125th Street. Much of the rest houses small businesses, including several auto repair shops, with a bus depot at the northern end. If Columbia has learned anything from its history, it is that it must incorporate these businesses into its planning and treat them fairly by designing new facilities in the immediate area for those willing to relocate, and for those unwilling to move, either building around them or buying them out for an equitable price. The last thing Columbia needs is another Morningside Park gym.
Toward that end, the administration has held a number of meetings - open houses, town hall-style discussions and informal chats - with members of the Columbia community, from students to area residents. Top officials such as Bollinger, Senior Executive V.P. Robert Kasdin, Executive V.P. Government and Community Affairs Emily Lloyd and V.P. Facilities Management Mark Burstein have participated. Many more meetings are scheduled and planned, and the administration is to be commended for this and encouraged to keep the process as transparent and the dialogue as open as possible.
What would Manhattanville be used for? At the Senate meeting, Bollinger ticked off the sciences, a new home for the School of the Arts, a possible expansion of the School of International and Public Affairs and housing as four possibilities, but stressed that everything was up for discussion.
One thing, however, is certain: This will be a long process. Columbia still has to acquire rights to the majority of the land, obtain zoning changes, amicably relocate businesses and the few residents in the area and develop plans that are far more detailed than the current conceptual drawings. The University also needs to raise the money to accomplish all this, plus construction.
Speaking before the University Senate, Bollinger joked about being "in the very happy circumstance of not having nearly enough money to accomplish all we might want to do immediately ... We really do not have the funds to meet all of our needs, even if we did have the space, in the next five or eight years. We do have enough funds to make a dent, for the first phase. But this will be with us for years."
| | | | | | | |
| --- | --- | --- | --- | --- | --- | --- |
| | | || | | || | | |