| | | | | | | |
| --- | --- | --- | --- | --- | --- | --- |
| | | || | | || | | |
OBITUARIES

1924

Leon Shiman, retired attorney, Hummelstown, Pa., on November 29, 2001. Shiman earned a master's in economics from GSAS in 1924 and an LL.B. from the Law School in 1927. He was an attorney with the Legal Aid Society of New York City, and from 1934 through the end of WWII, a government economist in Washington, D.C, first with the New Deal economic recovery program and then with the War Production Board. Shiman later was a tax attorney in Indianapolis. In 1980, he retired and, as he said, "still in the prime of life," moved to St. Petersburg Beach, Fla. Shiman played tennis and squash into his 80s and was an avid bridge player to the end of his life. He was predeceased by his wives, Ruth Fox Shiman and Mary Batchelor Shiman, and by his twin brother, Russell Shiman '24. He is survived by his sons, Leon '58 and Ross '60; and daughter, Sarah Shiman Hatcher.

1928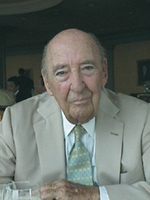 George Hammond, public relations executive, Mystic, Conn., on December 4, 2003. Upon graduation from the College, where he studied as a Pulitzer Scholar. Hammond began his career as a sports writer for the New York Sun. He was hired by public relations pioneer Carl Byoir in the 1930s to take photos of American tourists visiting Cuba, which were then distributed to U.S. newspapers in an effort to increase American tourism in Cuba. Hammond later became chairman of Carl Byoir & Assoc., where, during the 1940s, he created the first in-house photography and television departments in a public relations agency. He was the first to have his account team work in the offices of the client, not the agency. In 1969, Hammond served in as president of the Public Relations Society of America, and in 1989, he was a member of PRSA's inaugural College of Fellows class. In addition to serving as president, Hammond was the chairman of the 1972 Nominating Committee, which was the first committee to nominate a woman to serve as president of the society. Hammond received countless accolades throughout his career, including the prestigious Gold Anvil Award in 1973 — PRSA's highest individual award, presented to a public relations practitioner and PRSA member whose accomplishments have made a major contribution to the profession. Hammond also was the first recipient of the John W. Hill Award for leadership in the practice of public relations, presented by the PRSA NewYork Chapter in 1977. Hammond is survived by two daughters, eight grandchildren and 14 great-grandchildren. Memorial contributions may be made in Hammond's name to Mystic Seaport (Attn.: Bill Cogar), The Museum of America & the Sea, PO Box 6000, 75 Greenmanville Ave., Mystic, CT 06355-0990.
Henry Muhlenberg Sperry, international banker, Portola Valley, Calif., on April 25, 2003. Sperry was a descendant of the Muhlenberg family, which included Henry Melchior Muhlenberg, founder of the Lutheran church in America; John Peter Gabriel Muhlenberg, a clergyman who served as a general in Washington's army and later was a congressman and Frederick Augustus Conrad Muhlenberg, a clergyman, congressman and first Speaker of the House of Representatives. Born in New York on May 16, 1906, Sperry grew up in New York City and in Denmark and graduated from Horace Mann School. He joined the National City Bank of New York (now Citigroup) in 1930 and retired in 1967. During his time with Citibank, Sperry spent only the first three years in New York and then was posted to Kobe and Osaka, Japan; Shanghai and Hankow, China; and Manila. He spent more than 20 years in Hong Kong. Sperry retired as v.p. with responsibility for the Hong Kong branches, Taiwan, Thailand, Vietnam, Cambodia and Laos. During WWII, Sperry was interned by the Japanese in Manila from January 1942 until liberated by the U.S. 11th Airborne in February 1945. During internment, he met Ansie Lee of Hong Kong, and they were married in 1946 in Shanghai. After retiring from Citigroup, Sperry returned to the Far East as a consultant to banks in Singapore, Bangkok and Hong Kong. He was the first executive director and later president of the American Chamber of Commerce in Hong Kong and was president and chairman of American Asian Bank in San Francisco. Sperry and his wife moved to Portola Valley, Calif., in 1973. He was a member of Christ Church, Portola Valley, and volunteered for organizations for the mentally ill. Sperry is survived by his wife; son, Fred; daughter, Vicky Merchant; and two grandchildren. Memorial contributions may be made to an organization for the mentally ill, Mateo Lodge, Inc., 420 Cassia St., Redwood City, CA 94063, or a charity of the donor's choice.

1930

Judd Marmor, psychoanalyst, Los Angeles, on December 16, 2003. Marmor was influential in having homosexuality removed from the American Psychiatric Association's official list of clinical disorders. Born in London, Marmor came to the United States a few years later with his family. He received his M.D. from P&S in 1933. In 1946, he moved to Los Angeles, became a psychoanalyst and emerged as a favorite among the Hollywood elite. In the early 1960s, Marmor took the radical position that homosexuality was a variant of sexual behavior as opposed to a deviation or illness. He also contended that homosexuality had multiple roots — genetic, biological and psychosocial — and did not stem from a dysfunctional mother or a home life fraught with problems, as was the theory of the day. As vice president of the American Psychiatric Association, Marmor was forthright in saying that the criteria that would normally be applied for a mental illness did not apply to homosexuality. In 1974, amid a great political struggle within the APA, its members voted to remove homosexuality from the Diagnostic and Statistical Manual of Mental Disorders, changing a position it had held for nearly 100 years. The action was considered pivotal in advancing the cause of gay rights. Marmor was elected president of the association later in 1974. He was influential in many other issues in psychiatry, as well, including the trend away from pure psychoanalysis to shorter-term dynamic psychotherapy. Marmor was a proponent of therapy based on scientific principles, rather than theory. He held several professional positions, including director of psychiatry at Cedars-Sinai Medical Center and professor of psychiatry at the University of Southern California. He maintained his private practice until his death. The author of more than 350 scientific papers, he also wrote or edited eight books. Marmor wrote essays in support of civil and human rights, against McCarthyism and in opposition to the nuclear bomb and the Vietnam War. Marmor's wife, Katherine, died in 1999. They were well-known collectors of modern art. Marmor is survived by his son, Dr. Michael F. Marmor; and two grandchildren.

1934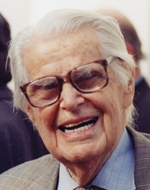 Ralph W. Bugli, translation and public relations professional, Katonah, N.Y., on October 3, 2003. Bugli was born in East Orange, N.J., in 1913. After attending the College, he began his writing career as a general assignment reporter for the Morristown Daily News. He was the sports editor for the newspaper when he quit to join the presidential re-election campaign of Franklin D. Roosevelt in 1936. After working as a speech writer for FDR, he returned to New York, where he began his long career in public relations. Bugli's first contact with Sweden was as senior v.p. of the prestigious Doremus public relations agency, which was contracted to provide PR and media assistance for the Swedish pavilion at the 1964 World's Fair in New York. In late 1964, Bugli resigned from Doremus and founded The Bugli Co., of which he was president, a public relations firm with offices in New York and Sweden. He remained active in the daily operations of the company until shortly before his death. The Bugli Co. worked with a number of Swedish clients such as Ericsson, where he served as the first PR manager and established the PR department in the mid-1960s. It was during this time that Bugli was requested to help write the Ericsson Annual Report in English. This report was the first of more than 1,500 annual reports that Bugli and the employees of the Bugli Co. subsidiary in Stockholm would write and translate during his nearly four decades of service to Swedish industry. During this time, Bugli commuted between New York and Stockholm more than 20 times annually and was a well-known passenger on SAS flights. In 2003, he was awarded the Swedish Royal Patriotic Society's Gold Medal of the First Magnitude for his service to Swedish industry. Bugli also was an early member of Alcoholics Anonymous and was the co-author of such well-known AA writings as The Twelve Steps and 44 Questions. He was the keynote speaker in 1999 at the 60th anniversary of its founding. AA had only 100 members in the early 1940s. It is estimated that there are now more than 100,000 groups and more than 2,000,000 members in 150 countries. Bugli was instrumental in starting the AA group in Stockholm. He authored two books on the insurance industry and contributed to several books on public relations. He was a founding member of the Public Relations Society of America. Bugli's first wife, Winifred, died in 1995. He is survived by his second wife, Arline Dahlman-Bugli; sons, Carl, Mark and David; and daughter, Jan.

1936

Henry Don Hoberman, biochemist and physician, New Rochelle, N.Y., on January 10, 2004. Hoberman, a professor emeritus of biochemistry at the Albert Einstein College of Medicine, was noted for his studies of pathways of hydrogen atoms in intermediary metabolism. Born and raised in Bridgeport, Conn., he received his Ph.D. in biochemistry from GSAS in 1942. At Columbia, he was a member of the group that pioneered the use of stable isotopes in biochemistry. At the start of WWII, Hoberman moved to Harvard Medical School to conduct war-related research. After the war and after receiving his M.D. from Harvard in 1946, Hoberman joined the faculty of the Yale School of Medicine, where he was research associate (1946–48) and then assistant professor of biological chemistry (1948–53). In 1953, he became one of the founding members of the Albert Einstein College of Medicine, with which he was affiliated until his retirement in 1993. He also served as an attending physician in the Medical Clinic of the Jacobi Hospital, an Einstein affiliate, from 1973–93. He loved boats and the sea and maintained a sizable powerboat well into his 70s. He is survived by his wife, Hilda H. Carnicero; sons, John, David and Michael; daughter, Ruth; daughters-in-law, Louisa and Janet; son-in-law, Richard, and five grandchildren.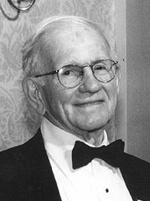 Edwin W. Rickert, retired analyst, Mill Creek, Wash., on October 14, 2003. Born in Connersville, Ind., on June 17, 1914, Rickert served as a security analyst and economist for Mackubin, Legg & Co., Baltimore, 1936-40; an industrial analyst for the Office of Production Management, Washington, D.C., 1940–41; and as a supervisor of commodity economic research for Standard Brands, New York, 1946–53. He was an investment counselor for Brundage, Story & Rose in New York from 1953–2000, where he was a partner from 1966–83 and a senior investment consultant from 1984–2000 before his retirement. Rickert was a trustee for Columbia University Press, 1977–96, and was trustee emeritus 1996–2001. He also served on the College Board of Visitors 1986–92. Columbia created a professorship of economics in his name. Said his daughter, Jean, "Columbia was very important in Dad's life. He was very proud of having gone to and graduated from Columbia. He enjoyed and took pride in his involvement with the Columbia University Press and he felt very good to have been able to contribute to Columbia in the ways in which he did so over the years. … He took great pleasure in being a lifelong learner. In all the contexts of his life, he tried to encourage others in their learning and their lives and to share information that he thought might be helpful." Rickert was a captain in the Army, 1941–46, and retired as a lieutenant colonel in the Army Reserve. He was a member of the New York Society of Security Analysts, India House, Grachur Club and Republican Party. He was active in the United Church of Rockville Centre, N.Y. (Presbyterian and Congregational) and was a Boy Scout Master for many years. Rickert traveled extensively, visiting Eastern and Western Europe, the Middle East, the Far East and Central America. He is survived by his wife, Ruth Alma Fulcher; daughters, Jean Adelia and Wendy Grace; son, Allen Edwin; and a grandson.

1937

Frank X. Michel, retired attorney, New York City, on March 9, 2003. Born and raised in New York City, Michel graduated from DeWitt Clinton H.S. He earned a law degree in 1940 from NYU, and his career focused on estates, trusts and wills. According to his son, Frank Jr. '70, "My father's love for Columbia University was lifelong." Michel also is survived by his two other sons, Dominic and Fred; daughters, Lisa and Rosemary; eight grandchildren and one great-grandchild. His wife, Mary, passed away in 1986.

1944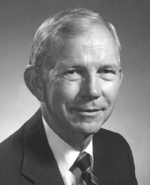 John Strom Jr., retired accountant, Redwood City, Calif., on October 22, 2003. Born in Springfield, Ill., on January 3, 1923, Strom grew up in Little Rock, Ark., and received his M.B.A. from the Business School in 1947. After serving in the Navy in WWII, he settled in California. Strom retired from the Bechtel Corp. in 1988 and began a happy post-career filled with travel, golf and music. He is survived by his children, Peggy Della Rocchetta, Mo Strom, Sara Nickles and John III; eight grandchildren; sister, Betty Silvert; and his wife of 51 years, Mary. Memorial contributions may be made to the American Lung Assn., 2171 Junipero Serra Blvd., #720, Daly City, CA 94014, or to Pets in Need, 873 Fifth Ave., Redwood City, CA 94063.

1948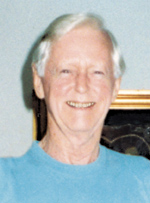 Harry W. (Bill) Hutchinson, professor, Miami, on February 25, 2003. Hutchinson was born in New York City and grew up in New Jersey and on Long Island. After serving in the Navy from 1943–46, he attended the College, then earned a doctorate in 1954 from GSAS in cultural anthropology. At Columbia, he did graduate work with Charles Wagley, the noted Latin American anthropologist. In 1959, Hutchinson won a Fulbright research award for study in Brazil, and in 1960, he received a post-doctoral fellowship from the Rockefeller Foundation. Hutchinson taught anthropology at the University of Miami for 18 years and was an authority on the culture and rural economy of northeastern Brazil. He joined the University of Miami faculty as a professor of anthropology in 1966 and served as department chairman from 1971–79. He was the author of Village and Plantation Life in Northeastern Brazil and a National Academy of Science/National Research Council Field Guide to Brazil, as well as entries on Brazil for Collier's Encyclopedia and many articles for scholarly journals. Hutchinson spoke fluent Portuguese and was noted for his skill in anthropological field work. One of his research interests was patterns of social and racial interaction in the Brazilian state of Bahia, which has a large population descended from African slaves who were brought there by the Portuguese to work sugar cane plantations. Before joining the University of Miami, Hutchinson taught anthropology and psychiatry at the University of Florida in Gainesville and sociology and anthropology at Vanderbilt University. Prior to that, he taught anthropology for five years at the Escola de Sociologia a Politica de São Paulo and the Universidade da Bahia in Brazil. After retiring from the University of Miami in 1984, he moved to Brazil with his wife, Carmelita, and cared for her when she developed Alzheimer's. After her death, he returned to Miami in 1996, settling in Kendall, where he continued his research in anthropology and enjoyed a full life with his many friends and his beloved Chihuahua. Hutchinson is survived by several members of his extended family, both in Brazil and the U.S., and many longtime friends. He was buried with military honors at Florida National Cemetery in Bushnell, Fla.

1954

Irwin F. Bernstein, Westfield, N.J., on December 20, 2003. Bernstein, a longtime Lion activist, was a two-time fencing All-American at Columbia and became one of the driving forces among the University's athletic alumni. He earned a degree from the Business School in 1955.

1963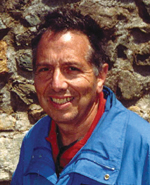 Pierre Morell, professor, Chapel Hill, N.C., on July 15, 2003. Morell was born in the Dominican Republic, where his parents settled briefly after fleeing Poland at the outbreak of WWII. Pierre attended the Bronx H.S. of Science and then Columbia, where he was active on the swim team. After graduating from the College, he followed his parents' path into scientific research by earning a doctorate in biochemistry in 1968 from the Albert Einstein College of Medicine. He joined the biochemistry faculty at the University of North Carolina in 1973, where his research interests centered on the metabolism and functions of myelin, the cellular support that enables communication between neurons. He was among the first to recognize the necessity of understanding myelin as the sum of its biochemical, genetic and molecular properties. He and his collaborators produced more than 120 scientific papers, reviews, book chapters and textbooks. Morell served as the director of the UNC neuroscience program for 10 years, during which time the program helped establish the university as a leader in neuroscience graduate training, and was active on grant committees for the National Institutes of Health. An unusual aspect of his relationship with UNC, where he was a professor of biochemistry and biophysics, was that Morell also was an adjunct professor in the department of exercise and sport science, where, as a master diving instructor, he developed its scuba program and taught. He put this expertise to use in an informal reunion in the summer of 1996, when Pierre and his wife, Bonnie Jean, and two of his College roommates, Peter Gollon '63 and Larry William '62, and their wives, rented a house on Key Largo. Under Morrell's expert and demanding instruction, the latter four received their certification as scuba divers. Morell is survived by his wife; son, David; daughter, Sharon; son-in-law, Jeff Harbaugh; and a granddaughter.

2006

Fraser Lunan, student, Baie D'Urfe, Quebec, on December 13, 2003. Lunan was on leave from the College at the time he passed away. Friends remembered him in Spectator as a person who "could drive a golf ball 300 yards, explain the nuances of Middle East foreign policy and send his friends into fits of laughter with his sarcastic sense of humor." But Lunan's closest friends knew a different side of him, the article stated — "a side more private and personal than his jokes and dry wit. They knew a quiet, introspective individual who devoured books, valued education and could talk for hours about history, politics or philosophy." Lunan's younger sister, Chelsea, said she admired her brother's intelligence and passion for learning. "He liked to think a lot and he loved to read. His entire room was covered in books," she said. "I'd always go to him for advice, and when it came to education, he told me how he believed that education was so important because it made you a fuller person." Among Lunan's other survivors are his parents, Ramsay and Glynes, and an older brother, Jordan.
Lisa Palladino
Other Deaths Reported
Columbia College Today has learned of the deaths of the following alumni (full obituaries will be published if information becomes available):
1932 Thomas Grasson, Silver Spring, Md., on November 29, 2003. Grasson earned a degree from the Architecture School in 1935.
1952 Kenneth P. Childs, sales executive, Manhasset, N.Y., on January 11, 2004.
1953 Marius P. Valsamis, neuropathologist, Brooklyn, N.Y., on January 6, 2004. A fencer, rally driver and N.Y. Medical College professor, he is survived by his wife, Nancy; children and grandchildren.
1953 Allan G. Kennedy, Brewster, N.Y., on December 14, 2003. He is survived by his wife, Grethe; sons, John Jeffrey, James, David and Timothy; and nine grandchildren. [Editor's note: Please see the 1953 Class Notes column for more details.]
1956 Elliot M. Mager, West Newton, Mass., on July 16, 2003. Mager earned a degree from the Engineering School in 1957.
| | | | | | | |
| --- | --- | --- | --- | --- | --- | --- |
| | | || | | || | | |


CCT Home


This Issue


Previous Issue

CCT Masthead