| | | | | | | |
| --- | --- | --- | --- | --- | --- | --- |
| | | || | | || | | |
AROUND THE QUADS
Furda To Lead University Alumni Relations
By Alex Sachare '71
Eric Furda, who has headed undergraduate admissions at Columbia for nine years, a time of remarkable growth, has been named vice president for University Alumni Relations, effective April 1.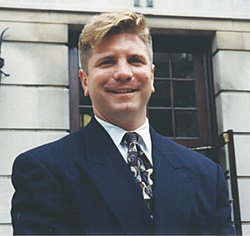 In his new role, Eric Furda is looking forward to broadening the scope of his involvement at the University.
PHOTO: Alex Sachare '71

"The creation of this new position reflects President [Lee C.] Bollinger's and my commitment to renew and reenergize Columbia's connections to her alumni," said Susan Feagin, University executive vice president for development and alumni relations, in announcing the appointment. "A year of discussion with many inside and outside the University made clear the need to strengthen our University-wide alumni relations programs and to bring these improved programs into closer coordination with our school-based efforts, in particular undergraduate alumni relations."
Furda, who graduated from Penn in 1987 and Teacher's College in 1994, has spent 17 years in college admissions and has been at Columbia since 1991. He was instrumental in the successful merger of College and SEAS admissions and the significant increase in applications and upgrade in quality of applicants to both schools.
"I'm certainly happy and proud of what we've accomplished in admissions," said Furda. "But I had to ask myself, 'Is this what I'd like to do for the rest of my working life? Or are there other challenges to take on?' It was not a Columbia issue. It was a matter of whether I wanted to stay in college admissions.
"I feel strongly about Columbia and I love being in New York City. This was a chance to stay at Columbia and take on a broader range of responsibilities and work with other schools in addition to the two undergraduate schools I've worked with. This is a great place, especially with the changes that have taken place in the past 10 years, and I want to get that message to alumni."
Furda's mandate, as outlined by Feagin, is "to encourage a culture for valuing and including alumni in school and University affairs. We know that the only way to achieve such an ambitious goal is to build on the success of our school-based programs. There is much to be done at the University level, including the support of Columbia Club efforts around the world, and the improvement of mechanisms for information sharing and coordinated planning throughout the University."
In his role as executive director of undergraduate admissions, Furda already has had significant interaction with the College and SEAS alumni affairs staffs; as recently as January 31, he participated in Southeastern College Day in Miami Beach. He is expected to work closely with College alumni leaders, including Derek Wittner '65, associate dean, alumni affairs and development, and Ken Catandella, director of alumni affairs, as well as their counterparts at SEAS and other schools.
"I look forward to building on our valued relationship with Eric, which we have established through the years," said Wittner. "The opportunity to leverage the College's attention to connecting alumni with the University's emphasis in this endeavor is unique in my experience at Columbia. We all look forward to the dividends this will mean for Columbia alumni."
Furda sees outreach as a key component of alumni relations. "It's important to bring alumni back to Columbia with reunions and special events," he said, "but it's also important to bring Columbia to their hometowns with events such as the College Day in Miami Beach and the presidential visits that Lee C. Bollinger is making. All of this is engaging and connecting alumni with Columbia, because alumni are the lifeline of the school.
"I want to try to reconnect alumni with Columbia as it is today, to bring alumni back into the fold in a more connected manner. And I want to make sure that alumni stay connected with their schools for the rest of their lives."
Furda's place in admissions will be filled by Jessica Marinaccio, who has worked in college admissions for nine years, the last four at Columbia, where she served as associate director and was being groomed for the top job. "Eric was at the head of the team, but Jessica was a key player," noted Dean of Student Affairs Chris Colombo, who oversees the Admissions Office.
| | | | | | | |
| --- | --- | --- | --- | --- | --- | --- |
| | | || | | || | | |