| | | | | | | |
| --- | --- | --- | --- | --- | --- | --- |
| | | || | | || | | |
FEATURES
Strengthening the Safety Net
Coping with the suicide of their youngest son, Donna and Phillip Satow '63 are leading a nationwide effort to improve mental health on campuses
By Laura Butchy
In December 1998, 20-year-old Jed Satow, a student at the University of Arizona, killed himself while on winter break. As are hundreds of families of college-aged suicide victims each year, the Satows were shocked and devastated. They also were determined to do something. While dealing with their sorrow, Phillip Satow '63 and Donna Satow '65 GS developed The Jed Foundation, a nonprofit organization dedicated to reducing youth suicide and improving colleges' mental health capabilities.
"Borne of a personal tragedy of unfathomable proportions, the Satows have mustered the energy to help college students avoid self-destructive behaviors and get the help that they may need," says Dr. Mort Silverman, senior adviser to The Suicide Prevention Resource Center in Newton, Mass., and an expert on youth suicide. "In so doing, they are working tirelessly to ensure that other parents of college-aged students do not suffer the shock, grief and loss that they have suffered."
When they began researching youth suicide, the Satows learned that suicide is the second-leading cause of death among college-aged students (after auto accidents). Many groups estimate that 15–20 percent of college students are depressed. After Jed's death, the Satows visited with the University of Arizona's president to discuss Jed's experience and the problem of suicide on college campuses.
"It was clear from that discussion that there was no blueprint for colleges to deal with this," says Phil Satow. "We established the foundation to create awareness and seek answers."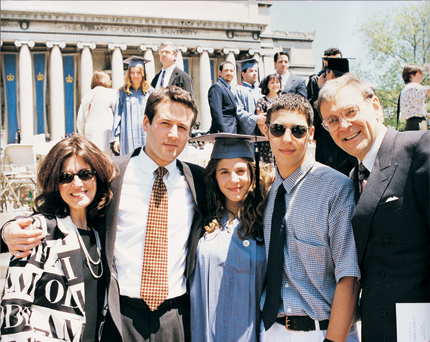 Above, Donna (far left) and Phil Satow '63 (far right) gather for a family photo near Low Library with their children (left to right) Michael '88, Julie '96 and Jed at Julie's graduation from the College. Jed died in 1998 while a student at the University of Arizona.

According to the foundation's website (www.jedfoundation.org), about 1,100 suicides occur on campuses each year, and four out of five young adults who attempt suicide have given clear warnings. "We want to alert universities to the nature of the problem and to interventions that work," Phil Satow says. "We want to provide a real service."
The Satows insist, however, that calling what they do a "suicide prevention program" is not broad enough. Donna Satow prefers to call it "a mental health improvement program," noting that they are trying to counteract precursors to suicide, such as depression and stress. The Satows emphasize that college communities need to recognize danger signs and offer support to students long before suicide is considered an option.
"The answer isn't just to comb campuses for kids about to commit suicide," Phil Satow says. "People of responsibility need to recognize that it is a problem and know how to deal with the problem. Counseling centers cannot do the job alone. Cultural change is required." He stresses the point: "[What is needed is] a public health preventative approach commitment at the upper reaches of the university."
The Satows' other children, Michael '88 and Julie '96, '01 SIPA, are foundation board members and help with ad hoc projects. Michael, an attorney and entrepreneur, lives in Westchester with his wife and two children. Julie writes for the New York Sun and lives in Soho. The Satow family works with people in a variety of fields, including deans, student services, counselors, psychological services and representatives from all disciplines to improve the way that mental health is addressed on college campuses.
A salesman's son, Phil Satow grew up in Brooklyn and attended the College on scholarship. "Columbia's recognition of my financial need through scholarship grants changed my life forever," he says. "I developed a broader awareness of the world, a desire for intellectual challenge and an appreciation for the pursuit of excellence." He met Donna, a General Studies student, in Butler Library. They married in 1964, while Phil Satow was serving with the Navy during the Vietnam war. After four years at sea, he spent his last two years with the Navy stationed in Washington, D.C. There, he earned an M.A. in economics from Georgetown.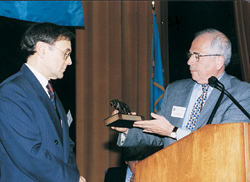 Gerald Sherwin '55 presents Satow with an award recognizing his years of service to the Alumni Association. Satow served as its president from 1998-2000 and was succeeded by sherwin. Satow first became a member of the Alumni Association Board of Directors in 1988 and presently serves on the Board of Visitors.

Phil Satow started in the pharmaceutical industry, working for Pfizer for 15 years, then Carter Wallace and finally, Forest Laboratories. During his last 15 years at Forest, he was executive v.p. and a member of the board of directors. Just two days before his scheduled retirement, Jed died. "One of the reasons I looked forward to retirement was so I could spend more time with my family," Phil Satow says. "It left a gaping hole in my plans for the future."
A significant part of that future became The Jed Foundation, which the Satows founded in 2000 in their Soho loft. The foundation is run by the Satows, a friend of Jed's who works full-time and several part-time project managers. By using project managers to consult on specific projects, the foundation not only uses individuals' expertise but keeps overhead costs down so that funding goes directly into the nonprofit's programs. The Satows hope to employ student interns in the future.
In January, the foundation leased its first office space on lower Fifth Avenue. With the support of individual contributors (including many Columbia alumni), corporations and, recently, private foundation grants, The Jed Foundation has grown and been able to fund a variety of important programs.
The first major project was Ulifeline (www.ulifeline.org), a website for college students that offers access to information on mental health issues such as depression, stress and the pressures of college life. Already available to students at more than 240 colleges and universities nationwide, Ulifeline was created by students, for students, with the supervision of mental health professionals.
"There still is a stigma. Some students don't want to be seen going to a counselor," says Donna Satow, noting that through Ulifeline, students can access information privately, at their convenience. The National College Health Risk Behavior Study found that 11.4 percent of students seriously consider attempting suicide, and the Satows hope to reach more of these students. Ulifeline allows students to screen themselves or a friend for warning signs of emotional problems and provides links to college counseling centers. Free to the universities, Ulifeline is customized for each school. Columbia is in the process of connecting to Ulifeline, with Counseling Services working to customize the website's responses to student surveys as appropriate to Columbia.
"We've worked with The Jed Foundation in a variety of ways for several years," says Richard Eichler, director of Counseling and Psychological Services. Columbia is among five universities now participating in a program to develop evidence-based mental health intervention programs. The universities are free to develop their own programs in different areas; the foundation sends independent evaluators to measure the programs' success.
"The goal is to create data — evidence-based support that can be communicated to other universities around the country so that they can develop programs that are right for them," Phil Satow says.
New initiatives at Columbia in the past few years have included town hall-style meetings, where professionals come to campus to discuss with students mental health topics such as depression and suicide. In addition, Counseling Services opened residence hall offices in three dorms, where students can meet with counselors after-hours in an informal atmosphere.
"Some students prefer [Counseling Services' offices in] Lerner, but others are more ambivalent and prefer to see counselors in dorms," notes Eichler. He believes the residence hall offices create a more visible presence and make counselors more accessible to residence life staff and students who might be concerned about friends — those who would notice day-to-day behavior of students but might be reluctant to visit the eighth floor of Lerner. "We are hoping these offices will make it more convenient to bring in students who otherwise might not have come in."
The Jed Foundation also has developed tools for campuses to evaluate their efforts. According to the Satows, many universities lack awareness of the serious emotional disorders from which college students suffer. "Faculty and staff need to recognize the signs," Phil Satow says. "Suicide is a permanent solution to a temporary problem. There are medications, therapy, groups … There's help."
The foundation is developing customizable questionnaires to colleges that they can use to assess their populations. A voluntary freshman survey allows students to inform the school of past emotional problems, a landscape questionnaire assesses student body mental pressures — such as stress and depression — to gauge population danger and a survey of student attitudes toward mental health issues provides feedback for the university on its mental health services.
The foundation seeks to raise awareness among parents, as well. Signs of depression in college students are slightly different from those found in other age groups, the Satows point out. Excessive irritability, hopelessness, aggressiveness and impulsivity should not be overlooked. The Jed Foundation website offers a list of warning signs to watch for in young people, essential mental health services that parents should look for in potential colleges and links to college counseling centers.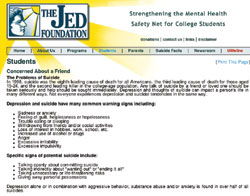 The foundation's website offers statistics, resources, news and contacts for more information.

Another foundation project is a National College Suicide Registry to document completed and attempted college student suicides. Though universities are understandably reluctant to publicize suicides and attempts, the Satows believe that measuring the scope of the problem will help colleges and independent organizations combat the problem. The Harvard School of Public Health has been documenting all violent injuries in 13 states, and The Jed Foundation is sorting the data to count suicides. The foundation hopes to expand its study to include more states and develop research that draws reports directly from colleges.
"The Satows are crusaders," says Silverman. "They are very dedicated, concerned, committed, earnest and creative people. Even though they have a clear vision of who they are and what they want to accomplish, I have found them open to criticism, critiques, suggestions and recommendations."
Phil Satow remains on the Forest Laboratories Board of Directors and serves on other pharmaceutical boards, as well as consulting to the industry. He spends about half his time on the foundation. "Without a doubt, Phil Satow was, and still is, one of the most dedicated, reliable and giving people to have graduated from the College in my memory," says Jerry Sherwin '55, former president of the College Alumni Association and first v.p. while Satow was president from 1998–2000.
Satow has been a member of the Board of the Directors of the Columbia College Alumni Association since 1988 and is a former director of the Columbia College Fund. He continues to serve Columbia as a member of the Board of Visitors and a member of the Kraft Center's board. And on the fifth floor of Lerner Hall, student and alumni functions regularly are hosted in the Jed D. Satow Conference Room.
On March 3, the College honored Phil Satow with a John Jay Award for Distinguished Professional Achievement. "Phil epitomizes what one looks for in a John Jay awardee," Sherwin says.
But the Satows' greatest triumph still is evolving. "It's a positive gift to Jed's memory that we have the foundation — and the conference room — named after him," Phil Satow says.
"I hope someday our grandchildren will go to college," Donna Satow says, "and hear about the way The Jed Foundation has affected so many lives, and say, 'That's my uncle.'"
Laura Butchy is Columbia College Today's assistant editor.
| | | | | | | |
| --- | --- | --- | --- | --- | --- | --- |
| | | || | | || | | |