| | | | | | | |
| --- | --- | --- | --- | --- | --- | --- |
| | | || | | || | | |
FIRST PERSON
Finding Support When Most Needed
Tommieka Texiera '96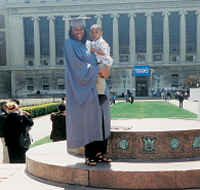 Tommieka Texiera '96 holds her son, Giovann, at the Sundial. MISSING PHOTO

On a brisk January night in 2002, just a few days before my 30th birthday, my then–10-year-old son, Giovann, and I headed up the West Side Highway in my small black Dodge Neon with the gaudy gray bumpers that I bought in 1995 as a junior at the College. That night, "ol' Betty" was filled to capacity with our clothes, housewares, TVs, computer and, of course, "His Honor's" Nintendo GameCube and Sony PlayStation, with all the games and contraptions. As we rounded the corner of West 121st Street and Amsterdam Avenue, I could feel Giovann's air of anticipation as he looked out the passenger window from behind the mountain of down pillows I had stuffed onto his lap.
Our journey ended in front of 509 Bancroft Hall at Teachers College. "Here we are!" I shouted in my high-pitched, maternal voice. Yet, nothing could have prepared me for the next life-changing moment. As I turned off the ignition, Giovann hugged the pillows on his lap and gently said, "I love my life." We were back home at Columbia! I was pursuing my master's in physical education, and in some sense, starting over. I knew that this was a great sign.
In 1991, I entered the College at a delicate stage in my life. I had graduated from St. Paul's School in Concord, N.H., where I had been a class officer and tri-varsity athlete, and I was in New York City permanently for the first time in four years. Without an emotionally supportive mother or father and lacking friendships in the city after being at boarding school, the Morningside campus became a refuge for me — a place where I could start anew. But by early November, even though I had made new friends and started pre-season training with the women's basketball team, my transition became increasingly difficult, and I decided to take a voluntary leave of absence to sort out the issues in my life. I did not realize at the time of my leave that I was pregnant.
I found out about my pregnancy in January 1992, two months after I left school. In the doctor's office after my examination, I stared at the oatmeal-colored walls and thoughts raced through my mind: "How could this happen to me now? Can I really have a baby? What about school, money, and although I've been dating my boyfriend since I was 11, I'm not even married, right?" Oh, the horror I felt as I waited for the technician to perform a sonogram. Then something special happened. In walked an over-zealous sonogram technician, as bubbly as they come, an angel of some sort. Without judgment, he graciously showed me all of Giovann's body parts and his little beating heart. I could not believe how beautiful he was, and I fell in love. On that day, I made the hardest decision of my life — to not abort.
My pregnancy was a sign of failure to almost everyone, except the most important person: me. I received minimal support from my family. After I dried my tears of rejection, I decided to use my God-given intellect and I made a plan to save not just one life, but two. I applied for re-admittance to the College, registered for parenting classes at a local hospital and read everything I could get my hands on about babies and parenting.
Giovann was born on August 13, 1992. Three weeks later, I matriculated for 12.5 credits and started classes with my son in tow. I can remember how unsure I felt walking up the steps next to John Jay with my books and Giovann in a carrier. I was 19 years old and a student at Columbia College — with a baby. I heard negative voices and thought to myself: "What will people think of me? I'm a loser and a failure, right? A disappointment." I fought back those thoughts and my tears, however, and walked up those steps onto campus with my head held high because I knew otherwise. Failures, losers and disappointments do not gain admission to Columbia College.
I remember sitting in chemistry classes in Havemeyer Hall breastfeeding my son under a diaper. Male and female students were "wowed" by the fact that I was in class with an infant. They always were supportive, and were somewhat surprised by my commitment to my studies.
My first dean, Donna Badrig, treated me with love and support, like a favorite niece. She did not judge me, but rather was sensitive to my academic and emotional needs. Great professors were understanding about my needs as a parent and allowed me to fax in papers if my son was ill, all the while holding me to the same academic standards as my peers. Even the Core Curriculum was a tremendous foundation for me as a mother, as I delved into dialectical thinking and Platonic ideas about the roles of women and children in society with Professor Elizabeth Barden-Dowling in Contemporary Civilization. I even was inspired to buy Baby Beethoven for my son after learning about the benefits of classical music in Music Humanities with Professor Steve Sacco.
During those years of commuting from Brooklyn with my son, I learned a great deal about ambition and the human will to overcome obstacles and achieve a goal. I benefited from being part of an academic community that at every turn was full of mentors as well as cheerleaders. On the days when I felt guilty about needing help, I would sit along College Walk with the neighborhood mothers, exchanging life stories and wisdom. I always walked away feeling empowered as a woman and a mother. Encouragement from a 65-year-old Japanese grandmother prompted me to try out, and briefly play, for the women's basketball team in 1994. She would tell me every time I saw her: "You have youth, go play ball!"
My last two years at the College were a bit tumultuous as the academic requirements intensified. It seemed that the closer I came to proving all of the naysayers wrong, the more negative energy confronted me. Yet, in the true form of a Columbia Lion, I endured those rough times and managed to graduate in May 1996 with a bachelor's in political science, finishing in four years. Giovann was in attendance, and he may have been the proudest graduate of them all!
Eight years later, as a Columbia graduate student, this great and diverse academic community continues to inspire me to achieve great things in life, no matter what my circumstances may be. I have met friends and mentors who advocate for me, support me unconditionally and always are willing to listen and advise me. I could not have asked to be a part of a better University or, in my heart, an extended family. Thanks, Columbia University, for helping me to love my life as well!
After graduation, Tommieka Texiera '96 completed the Barnard-Columbia Joint Education Program and began teaching high school in New York City. She left teaching to pursue a career in professional basketball overseas and returned to the United States to become an assistant coach and academic coordinator for the women's basketball program at St. John's. She is pursuing her dream to play in the WNBA while enjoying a new career as a real estate sales specialist with The Corcoran Group. Giovann, 11, is an honor student at Middle School 51 in Park Slope, Brooklyn.
| | | | | | | |
| --- | --- | --- | --- | --- | --- | --- |
| | | || | | || | | |


CCT Home


This Issue


Previous Issue

CCT Masthead