| | | | | | | |
| --- | --- | --- | --- | --- | --- | --- |
| | | || | | || | | |
ALUMNI CORNER
On the Road for Columbia
BY CHARLES J. O'BYRNE '81
PRESIDENT, COLUMBIA COLLEGE ALUMNI ASSOCIATION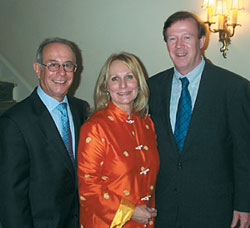 Dean Austin Quigley (right) poses with Michele and Arlen Andelson, parents of Bobbie '03 and hosts of a recent dinner for alumni and parents at their Beverly Hills, Calif., home.
PHOTO: ELAINE MATHEWS

The College's boon in admissions is due in no small measure to its successful emergence as an international school with students coming from across the globe to spend the best years of their lives on Morningside Heights under the watchful gaze of Alma Mater. Columbia alumni already are everywhere, and I recently had the chance to accompany College staff on two road trips to meet some of them.
I joined Associate Dean of Alumni Affairs and Development Derek Wittner '65; Ken Catandella, director of alumni affairs; and other members of the College staff on January 11 for Atlanta College Day. Zora Neale Hurston Professor of English Robert O'Meally, Associate Professor of Sociology Francesca Polletta and Dean of Academic Affairs Kathryn Yatrakis were the featured speakers during a day of seminars, talks and several delicious meals on the spacious campus of the Westminster School. More than 100 newly admitted early decision applicants, parents and alumni were on hand. It was a wonderful time to visit with the many who make up the College's Southern contingent. Henry and Liz Lorber, parents of Andy '04 and Eric '06, hosted a wonderful reception at their home for alumni, parents and College staff, which gave us a chance to become reacquainted with old friends and to meet the newest families of the Columbia community.
The Columbia Club of Atlanta is one of the nation's most outstanding alumni groups. It is under the leadership of Janet Frankston '95, a reporter for The Atlanta Journal-Constitution and CCT class correspondent. She is ably assisted by a committee of more than 19, including Julie Fishman '90, Tom Steele '79, Alan Marks '70, Bob Lurie '66, Leslie Harris '88, John Crofoot '83, Judy Kim '92, Steve Cooper '66 and Avery Kastin '01. You can contact the Atlanta club at atlanta@alumniclubs.columbia.edu for more information on its events and initiatives.
More recently, I joined Alumni Office staff for visits to College and SEAS alumni in the Los Angeles area. On our first night, Michele and Arlen Andelson, parents of Bobbie '03, welcomed us to their home for a wonderful dinner with alumni and parents. Arlen opened the evening with an eloquent tribute to what the College has meant to him, to Michele and their family.
The following day, several outstanding faculty members from the College and SEAS spoke. College Dean Austin Quigley and SEAS Dean Zvi Galil gave keynote addresses. College faculty who participated in the day were Joseph Bizup, associate professor of English and comparative literature and director of the Undergraduate Writing Program; Patricia Grieve, chair of the department of Spanish and Portuguese and the Nancy and Jeffrey Marcus Professor in the Humanities; Nicole Marwell '90, assistant professor of sociology; and Michael Seidel, the Jesse and George Siegel Professor of the Humanities. More than 120 alumni, parents and friends braved un-Los Angeles–like torrential rains to attend these sessions, renew acquaintances and discover new friends in the Columbia family. Although I had to return to New York, the College staff continued on to San Francisco where William Meehan '74 and Eldridge Gray '84 hosted a dinner at the University Club in San Francisco for more than 30 alumni and parents from the Bay Area. Earlier in the day, Deborah Addicott, mother of Aneel Ranadive '06, hosted a luncheon in her Atherton home for alumni, parents, Dean Quigley and College staff.
Washington, D.C., hosted another College Day on September 21, with more than 125 alumni, parents and guests in attendance. Featured speakers included Great Teachers awardees Ted de Bary '41 and David Helfand, as well as Miriam Champion Professor of History Martha Howell and Katherine Dalsimer, who lectures on psychiatry. The evening before, Jeff Knowles '71, father of Jeff Knowles '06, hosted an evening of cocktails with the Columbia College Club of the Mid-Atlantic. The Mid-Atlantic is led by Roy Russo '56, along with Stuart Sloane '61, Steve Clineburg '63, Richard Werksman '54, Don Jensen '73, Laura Lattman '01 and Jerry Breslow '56.
Columbia's outreach is not limited to the continental United States, although during the past 12 months the College has sponsored and hosted more than a dozen events in six different cities, including Salt Lake City, Washington D.C., Boston, Atlanta, San Francisco and Los Angeles. Last year, Dean of Student Affairs Chris Colombo, Derek and Kathryn Wittner, and Ken Catandella were hosted by alumni and parents on a tour of Asia that included visits to Singapore and Hong Kong. Berry Kwock P'03 and the Columbia Club of Singapore officers assisted in the planning and execution of numerous events in Singapore. Philip Wang '70 hosted a traditional Singaporean dinner for the visiting College administrators with local alumni and parents. Nick Serwer '78 was an able force throughout the visit, even serving as the emcee of the club's successful dinner. The Hong Kong Alumni Association welcomed the College's first administrative visit in many years. Under the leadership of Florence Deng '97 SIPA and her executive committee, the College had a successful visit.
David Halperin '65 hosted a special reception for College and Engineering parents, and Robert Chiu '71E, P'01, '04, '06 hosted a luncheon for members of the Hong Kong Association and College alumni. The association also helped stage an admissions event. Special thanks to Allen Aw '73 Business, Tim Chen '93 and Tom Chow '99 Business for their assistance.
Why do it? It's not just about development, although the contributions raised from alumni and parents during these visits are essential if we are to meet our goals for financial aid, housing and the Core. But there's something more important than fund raising at stake in our national and international outreach. The College's efforts on the road are an important opportunity to remind ourselves of the breadth and diversity of the Columbia family and a chance to celebrate the relationships and to speak the language that we share as College graduates. For some who come to these events, it is an opportunity to reconnect with their time on Morningside Heights. For parents and prospective students, it is an opportunity to get some idea of what Columbia is all about, and for admitted students, it is a chance to be recognized and encouraged as they begin their Columbia experience.
At the risk of sounding repetitive, the College's "road show" is perhaps the single most effective part of our strategy to get more alumni involved in the life of the College. If this article reaches you in a part of the world where there is a Columbia Club or program in place and you're not yet a member, please take this as an invitation to join or to attend the next event in your area. Ken Catandella can put you in touch with the right person, who will include your name for e-mails and the like (contact Ken at 212-870-2288). If you are reading this in a part of the world where there is no Columbia presence, please consider taking on the task. Ken and his staff are ready and willing to help with the details.
Visit the Alumni Office's events calendar.
| | | | | | | |
| --- | --- | --- | --- | --- | --- | --- |
| | | || | | || | | |


CCT Home


This Issue


Previous Issue

CCT Masthead