| | | | | | | |
| --- | --- | --- | --- | --- | --- | --- |
| | | || | | || | | |
ALUMNI PROFILE
Helping Women Who Need Help
By Tami Luhby '92
Though it was more than a decade ago, Jennifer Friedman '93, '98L vividly remembers the first call she received at the Columbia Rape Crisis Center, which she helped found in 1991.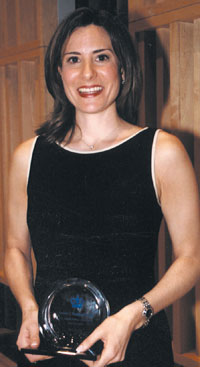 Jennifer Friedman '93, L'98
PHOTO: CHRIS TAGGART

A young woman telephoned to say she had been attacked in a bathroom in an off-campus restaurant, but managed to fight off her attacker before he raped her. Friedman spent an hour on the phone with the terrified student, consoling her and telling her over and over that she was not to blame.
That call taught Friedman that women could help each other survive traumatic times, and it changed her life. It set her on a course that would lead to her establishing a program to help domestic violence victims navigate the often-intimidating Family Court system in New York City."The power of women to heal and help one another is very inspirational," says Friedman, 31, who received Columbia College Women's 12th annual Alumna Achievement Award at a ceremony in Lerner Hall on March 26.
The Courtroom Advocates Project, which Friedman founded while still in law school, trains students from nine NYC law schools to assist battered women in court. The students help victims draft and file petitions for orders of protection, educate them about their legal rights, advocate for them in the courtroom and refer them to shelters and counseling services.
"Victims came to court off the street and were never informed of their rights or the remedies they could ask for from the judge," says Friedman, who now directs a staff of five attorneys at CAP. "They were herded through a bureaucratic system, kept waiting throughout an entire 8- to 10-hour day — often with infants or toddlers in tow — and spit out at the end of the day with little understanding of what had happened."
This assistance is critical to getting abused women the proper orders of protection and encouraging them to press forward with their cases, says Wanda Lucibello, chief of the special victims' division in the Brooklyn District Attorney's Office. She admires Friedman's ability to set up CAP despite the daunting bureaucracy of the city's court system — which initially did not welcome the program — by advancing in small steps and thanking people along the way.
Born a feminist, Friedman was raised in Scarsdale, N.Y. She chose Columbia because she wanted to be in a place where she could learn about the world, not be ensconced in an "isolated, idyllic environment that's out of touch with reality." A double major in women's studies and English, she signed up in her junior year to be among the first group of peer counselors at what is now the Barnard Columbia Rape Crisis/Anti-Violence Support Center. That's where she learned how to craft an organization's policies and procedures and garner support from others — skills she would need later.
After working on substance abuse and welfare issues for two years after graduation, Friedman returned to Morningside Heights to attend law school. There, she headed the Columbia Law School Domestic Violence Project, where legal services agencies trained students to accompany victims to court. The problem was that few victims notified the agencies before going to court, so the lawyers usually were unable to call upon the students.
At the same time, Friedman encountered women who needed such help while she interned at Sanctuary for Families' Center for Battered Women's Legal Services, a social service organization in Manhattan. With the assistance of the Center's director, Dorchen Leidholdt, she created a pilot program to provide the victims with student advocates in court.
"It was really just a matter of putting it all together," says Friedman.
That pilot grew into CAP, which now trains about 900 students a year to help women in all five boroughs. Also, more than two dozen New York City law firms send their summer interns to CAP to do pro-bono work. The program, which relies on federal grants, has assisted 4,000 victims since its inception.
Many people ask Friedman whether working with domestic violence victims is depressing, but she says she finds it quite the opposite. It's empowering to work with women who are overcoming such huge challenges, she maintains.
"I admire my clients so deeply," she says.
Tami Luhby '92 is a business reporter for Newsday.
| | | | | | | |
| --- | --- | --- | --- | --- | --- | --- |
| | | || | | || | | |