| | | | | | | |
| --- | --- | --- | --- | --- | --- | --- |
| | | || | | || | | |
FEATURE

On March 21, 1903, Columbia battled Yale in wrestling's first intercollegiate meet
By Bill Steinman
One hundred years ago, at Columbia, intercollegiate wrestling was born when the Lions took on Yale in a preliminary event to a basketball game. Yet until recently, not many people knew Columbia held this distinction. Credit goes to Don Sayenga, one of wrestling's most respected historians, who was researching an article about eight years ago and was able to identify Columbia and Yale as the first schools to wrestle an intercollegiate match. Sayenga wrote to Lou Montano, Columbia's wrestling coach at the time, relating the results of his research.
Montano saw the potential for an event commemorating the anniversary, but left Columbia before he could put it into motion. It fell to one of his former wrestlers, Bill Bocra '00, to present the idea of a 100th anniversary celebration to Montano's successor, Brendan Buckley, and the Wrestling Alumni Advisory Committee, chaired by Lew Fischbein '72. Thanks to their efforts, and those of many others, more than 350 guests filled Low Rotunda on February 8 for a gala dinner that was the featured event of a weekend-long celebration of intercollegiate wrestling's centennial.
"It was a very meaningful experience, my first experience in working on [an undertaking of] that size," said Bocra. "Working with the committee, I was able to see how much every member cared about the program."
No one was more involved than Fischbein, who spearheaded the drive to make the event a reality with strong assistance from the Athletic Department, principally Director John Reeves and Associate Director Thad Dohrn and their staffs. Invitations to participate in the weekend were sent to former Columbia wrestlers, turning it into a Columbia wrestling reunion.
Fischbein described the weekend as "electric, from start to finish. I was amazed at the sheer numbers that attended, including virtually every significant Columbia wrestler of the past 50 years. There was an incredible number of wrestlers from the 1970s and 1980s. It felt like one big, happy family."
The two-day celebration began, fittingly, with a wrestling match. Competing at the New York Athletic Club, one of the bastions of United States amateur wrestling, Columbia played host to Cornell, then the nation's fourth-ranked team. Although the Big Red won the meet 23–12, Lion wrestlers took 4 of 10 bouts. Erik Norgaard '04 paced the Lions, upsetting Dustin Manotti, ranked fifth in the nation, 9–2 at 149 lbs., and heavyweight Bart Seemen '05 shocked Buck McLamb, 13–11. Afterward, alumni gathered for a reception in an NYAC room.
Saturday began with another reception, this time in the Dodge Physical Fitness Center. The crowd then made its way to University Gym, site of decades of Columbia wrestling before Levien Gym was opened in 1974, for another Ivy match, this time with Princeton.
More than 300 people packed the gym, seated in portable bleachers, with scores more standing on the gym floor and on the running track above. Lion wrestling alumni lined both sides of the corridor leading from the wrestling room to the gym, forming a tunnel through which the Lions ran as they were introduced to wild applause and cheers.
"I'll never forget the tunnel, seeing all [my] old friends and cheering for the present team," said Warren Cook '72. "It was fantastic," echoed Bocra. "There were 200 people lined up in the tunnel. I've never seen our team more pumped up. Columbia destroyed Princeton." Indeed, the Lions defeated the Tigers 33–6.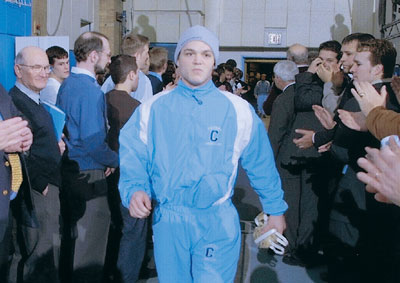 Erik Norgaard '04 listens to the cheers as he enters University Gym through an Athletes Tunnel of some 200 wrestling alumni and supporters.
PHOTO: GENE BOYARS

The Princeton match was divided by a 15-minute intermission, during which the members of the 1961 Ivy League championship team were introduced, along with All-American and all-league competitors.
Afterward, the scene shifted to Low Library for the centennial dinner, which was preceded by cocktails and a presentation of wrestling photographs researched and produced by Leo Cirino '54. The main program was emceed by Ed Aliverti, the nation's preeminent college and scholastic wrestling public address announcer, and featured speeches by Fischbein and me. Another highlight was a rousing keynote address by the famed Dan Gable, former Olympic champion, Iowa State All-American and Iowa coach.
A Columbia historical video, filmed and produced by Cook and ex-teammate Jeffrey Beer '73, was received with great enthusiasm; Columbia's six living head coaches each were presented with commemorative plaques by members of their teams; and present coach Buckley capped the banquet with an upbeat report on the current state of Columbia wrestling.
Bill Lum '82 came from Sacramento, Calif., with his 14-year-old daughter, and was glad he did. "My daughter and I cannot stop talking about it," he said.
"I loved it," said Arkee Allen '98. "On a scale of 1–10, I give it a 25." Nick Szerlip '95 said that the event "surpassed anything I had expected."
Kevin Burrows '83, who flew in from Seattle, emphasized the historical importance of the weekend. "It was a unique experience," he said, "not only because it was the 100th anniversary, but also because we had no idea that Columbia played such a significant role in wrestling history. Without the above-and-beyond efforts of a few individuals, American wrestling's centennial might not have happened. In fact, if a historian had not unearthed this piece of history, the 100th anniversary could easily have passed without recognition."
Many of the ex-wrestlers were thrilled to see former teammates. "Twenty years instantly vaporized," said Burrows, "We picked up friendships where we left off." Beer noted, "It was like time stood still." Szerlip, though a recent alumnus, came away with a heightened sense of the tradition of Columbia wrestling. "I enjoyed meeting all the alumni and seeing that their fire for Columbia wrestling after 10, 20, 30 or more years had not diminished," he said. "It is hard to describe the 'community' of Columbia wrestling, but you could definitely feel it at the reunion. I hope it benefits the guys on the team to see what they have a chance to become part of."
Jim Mullin '77, whose efforts with the wrestling committee were invaluable to the celebration, stressed the event's value to Columbia wrestling. "I most enjoyed the excitement generated for Columbia wrestling," he said. "Wrestling doesn't get the publicity that some of the other sports get, but that is changing this year. Many alumni from whom we had not heard are now in touch and willing to help."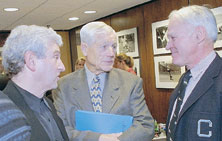 Stan Thornton (center) coached the 1960–61 Lions to the school's first Ivy League championship with a perfect 6–0 record in league matches.
PHOTO: GENE BOYARS

Intercollegiate wrestling began quietly, with a challenge delivered in February 1903 from Columbia's students to Yale, published in the Yale News. The men from New Haven accepted and agreed to two matches, the first at Columbia, the second at Yale, to take place the following month. Rules were agreed upon, four weight classes with two falls required to win, and a gold medal was donated by Columbia to go to the winning team.
College wrestling took flight on March 21, 1903, when the schools met as a prelim to a basketball game. Spectators who paid the princely sum of 25 cents saw Yale win two of three weight classes to Columbia's one, but the match ended in a 2–2 draw when the Bulldogs were forced to forfeit the heavyweight bout. Seven days later, they met again in New Haven; Yale again won two bouts and forfeited one, but the fourth ended in a draw, giving Yale the first victory, 2.5 to 1.5.
Yale issued a new challenge in 1904. Unfortunately, no one from Columbia answered. But the 1903 matches had sparked wide interest, and by 1905, two other schools, Penn and Princeton, had added wrestling teams, leading to the formation of the student-run Intercollegiate Wrestling Association, now the Eastern Intercollegiate Wrestling Association (EIWA). The organization held its first championship tournament at Penn in 1905, and has held one every year since, making it the oldest intercollegiate wrestling event in the nation.
Columbia didn't hold any wrestling matches in 1904 but came back with two during the winter of 1905, tying Yale 3–3 in New Haven on February 18 and losing to the Elis 4–2 on March 6 in New York. The schools competed in that first Intercollegiate Wrestling Association tournament on March 22, with Yale winning and Columbia finishing second, followed by Princeton and Penn.
The Light Blue won its first match in 1905, 4–3 over Penn. With the exception of 1904, Columbia has fielded a team every year, the only school in the nation to do so; Yale discontinued the sport in 1991. The Lions have competed in every EIWA championship tournament, hosting the event six times and taking second place four.
Columbia's early opponents included fellow Ivy League schools, the St. George club, the Harlem YMCA and the New York Athletic Club. Gradually, other colleges met the Lions, including Penn State (in 1911), and Lehigh, Lafayette and Navy (all in 1912–13).
Joseph Howell, Class of 1908, and Ward Tolbert, Class of 1905, were the Lions' first EIWA champions, in that 1905 competition, and Howell repeated in 1906. Fred Narganes won at 158 pounds in 1907, and gave Columbia its first Olympic wrestler when he competed in London in 1908.
The Light Blue had several other champions in early tournaments, but none boasted the impact of the 1914 175-lb. champ, Nat Pendleton '16.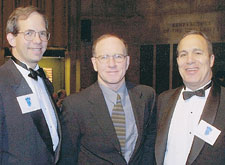 Dan Gable is flanked by Wrestling Alumni Advisory Committee Chair Lew Fischbein '72 (right) and Andy Barth '83.
PHOTO: GENE BOYARS

Although the young sport was popular among Columbians, no one thrust it into the spotlight like Pendleton. Prior to his arrival at Columbia, wrestling on Morningside Heights was personified by Michael Pupin, Class of 1883, whom some credit with winning "the national championship" in the latter part of the 19th century. Pupin became a famed University dean, and was well-known for his yearly challenge to entering freshmen to beat him in a match.
Pendleton was a powerful, handsome athlete who instantly became one of the most recognized figures on campus. He followed his 1914 EIWA title with another in 1915, and following graduation, he won the National AAU Wrestling Championship, representing the New York Athletic Club. In 1920, Pendleton reached a level that no other Columbia wrestler has achieved. Competing in the 1920 Olympics in Antwerp, Belgium, he won a silver medal. Pendleton was a professional wrestler for a while, then began an acting career in 1924 that would see him make more than 100 films. Often cast as the amiable oaf, he acted as a comic foil for such stars as the Marx Brothers and Abbott and Costello. Among his credits are Horse Feathers, Buck Privates, The Thin Man and Dr. Kildare.
Pendleton's heroics probably prompted Columbia to hire its first full-time wrestling coach in 1915, Gus Peterson, who would go on to coach for more than 30 years and 268 dual meets. In the 1920s and '30s, Columbia boasted numerous EIWA standouts, and the era was highlighted by the Lions' only undefeated season, 9–0, in 1932–33.
The momentum continued into the 1940s, and Henry "Hank" O'Shaughnessy '45 took third at heavyweight in 1943. The end of World War II set up one of the Lions' premier wrestling seasons, 1946–47, when five men hit double figures in wins and O'Shaughnessy gave Columbia its first EIWA champion since 1935 when he edged out Peter Fuller of Harvard 5–3. He excelled again in 1947–48, going 5–0–1 during the regular season and finishing second in the Easterns. Peterson retired from coaching after the season and was succeeded by his 12-year assistant, former Penn State star Dick Waite.
The program caught fire once again under Waite's tutelage. Several of the Lions' best grapplers competed under Waite, who would receive Columbia's Great Teacher Award, a rarity for a coach. The 1949–50 season saw the emergence of Bob Hartman '52, who went 9–2–1 at 136 lbs., and Gene Manfrini '52, who is blind, and went 8–1. The following season, Hartman went 12–1 and took second in the EIWA Championships, while Manfrini, 9–2–1, was fourth. Hartman went on to the NCAA Championships and made All-American when he finished fourth, the highest NCAA finish by a Columbia wrestler. Waite's team peaked in 1951–52, going 6–2–2 behind Hartman (9–0), Manfrini (5–1–1) and several other talented athletes. Four Lions placed in the Easterns, the most since 1931.
Waite relinquished the coaching position following the 1959–60 season, and was succeeded by Stan Thornton, whose first team, the 1960–61 Lions, won 9 of 11 matches and went 6–0 to capture Columbia's first Ivy League championship (Ivy League wrestling had begun only five years earlier). Heavyweight Bob Asack '62 took fourth in the EIWA for the second consecutive year.
Columbia wrestling faltered in the late '60s until Long Islander Jerry Seckler, another former Penn State star who had succeeded Thornton in 1968, markedly elevated Columbia's recruiting efforts, bringing in state and regional champions from Pennsylvania, New Jersey and Long Island. Seckler's efforts paid off in 1971–72 when the Lions posted a 12–4 record. They were fourth in the Ivy League, and improved to third the next season, when they were 9–5 overall.
When Seckler left Columbia after that season, assistant Ron Russo succeeded him. Russo would go on to coach Columbia wrestling for 20 years and win 134 matches, a Columbia record.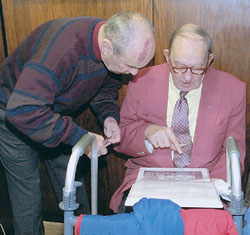 Hank O'Shaughnessy '45 (right), who won an EIWA title in 1947, visits with Bob Hartman '52, whose fourth-place finish in the 1951 NCAAs is the highest by a Columbia wrestler.
PHOTO: GENE BOYARS

None of Russo's first six teams produced a winning season, but he helped to develop many outstanding competitors. Working with the late John Huemer '65, the assistant coach known for his recruiting innovations, Russo helped to develop many of Columbia's finest matmen, including Jerry Reid '78, who finished sixth in the 1978 NCAA Championships and gave Columbia its second All-American, and heavyweight Jay Craddock '81, second in the 1979 Easterns.
In 1979–80, Russo led the Lions to an 11–3 record and their first Ivy League championship since 1961. The team went 5–0 in the league, including a title-clinching 20–18 victory over Cornell that remains one of Columbia's greatest sporting triumphs. The Light Blue added a second title in 1980–81 with another 5–0 league mark, including a 22–12 season finale against previously undefeated Cornell. Columbia had the best record in the East that year, 14–1, with a 23–16 loss to Army the only blemish.
Four men made first team All-Ivy, led by Craddock, who finished second in the Easterns for the second time and was 26–3 overall. A walk-on from Manhattan's Stuyvesant High, Andy Barth '83, played a major role in two of the titles. But no one could top junior 150-pounder Dave Galdi '82E, who was third in the Easterns and finished with a 44–12 record, the best ever by a Columbia wrestler. Russo joined him in the spotlight when he was named the New York State Coach of the Year.
The 1981–82 season saw Columbia gain its third consecutive Ivy crown with a 4–0–1 record, 9–3–1 overall. Nine wrestlers were voted All-Ivy, paced once again by Galdi. A fourth-place finisher in the Easterns, he placed eighth in the NCAAs, making All-American, while compiling an overall 38–7 record to finish his career with a record of 125–41–4, the best in school history.
In the Lions' three Ivy championship years, their wrestlers had gone 34–7–3 overall, 14–0–1 in the league. Russo coached nine more years, and his teams had winning records in eight. They finished second in the Ivy League once, and third five times. Among his top wrestlers were Steve Hasenfus '89, who won the 1989 EIWA 177–pound title (31–4 overall) after losing the 1988 championship bout in overtime, and had 91 career victories, and Dave Barry '87, who made his varsity debut with a big win over Rutgers, where his father had wrestled. Barry was 27–9 in 1986–87, 54–28 in his career. Hasenfus was the 1989 Ivy League Wrestler of the Year and Chris Kane '87, a Freshman All-American, was the 1984 Ivy League Rookie of the Year.
Russo concluded his Columbia career following the 1990–91 season. His wrestlers had won 134 dual matches, going 95–32–2 in the 1980s. Ninety-one of his wrestlers went on to graduate study, 67 to schools of business, law or medicine. One, George Stephanopoulos '82, was a Rhodes Scholar, and three others were nominated for Rhodes Scholarships.
Russo was succeeded by Lou Montano, a Californian who had grown up, attended college and coached in the Golden State. Montano guided some of the biggest Lion winners, including Arkee Allen '98, EIWA runner-up in 1998, when he won 36 matches; and Brad Clement '00, who earned 92 wins and placed in the Easterns all four years. None could equal Nick Szerlip '95, the Ivy League Wrestler of the Year in 1995 when he won 29 of 31 matches, took the New York State Championship for the third time and won the Easterns at 190 pounds.
In his last six seasons, Montano's efforts produced Columbia's two highest point totals ever in the EIWA Championships, three of its best recent finishes and first ranking in the national Top 50.
As Columbia wrestling entered the 21st century, Brendan Buckley, a Floridian with an extensive California background, assumed head coaching duties. Buckley has already made his mark with outstanding recruiting. His 2002 recruiting class was ranked 7th and 12th in the nation by two major online wrestling services, and made Columbia one of only three Ivy schools to earn national recruiting recognition. Buckley's third team, this season, finished third in the Ivy League and was ranked fourth in the EIWA, its highest ranking ever. Matt Palmer '06 finished third in the EIWAs at 165 lbs. and qualified for the NCAAs, where he won two of his four matches.
The nation's oldest intercollegiate wrestling program continues, true to its proud tradition.
Award-winning sports publicist Bill Steinman retired in August following more than three decades of service in Columbia's athletics communications office, for which he now consults.
| | | | | | | |
| --- | --- | --- | --- | --- | --- | --- |
| | | || | | || | | |


CCT Home


This Issue


Previous Issue

CCT Masthead