| | | | | | | |
| --- | --- | --- | --- | --- | --- | --- |
| | | || | | || | | |
FEATURE
For Michael Kahn '61,
All the World Truly Is a Stage
By Shira J. Boss '93
Michael Kahn '61 started directing plays as a boy, and in the decades since has become one of the most respected directors in classical theater.
Last year, The Shakespeare Theatre in Washington, D.C., celebrated Kahn's 15-year anniversary as artistic director. At a spring awards gala hosted by actors Patrick Stewart and Christine Baranski, Kahn was given the theater company's William Shakespeare Award ("the Will Award"), which recognizes a person who has made a significant contribution to classical theater in America.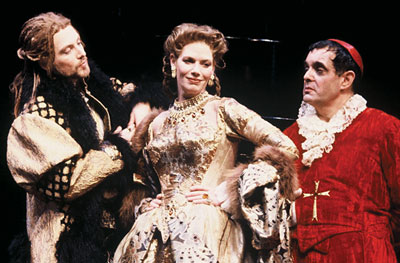 Donald Carrier as Ferdinand, Kelly McGillis as the Duchess and Edward Gero as the Cardinal (left to right) in The Shakespeare Theatre's 2002 production of John Webster's The Duchess of Malfi, directed by Michael Kahn '61.
PHOTO: CAROL ROSEGG

Kahn also is a highly-regarded acting teacher who directs the drama division of the Juilliard School, where he has taught for more than 30 years. In addition, he has been recognized for contributing to the community: In the summer of 1991, he created D.C.'s Shakespeare Theatre Free for All, inspired by the free New York Shakespeare Festival in Central Park.
Kahn, who radiates an imposing personality through his penetrating eyes and naked pate, has earned an international reputation in theater for the originality of his productions and his dedication to Shakespeare. "He's the best interpreter of Shakespeare in the country," says actress Jane Alexander, former chairman of the National Endowment for the Arts.
As artistic director of The Shakespeare Theatre, Kahn has directed more than 20 Shakespeare productions, including lesser-known works such as King John, as well as plays by Eugene O'Neill, Tennessee Williams, Oscar Wilde and Henrik Ibsen. He has been nominated for a Tony Award and has won five prestigious Helen Hayes Awards for Outstanding Director. "He mounts the plays beautifully, with clear interpretations and fine actors," Alexander says. "You don't usually see that [in the U.S.]."
Kahn's career at The Shakespeare Theatre has coincided with a renewed interest in the bard. In his 15 years at the company's helm, Kahn has expanded its subscriber base from 3,000 to 17,500 and a $1.5 million budget to its current $11 million budget.
Kahn's attachment to Shakespeare was formed in childhood. "My mother read Shakespeare to me as bedtime stories when I was 6 and 7," he notes. As an adult, Kahn is drawn to the complexity of Shakespeare's plays. "I like doing challenging things," he says. Other plays he has directed also are complicated — the Oedipus trilogy, for example, and plays by Bertolt Brecht. "I find Shakespeare to be the most rewarding," Kahn says. "It's bigger than I am, considerably. It's smarter than I am, more complex than I am. You have to use all of the muscles you have intellectually, physically and emotionally to come up to the play." With some plays, Kahn says he does it, and it's over. "When I do a Shakespeare play, it's like climbing a big mountain. You don't ever get to the top."
Kahn works as intensely with student actors as with those in his productions. "One thing that is overshadowed by his professional career is his incredible dedication to education," says Joseph Polisi, president of Juilliard. "Michael is known as one of the most prominent individuals in his field, but he's also known as one of the most prominent educators in the field. As a teacher, he has a long track record of working with young actors and developing their crafts and imaginations."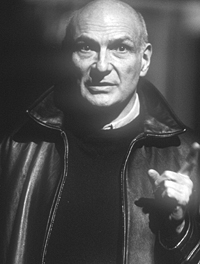 Michael Kahn '61 often splits his days between Washington, D.C., where he is artistic director of The Shakespeare Theatre, and New York, where he directs the drama division of the Juilliard School.
PHOTO: CAROL ROSEGG

In addition to directing the theater program at Juilliard, Kahn created and headed an actors' training program and theatre company, The Chautauqua Conservatory; founded and directs the Shakespeare Theatre Academy for Classical Acting, a graduate program at The George Washington University; and has taught at the Circle in the Square Theatre School, Princeton and NYU. Among his former students are William Hurt, Harvey Keitel, Kevin Kline, Kelly McGillis, Christopher Reeve and Robin Williams. For his teaching, Kahn was awarded the John Houseman Award for Commitment and Dedication to the Development of Young American Actors in 1988.
Kahn always wanted to be a director and got his start in second grade when he directed his first play, Humpty Dumpty. He then formed a theater company with classmates and put on plays in the garden, to which they charged admission. It was never Kahn's aim to get on the stage, however. "I teach acting and am a good acting teacher, but never enjoyed doing it myself," he says. "I like figuring out the plays and how to tell them the most interesting way, and after I do that, I don't enjoy doing the acting. I know how to work with the tools that I'm given, which are actors."
Kahn, who entered with the Class of 1959, says he came to Columbia because he didn't want to study theater anymore — the Brooklyn native had graduated from the city's High School for the Performing Arts. But once on campus, the English major turned into a bit of a rebel. He was suspended after his first year for not having taken any of his exams ("I was always busy doing something else," he says). After he returned and finished his other degree requirements, he was finally exempted from completing P.E.: He had failed one semester of it through non-attendance and staunchly refused to enroll in another.
Kahn was influenced by the English and French departments, especially Professors Andrew Schaap, who taught Shakespeare and was Kahn's adviser, and Eric Bentley, and directed much of his energy toward the stage. He directed several campus plays, starting with Pericles — his first Shakespeare — and then Peer Gynt, Le Petit Prince and others. Andy Warhol, with whom Kahn was friendly, designed the set for one. Playwright Terrence McNally '60 acted in most of the productions and wrote a Varsity Show that Kahn directed. Edward Kleban '59, later Pulitzer Prize-winning lyricist of A Chorus Line, also was aboard, as was future film director Brian DePalma '62. During his senior year — which took him three years to complete — Kahn and three friends founded The Writer's Stage, a downtown theater company with the purpose of supporting new writing.
In addition to his off-off-Broadway directing after graduation, Kahn directed Adrienne Kennedy's Obie Award-winning play, Funnyhouse of a Negro, produced by Edward Albee, at the Circle in the Square workshop. Joseph Papp, founder of The Public Theater/New York Shakespeare Festival, discovered Kahn at that production and invited him to stage Measure for Measure in Central Park. That led to Broadway productions and an appointment in 1969 as artistic director at the American Shakespeare Theatre in Stratford, Conn., with a simultaneous appointment as producing director of the McCarter Theater in Princeton, N.J., from 1974. Highlights of his Broadway credits include Cat on a Hot Tin Roof starring Elizabeth Ashley and Show Boat starring Donald O'Connor, for which Kahn earned a Tony nomination.
Kahn divides his time among his home in D.C., a house in Connecticut and his apartment near Lincoln Center. Sometimes the days themselves are split, with Kahn teaching at Juilliard during the day and rehearsing a play in D.C. in the evening. "I've always had two jobs at once. I seem to thrive on it," he says.
Shira J. Boss '93 is a contributing writer to Columbia College Today and numerous other publications.
| | | | | | | |
| --- | --- | --- | --- | --- | --- | --- |
| | | || | | || | | |


CCT Home


This Issue


Previous Issue

CCT Masthead