| | | | | | | |
| --- | --- | --- | --- | --- | --- | --- |
| | | || | | || | | |
FEATURE
First Person: Twists and Turns in a Liberal Arts Education
By Mary Rozenman '03
Each spring, a John Jay scholarship recipient is asked to share his or her Columbia experiences with guests at the College's John Jay Awards Dinner. Sponsored by the Alumni Office, this black-tie event honors several distinguished College graduates, and proceeds from the event benefit the John Jay scholarship program. The 2003 dinner was held March 5 in the Plaza, and Mary Rozenman '03 was selected to address the guests. Rozenman, who immigrated to the United States from Russia when she was 8, pursued a double major in biochemistry and Russian literature, and says, "I have really enjoyed and taken advantage of the great people I am surrounded by at Columbia and have built great friendships." An accomplished student, researcher and teaching assistant, Rozenman's efforts resulted in published works and were recognized with fellowships from the National Science Foundation, the Morris K. Udall Foundation and Pfizer Global Research.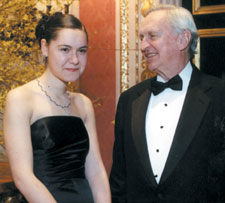 John Jay Scholar Mary Rozenman '03 with her mentor, University Professor Ronald Breslow.
PHOTO: EILEEN BARROSO

As a senior in high school, I knew that Columbia was the most vibrant and challenging school, and that New York was the most dynamic city in the world. I knew then that Columbia College was the right place for me, so in filling out my application, I had only a bit of trouble, with the question, "What do you find most appealing about Columbia?" They wanted to know this in 50 words or fewer, and that was the toughest question. I remember sitting in my room and putting together an itemized list of all the things I wanted to do in four years of college. I know exactly what I wrote, because last month I stopped by admissions and looked at my application. I quote:
"I want to listen to jazz in the Village and eat sushi at 3 a.m. I want small classes and an awesome Core, pre-med and research opportunities. I want to learn the shortcut from Guss's pickle stand to the 2nd Ave Deli. I want to be surrounded by students unafraid to step out on the edge. I want diversity and I want the opera. I want to buy buttermilk on Brighton Beach and underpay at the Met. I want to find myself in the real world, then take the 1/9 up in time for a lecture." Lots of "wants"!
Funny how close my 17-year-old self's expectations were to reality. I came to Columbia with a lot of clear goals and ideas of how to reach those goals, but in my time here, I have learned the most not from fulfilled expectations but from the whims, the surprises, the unexpected twists and turns of my college path.
As a freshman, I was a pre-med student. I was taking a lot of science courses, just as I had in high school, and getting high marks — on track to major in neuroscience and go on to neurosurgery. During freshman spring, I decided, completely on a whim, to sit in on one lecture in a course on "Dostoevsky in the Original." The professor, Valentina Izmirlieva, captivated me completely. Somehow, despite the Core, I'd felt that I needed to branch out even more from the sciences, and I found my sanity in sleepless nights poring over Eastern Orthodox theology. In the pain and chaos of Dostoevsky's characters, I found a necessary counterpart to the rigid order that hard expectations had set up in my life. And so, I went on to complete a major in Russian literature and defend a thesis by sophomore spring.
At this point, I was still on track for med school, but things were continually changing. In sophomore spring, disgruntled by a fruitless six months' experience in a neuroscience research lab on the East Side, I decided to try my hand at chemistry. It seemed that thinking about scientific principles on a smaller scale came more easily, and in March 2001, I joined the bio-organic chemistry research laboratories of Professor Ronald Breslow.
Working with Professor Breslow, who became my mentor, I came to understand something of the beauty and power of chemistry. With his tremendous guidance and encouragement, I found in myself the ability to think creatively about science. I changed my major from neuroscience to biochemistry, and I started to contemplate the option of an M.D./Ph.D. joint program.
In this vein, I started volunteering as a Russian language interpreter on call at St. Luke's Hospital. Spending hours in the hospital helping doctors and patients communicate proved vastly rewarding, but the experience also helped me to realize that my interest in medicine was not fulfilled in a hospital environment dealing with real, sick people. Health and disease still fascinated me, but now on a smaller scale. I wanted to really understand biological systems, and chemistry would make that possible. Here, my ever-clear goals shifted again as I set my sights on a Ph.D. program.
In my four years at Columbia and my two years in the Breslow research group, I feel I've understood the value of keeping an open mind and staying in touch with my passions. I also feel I have better learned how to balance and prioritize my interests. I expect this challenge to continue.
I feel I should thank Professor Breslow, Professor Izmirlieva, Dean Lavinia Lorch and all the supporters of the John Jay program for helping me to a path of possibility. With confidence and passion, I will start at Harvard in the fall to pursue a Ph.D. in bio-organic chemistry. Perhaps many more surprises lie ahead.
| | | | | | | |
| --- | --- | --- | --- | --- | --- | --- |
| | | || | | || | | |


CCT Home


This Issue


Previous Issue

CCT Masthead