| | | | | | | |
| --- | --- | --- | --- | --- | --- | --- |
| | | || | | || | | |
FEATURES
Hearts and Minds
Bert Kleinman '63 leads U.S. efforts to connect with people of the Middle East through television, radio
By Telis Demos '04
The headquarters of the U.S. government's campaign to win the hearts and minds of people in the Middle East is not in Iraq, Afghanistan or even the Pentagon. Instead, it's in a nondescript brown building in the leafy suburb of Springfield, Va., a few miles outside Washington, D.C.
Inside is a busy and colorful news studio, which appears like any other — until one hears classical Arabic, rather than English, being spoken by the anchors delivering headlines of the day's news. The clocks don't say "Chicago" or "Los Angeles," but "Casablanca" and "Baghdad." The cut-out map glowing behind the anchor desk is of the Middle East, not North America.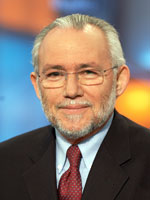 Bert Kleinman '63 works to change the media landscape in the Middle East.

This is where Bert Kleinman '63 works. Kleinman is president of the Middle East Broadcasting Network, a U.S. government-owned nonprofit corporation. MBN broadcasts Alhurra, a satellite television network, and Radio Sawa, an FM station in Arabic, throughout the Middle East.
Sawa and Alhurra have been called the "centerpieces of the Bush administration's public diplomacy" in the Middle East. The 9-11 Commission Report, like many senators and diplomats, argues that media in the region has played a large role in "reinforcing the jihadist theme" portraying the United States as anti-Muslim. Changing the media landscape is considered critical to stemming the spread of radicalism that can grow into terrorism.
It might seem odd that a former producer of Casey Kasem's top-40 hit show is running the media component of America's war against terrorism. Kleinman's career, since graduating from the College, where he was active in WKCR, has been in commercial radio, where he produced and consulted for music stations around the world.
But as Kleinman sees it, he has just the right expertise for the job. A compact man with smile wrinkles in the corners of his eyes, bespectacled and bearded like the archetype of a kindly grandfather, Kleinman emphasizes that cultural exchange, not politics or battles, defines what he does. "I'm not a political person, but you don't have to be a political person to know that there's a big disconnect between people in the Middle East and the United States."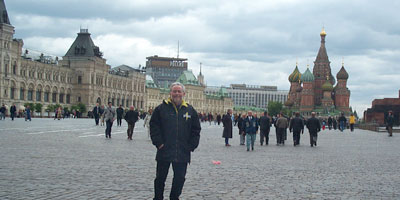 Kleinman in Moscow's Red Square.

The networks that Kleinman has helped to build are not political media outlets. They don't broadcast glowing reports of American life or long documentaries about the wonders of democracy. In addition to BBC-like straight news reporting, the stations broadcast Mariah Carey's music, talk shows featuring Arab pundits discussing Islam and the Israeli-Palestinian conflict, and travelogues from Europe or the Gulf states. This variety, Kleinman hopes, will do more to show what American-style democracy is about than fiery political rhetoric.
"One of the things about our country that is extremely attractive around the world — and I'm not really talking in political terms as much as I am in economic and social terms — are the old 'life, liberty and pursuit of happiness,' what we consider core American values. Openness, respect, friendliness, decency, honesty … all of these things," he explains. "What we try to do, beyond the content, is reflect in the character of the stations what I would consider the best of American values."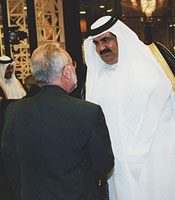 Kleinman meets the Emir of Qatar, His Highness Sheikh Hamad bin Khalifa Al Thani.

Kleinman's role in American broadcasting to the Middle East began in early 2001. At the time, the Broadcasting Board of Governors — Presidential appointees in charge of America's public broadcasting — decided that what was being broadcast in the Middle East was dangerous. "The media environment was hate speech, incitements to violence, disinformation, government censorship and journalistic self-censorship," says Norman J. Pattiz, the governor in charge of the Middle East and chairman of broadcasting conglomerate Westwood One. "It was in that environment that the Arab street was getting a picture of the U.S. government and American culture."
At the time, Kleinman had just returned from Moscow. He began working in Russia in the early 1990s, when Westwood One took advantage of glasnost and started an independent commercial radio station, Radio Maximum. When Westwood decided to sell the station, Kleinman left the company and joined a team of Russian investors to buy it. Together, they built a network of stations around Russia based on the Radio Maximum model: a blend of American pop music and Russian-language news designed to engage Western-oriented youth struggling to reconcile their native culture with the new world opening to them.

"You don't have to be a political person to know that there's a big disconnect between people in the Middle East and the United States."

Kleinman's interest in foreign culture dates to his College days. He came to Columbia from Forest Hills, Queens, to study physics, but like many students of the Core, was attracted to liberal arts. "After taking Contemporary Civilization, in my second year, I took Oriental civilization. I fell in love with India, China and Japan." Since then, he says, "I've had a great sense for cross-cultural connection." An alumnus of the East Asian program, Kleinman studied with Wm. Theodore de Bary '41, developing sensitivity to foreign ways of thinking and a love of cultural studies. Outside of class, he was WKCR's United Nations correspondent and a copy boy for the New York Herald Tribune.
After a year abroad following graduation, Kleinman, who now has three daughters and six grandchildren, had an excellent resume in broadcast production and was married. He dreamed of being an adventurous foreign correspondent in the Far East, but found that his love of radio — a hobby since childhood, when his father hosted radio programs designed for stay-at-home schoolchildren — kept drawing him back to broadcasting. He began working as a producer at CBS in 1968, and then managed one of the country's pioneer album-rock stations, WPLJ in New York, where he did content syndication in the days before satellites. He finally landed at Westwood One with Kasem's show before heading to Russia in 1990.
In February 2001, Pattiz called Kleinman and asked him to take a week off and travel with him to the Middle East. They experienced firsthand much of the vitriol that many Middle Easterners feel toward the United States. "Have you ever sat down with anybody who really hated you?" Kleinman recalls. "I learned to keep my cool."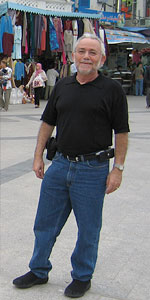 Kleinman at a bazaar in Tunis.

They decided that the traditional approach of American media would not work. The Voice of America's Arabic Service, broadcast in English, was the region's NPR: sophisticated with didactic features and documentaries about U.S. life.
But Kleinman and Pattiz saw that music-based commercial radio was expanding in the Middle East, threatening to make Voice of America irrelevant. The Arabic Service's short-wave broadcasts were soon surpassed by new networks of FM radio stations playing music and native cultural content. And when satellite television exploded, there were many Arabic-language news outlets that didn't carry the burden of an American perspective in a region that was becoming increasingly hostile to Western views. Through the 1990s, Arab satellite media became the dominant news source. Hundreds of channels were available through the region's intergovernmental satellite broadcasting service, and satellite dishes could be seen everywhere from cosmopolitan cafes to Bedouin desert tents.
Pattiz and Kleinman agreed that the best way to get Middle Easterners to tune into an American-funded radio station wasn't to try to appeal to the narrow slice of the population that trusted American media. Instead, they wanted to apply tried-and-true methods of audience-building ("private-sector expertise," Pattiz calls it) to generate a following for the station, regardless of what the potential audience thought of the United States. Women and young people, market research and focus-group interviews showed, would be more likely to listen to this new kind of station.
One of the most beloved shows on the Voice of America, Kleinman loves to point out, was a jazz program. "You can't get to the mind before you get to the heart," he notes, so he designed a music radio station that plays Western and Arabic pop music side by side. Most Arabic pop music sounds like easy-listening Western music, so Kleinman built a rotation that plays artists such as Mariah Carey and Whitney Houston. He believes that alternating Western and Arabic songs — rather than playing a block of one then a block of the other, as it was typically done — was a crucial improvement.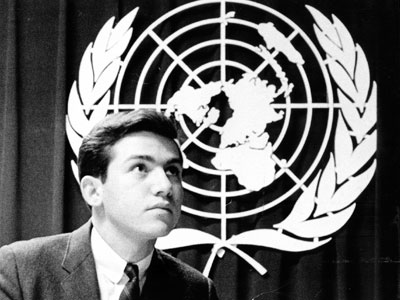 Kleinman was WKCR's United Nations correspondent.

"I was in a mall in Dubai, during one of my first trips to the Middle East," Kleinman recalls. "There was a woman dressed in black, head to toe, very traditional. She has a kid on her arm, and he's wearing a New York Yankees cap and a Chicago Bulls T-shirt and they're walking into Chili's to have lunch. We can laugh and smile, because it seems like culture clash to us. But in parts of the Middle East, it really isn't culture clash. They are synthesizing their traditions, the world of today and tomorrow. One of the things that we realized about the younger generation is that it is very engaged in trying to make decisions about how much of the past to keep, how much of the future to embrace and how to go into the future without losing their past."
Then, suddenly, Kleinman was no longer just working on a project he loved. After 9–11, spreading American cultural goodwill around the region became a national priority. Within President Bush's emergency budgets, millions of dollars were set aside to expand America's government-sponsored foreign broadcasting. The Broadcasting Board of Governors, knowing the importance of satellite television in the Middle East, decided that the MBN would launch a regional network, called Alhurra (Arabic for "the free one"), and later one for Iraq, called Alhurra-Iraq.
Kleinman started with Sawa. The network went on the air in March 2002, starting as two all-music FM stations in Kuwait and Jordan. Within three months, the stations expanded to 24 hours and started broadcasting news, and new stations were launched in other parts of the region, including Iraq. Sawa was a quick success: By August, one survey showed it to be the most popular station in Amman, Jordan, among young people. Today, it's broadcast in six streams to Egypt, the Gulf states, Iraq, Morocco, the Jordan–West Bank region and Sudan.
Getting Alhurra off the ground would prove to be much more difficult. When the satellite network's first president didn't work out, Pattiz turned to Kleinman. Though he wasn't a television expert, Kleinman was known for building audiences, which the network desperately needed. "I wanted someone who was bright enough to know where we were going," Pattiz recalls. "When it comes to understanding programming and how to attract and maintain an audience, Bert is a genius."
Kleinman started running both Sawa and Alhurra in August 2003, and he made improving the popularity of their news broadcasts a top priority. By then, the Afghanistan and Iraq wars were well under way, and Middle Eastern attitudes toward the United States were at a low point. But Kleinman and Pattiz, now joined by Mouafac Harb, a Lebanese journalist hired as the company's vice president and news editor, believed they had a formula that worked. "Our job is not to promote U.S. policy," Pattiz says. "Our job is to present policy accurately. Our mission is to be an example of a primary element of democracy, a free press." Though editorial decisions fall to Harb, he and Kleinman work in symbiosis, calling each other "habbibi," an untranslatable Arabicism meaning friend, buddy or darling.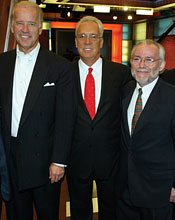 Kleinman with Senator Joseph R. Biden Jr. (D-Del.) (left), the ranking member of the Senate Foreign Relations Committee, and Norman J. Pattiz, the governor in charge of the Middle East for the Broadcasting Board of Governors, at Alhurra's headquarters.

Alhurra works on the same basic principles as Sawa, but without music, movies or sitcoms. It is a "nonfiction" station, as Kleinman puts it, and features news, travelogues, entertainment reports, sports and documentaries, but nothing that could be construed as propaganda designed to "sell" America. Instead, it focuses on news and life in the Middle East, discussing it with an American-style openness and candor, staffed almost exclusively by Middle Eastern journalists and anchors.
"Any research you do, or anyone you talk to, will tell you that you're not going to get a lot of young people to listen to a lot of news discussion," Kleinman says. "We try to balance as best we can our need to broadcast news and entertainment."
Overall, the channel's feel is not like a 24-hour news station, which the Middle East has plenty of — most notably Al Jazeera, often blamed for inciting anti-American sentiment. "It's like a cross between PBS, Bravo, Discovery, A&E, Fox, CNN and NBC," Kleinman says. "We are in a distinctive market position, and people call us a 'news channel with variety.' "
The purpose of Sawa and Alhurra is to present accurate and contextual news and information about the region, including about what the United States is doing there. Alhurra covered Iraqi voting and the Iraqi parliament's first sessions in much greater depth than other stations in the region. It doesn't refer to suicide bombers as "martyrs" and doesn't call American troops "occupiers" or insurgents "resistance fighters." It also doesn't lecture or dictate, preferring to explore tough issues through talk shows and man-on-the-street features rather than editorials.
While the station doesn't shill for American policy nor have any editorial restrictions placed on it by Congress, Alhurra has a distinctly Western feel and perspective. "We think things like voting and human rights activists are important," Kleinman says. "Do we give these more weight than other channels? Probably."
Is Alhurra succeeding? That is difficult to measure, because studying audiences in the Middle East is not simple. The standard methods of random interviews are near impossible in a region with spotty phone service and few Arabic speakers trained to do interviews. One of the few surveys that have been done, by AC Nielsen, found that majorities in most Middle Eastern countries think Alhurra's news is at least somewhat reliable, although more still think Al Jazeera and the region's other big network, Al Arabiya, are more reliable. But Alhurra has been ranked well behind other television networks in terms of viewership.
Harb, however, is patient with the two-year old network; he says that what distinguishes Alhurra — respect for the audience — will make it a more appealing choice as movements for openness and democracy gain appeal in the region. "I believe there is Jazeera fatigue," he says. "We hope by providing good journalism, we can make Arab channels more like us. The more that movement grows, the more our audience grows."
"This ain't just a job," Kleinman says. "It energizes me. I am extremely fortunate, and certainly the work that I'm doing now is among the most important that I've done in my life."
---
Telis Demos '04, former Spectator editor-in-chief, is a reporter at Fortune Magazine.
| | | | | | | |
| --- | --- | --- | --- | --- | --- | --- |
| | | || | | || | | |


CCT Home


This Issue


Previous Issue

CCT Masthead