| | | | | | | |
| --- | --- | --- | --- | --- | --- | --- |
| | | || | | || | | |
FEATURES
A (Major) League of Our Own
Two young Lions are striving to take their places on Columbia's major league roster
By Stephen Eschenbach
Columbia has a rich baseball history. Lou Gehrig '25 hit home runs when Columbia played its varsity games on South Field, including a famous shot that reached the steps of Low Library, and went on to a place as one of the game's immortals after a brilliant career with the New York Yankees. Gehrig is one of 21 Columbia alumni who have played major league baseball since 1878, and one of three players — along with Eddie Collins (Class of 1907) and John Montgomery Ward (Class of 1885) — who are enshrined in the National Baseball Hall of Fame, the most players of any university.
Columbia's major league exploits don't end there. The Minnesota Twins' Gene Larkin '84 won the 1991 World Series with an RBI single in the 10th inning of Game 7. New York Mets pitcher Frank Seminara '88 made the most recent major league appearance by a Columbia alum, on June 5, 1994, when he gave up a three-run walk-off homer in an extra-innings loss to the Cincinnati Reds.
Now two young Columbians are striving to take their place on Columbia's major league roster. Fernando Perez '05 and Jessen Grant '04 both were chosen in Major League Baseball's 2004 draft and have been playing in the minor leagues for two seasons. Though their chances of making the majors are slim — only 10–15 percent of all players signed to a professional contract will ever play in a major league game — they're chasing the dream.
Soon they'll be joined by another young Lion. Pitcher Greg Mullens '06 has been signed by the New York Mets and expects to begin his professional career next spring.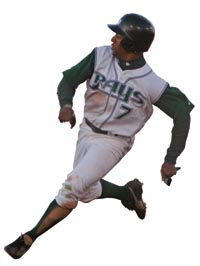 Fernando Perez '05 set a franchise record for the Southwest Michigan Devil Rays with 57 stolen bases last season and tied for the Midwest League lead with 13 triples.

PHOTO: SW MICHIGAN DEVIL RAYS/BRETT CAROW

Perez, who entered with the Class of 2005 but needs about 12 credits to graduate, wasn't thinking about sports when he applied to Columbia. Born in New York City but raised in Princeton, N.J., he was "scheming to get back to the city," where he has relatives, for college. "I was offered a scholarship to Virginia Commonwealth, but I wanted to go to the best school I could," he says, and that was Columbia.
"I had three lives at Columbia: my baseball life, my social life and my academic life," adds Perez. "I played at Columbia because I love New York City and university life too much to leave it behind for a big baseball school down south. A one-dimensional deal at a baseball school wouldn't have been half as enriching." He played varsity baseball for three years, and will be getting a creative writing degree with a concentration in American studies.
Amateur baseball players are eligible to be drafted after their senior year of high school, then yearly after their junior year in college. Before Perez's junior season at Columbia, clubs started showing interest. "I knew [getting drafted] was possible," says Perez. "I opened up [that season] doing great. But then I injured my hamstring at Harvard and tried to play through it. That was not good." So he sat. "I shut myself down. It was tough not playing." He came back toward the end of the season and finished with a .317 batting average and an Ivy League-leading 18 stolen bases.
Despite his injury, teams including the Philadelphia Phillies, Arizona Diamondbacks, New York Mets and Tampa Bay Devil Rays were interested. "I flew around for tryout camps a week before the draft," Perez says. "I couldn't even run." But he knew the clubs were serious when, at the Devil Rays tryout, he was approached by a team executive who wanted to know where Perez thought he would go in the draft. "I knew I should put myself high, so I said fourth round," he recalls. The executive said that if Perez was still undrafted by the fourth round, the Devil Rays would take him.
This, understandably, made Draft Day "nerve-wracking" until Perez, an outfielder, was taken by the Devil Rays — in the seventh round, not the fourth. Still, it was the highest any Columbian had ever been selected in the draft. "It was a great thrill," says Perez, who received $160,000 for signing.
The Rays sent him to single-A Hudson Valley, a move that agreed with Perez. "It was close to home, and we got to play in great parks [like Brooklyn's Keyspan Park]," remembers Perez. "Plus, the team got along really well." After the summer season, Perez returned to the College, where he discovered one of his favorite classes. "It was a seminar on American humor with Mr. [Robert] O'Meally. I admire him as a man, and the class was delightful," he says.
Did classmates treat him any differently, now that he was a professional baseball player? "No, nobody really noticed, except those closest to me. There's so much going on," he says.
Last spring, Perez was promoted to the Southwest Michigan Devil Rays, still single-A but with a longer season of 140 games. "That was a tough place to play," he says. "We saw a good pitcher every day. I just tried to stick to my role as a leadoff hitter." He batted a solid .289 and led the Midwest League with a franchise-record 57 stolen bases. He also tied for the league lead with 13 triples, and was named his team's Player of the Year.
Manager Joe Szekely is optimistic about Perez's future. "He's a catalyst, he makes our team go," says Szekely. "The first part of the season he was learning, but the last month and a half he came on strong. With his speed, he's hard to get out."
Could he make the majors? "He's got a real chance," says Szekely. "This season, he was able to make adjustments and get better. When you reach AA and AAA (the two upper levels of minor league ball), the ones who make the majors are the ones who can adjust to the competition."
Perez, who is enrolled for the fall term but also spent time working on switch-hitting in a Florida instructional league, would like to stay in baseball even if he doesn't make the majors. "I'd like to teach and coach at a prep school," he says.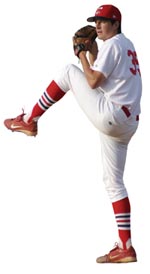 Jessen Grant '04 pitched well in relief for the New Jersey Cardinals last summer.

PHOTO: STEVE WOJCIK/NEW JERSEY CARDINALS

For Grant, baseball was going to be a part of his life regardless of where he went to college. "I played baseball exclusively from mid-high school onward simply because of what it is. It's so much more a mind game than [one based on] pure brute force," he says. "Baseball is constantly making you reevaluate what is going on. There is much more work for less glory in baseball, but perhaps it's that brief glory that I play for."
When it was time to choose a college, "I was more concerned with my life after baseball was over," says Grant. He chose Columbia "for the school, but happened to spend more time playing baseball." A varsity pitcher, he managed only a 3–5 record as a senior but was confident he would be drafted. "Scouts started talking to me my junior year. I didn't even interview for [non-baseball] jobs during my senior year," says Grant, who graduated with a history degree and works at the New York Mercantile Exchange in the offseason, in the crude oil market.
Grant was taken in the 43rd round of the 2004 draft by the St. Louis Cardinals and began his pro career in Johnson City, Tenn., playing in the Class A Rookie League. He did well and was promoted to the New Jersey Cardinals, compiling an impressive 7.2 strikeouts per nine innings for the two teams in 2004.
The 6-foot-7 right-hander, who throws 88–91 mph, had hoped to move up in 2005 to Quad Cities, Iowa, the next rung on the ladder to the majors. But he suffered a shoulder injury that set him back, and he remained in New Jersey, where he did well as a relief pitcher. Grant compiled a 1–0 record and a 3.34 earned run average, appearing in 24 games. He allowed less than a hit an inning, and opponents managed to hit just .232 against him. According to pitching coach (and former major leaguer) Sid Monge, "If he continues to make improvements, then the sky is the limit for him."
Just in case, Grant plans to go to law school if baseball doesn't work out.
Grant and Perez both say that because they have Ivy pedigrees, they have taken some ribbing from teammates. "You're absent-minded about something and they say 'Hey, did you really go to Columbia?'" says Perez. Adds Grant, "People have assumptions. It's usually guys from local schools ... who give you a hard time."
Teammates and opposing players are one thing, but managers, coaches and others who determine futures are another. According to Grant, "It's the lifers [lifelong minor league baseball managers and coaches] who give you comments. They think we're all vest-wearing trust fund babies."
It's just one more obstacle to negotiate on the long road to the majors, and Perez and Grant are still nearer the beginning of that road than the end. The most recent Ivy addition to the majors, San Diego Padres pitcher Craig Breslow (Yale '02), took almost four years to make it.
---
Stephen Eschenbach is collaborating with the Ivy League on the Ivy Baseball History Project.
| | | | | | | |
| --- | --- | --- | --- | --- | --- | --- |
| | | || | | || | | |