| | | | | | | |
| --- | --- | --- | --- | --- | --- | --- |
| | | || | | || | | |
AROUND THE QUADS
World Leaders Forum Features Heads of State,
Dalai Lama
By Alex Sachare '71 and Roy Cureton '08
Photos: Eileen Barroso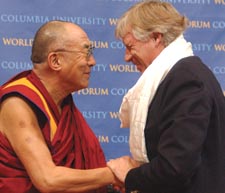 The Dalai Lama thanked President Lee C. Bollinger with a kata, a Tibetan ceremonial scarf offered in greeting.



The World Leaders Forum, created by President Lee C. Bollinger in 2003, has been expanded from a nine-day event to one that will span nine months and includes not only political leaders but cultural, religious, business and intellectual leaders as well.
This was evident in the opening series of events in September, which featured visits by eight heads of state as well as an appearance by the Dalai Lama. This year's forum also differs from its predecessors in that it is built around a theme, perspectives on global development.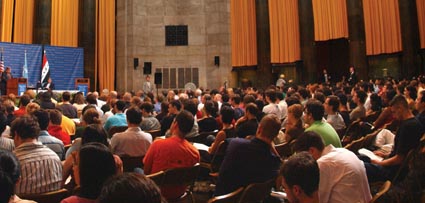 Jalal Talabani, president of Iraq, addressed 450 faculty and students, as well as many New York City leaders, in Low Library.

Bollinger described the forum in a letter to the Columbia community: "In a yearlong series of events, world leaders, public figures and intellectuals from around the globe will join with Columbia faculty to discuss the challenges of global change and explore cultural perspectives. The forum will address a wide range of issues, including sustainable economic growth, nonviolent conflict resolution, public health, freedom of the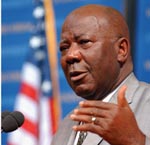 Ahmad Tejan Kabbah, president of Sierra Leone, discussed Millennium Development Goals and their impact on his country.

press, education, gender and racial equality, and multilateralism."

The forum began with a speech from the first female president of Finland, Tarja Halonen, on September 12: "The Millennium Development Goals: Social Justice and Promotion of Equality." The Millennium Development Goals were established at the 2000 Millennium Summit in hopes of improving the lives of the world's citizens. "Fair globalization means more focus on people and their needs," said Halonen. The European Union, unemployment, poverty and the role of women in society were among the many topics that emerged from the question-and-answer portion of Halonen's appearance.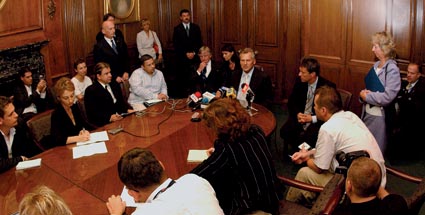 Aleksander Kwasniewski, president of Poland, spoke with members of the media in Low Library's Burden Room.

Speaking about "Perspectives on the Millennium Development Goals and the Way Forward to 2015" the following day, President Susilo Bambang Yudhoyono of Indonesia declared, "We know what it takes to attain prosperity, and that is the continuing refinement of our institutions, and human development in an environment of democracy."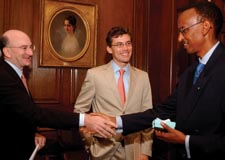 Provost Alan Brinkley (left) and the Earth Institute's Joshua Ruxin (center) greet Paul Kagame, president of Rwanda.


On September 14, Mikheil Saakashvili '94L, president of the Republic of Georgia, spoke about how the Rose Revolution was not just a political revolution but a cultural one that gave Georgians their first taste of freedom since Soviet rule. "The fight for freedom brings out the best people have in themselves," observed Saakashvili. "Mediocre people succeed when there is no democracy."
Rwandan President Paul Kagame arrived on campus on September 15 with stories of his nation's troubled past, addressed in his speech, "The Millennium Development Goals from Rwanda's Perspective." Kagame called for better development assistance in order to reach the United Nations' goals. He also stressed the importance of good leadership: "Leaders must put their people and the rule of law above everything else."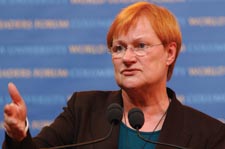 Tarja Halonen, president of Finland, discussed social justice and promotion of equality at the forum's opening event on September 12.

On September 17, Iraqi President Jalal Talabani issued a plea to political dissenters in Iraq to give up their violent methods of opposition and work with the newly formed government. "We will talk to all," Talabani said, "but we will not sell out democracy to the few who threaten violence if their demands are not met."
Other political leaders who spoke on campus during the September 12–28 period of the U.N. General Assembly included President Aleksander Kwasniewski of Poland, President Pervez Musharraf of Pakistan and President Ahmad Tejan Kabbah of Sierra Leone.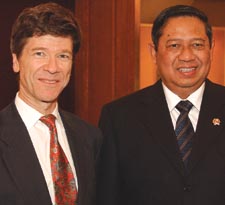 Tarja Halonen, president of Finland, discussed social justice and promotion of equality at the forum's opening event on September 12.

The Dalai Lama, visiting campus on September 26, was the first nonpolitical leader to be a part of the forum. He participated in a panel discussion led by Robert Thurman, Columbia professor of Indo-Tibetan Buddhist studies, which included topics such as religious pluralism, science and Buddhist meditation. The Dalai Lama called for more action to combat global warming, which could impact Tibet and the water supply in South Asia. "We need to show people that this is the reality. We need certain precautions and certain efforts to protect" Tibet and South Asia, he said.
Summarizing the nine-month program, Bollinger said, "The World Leaders Forum provides a rare opportunity to see heads of state and thought leaders engage in a free exchange about the most important issues of our time." Events may be attended by students, faculty, staff and University guests, although reservations usually are required. Visit the World Leaders Forum's Web site for information about future events.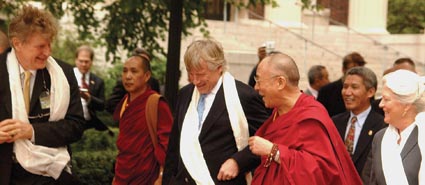 Professor Robert Thurman (left), President Lee C. Bollinger, the Dalai Lama and Jean Magnano Bollinger leave Low Library.

| | | | | | | |
| --- | --- | --- | --- | --- | --- | --- |
| | | || | | || | | |


CCT Home


This Issue


Previous Issue

CCT Masthead