| | | | | | | |
| --- | --- | --- | --- | --- | --- | --- |
| | | || | | || | | |
COVER STORY
Columbia in Asia
Dean Austin Quigley led a College delegation to East Asia in June, meeting with students, parents, alumni and government officials


Lim Chuan Poh, second permanent secretary of Singapore's Ministry of Education, meets with Dean Austin Quigley and the rest of the College delegation on June 18. From left: Executive Director of Alumni Affairs Ken Catandella, Dean of Student Affairs Chris Colombo, Poh, Quigley, Dean of Alumni Affairs and Development Derek Wittner '65, Director of Admissions Jessica Marinaccio and Associate Director of Student/Alumni Programs Kathryn Wittner.

On June 15, Dean Austin Quigley and five other College administrators took off on a 12-day trip to East Asia, where they met with current and prospective students, parents, alumni, educators and government officials. Dean of Alumni Affairs and Development Derek Wittner '65, who was making his third trip to the region in four years, explains the reasons behind the journey and why such trips are important to the College's future.
By Derek Wittner '65
Columbia is committed to bringing together students of different backgrounds as an essential element of an outstanding liberal arts education. A lofty ideal? Maybe. But with a focus inspired by President Lee C. Bollinger, who considers Columbia's place in the world a guiding principle of his administration, the College is working to make this a reality. Given Asia's growing influence in the world, attracting students and connecting with alumni and parents from that region are priorities for the College.
To place this objective in perspective, the College received 1,130 applications from East Asian students for the Class of 2008, a 40 percent increase from 1995.
There is much to be done. To be able to expand the pool of admitted students, and to do it without financial capacity as a condition for someone wishing to study at Columbia, is one of the College's highest priorities.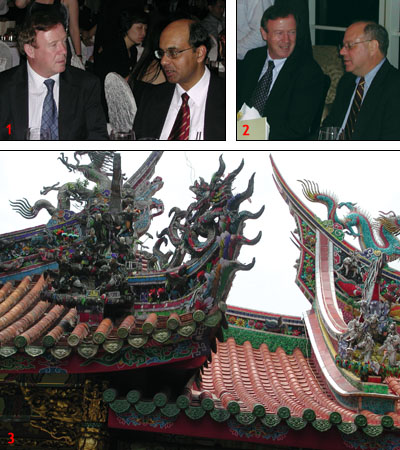 1. Dean Austin Quigley discusses the merits of general education with Tharman Shanmugaratnam, Singapore's minister for education, at a meeting of the Columbia University Alumni Club.
2. Dean Quigley chats with Nick Serwer '78, who helped facilitate the Columbia group's visit.
3. A close-up of the intricate ornamentation atop a pagoda in Taipei.

PHOTOS: KEN CATANDELLA AND KATHRYN WITTNER

On June 15, we began a journey to Seoul, Singapore, Hong Kong and Taipei. Our itinerary included meetings with government officials and high school counselors to explore increasing student exchanges, to welcome members of the Class of 2008 and their parents, and to further improve Columbia's connections with Asian alumni. Participating were Dean Austin Quigley, Dean of Student Affairs Chris Colombo, Director of Admissions Jessica Marinaccio, Executive Director of Alumni Affairs Ken Catandella, Associate Dean of Student/Alumni Programs Kathryn Wittner and myself.
It was in 2001 that Conrad Lung '72, a prominent businessman and president of the Asian Columbia Alumni Association, lobbied to make Asia a College destination. His reasoning coincided with the College's agenda — we had just developed a five-year plan to increase alumni participation, but we never thought as ambitiously, as globally, as Lung encouraged us to do.
Our first trip to Singapore, in June 2001, opened our eyes. Lung facilitated contact with the Columbia University Club, which held its annual dinner during our visit. With Lung as our guide and local support from Nick Serwer '78 and Berry Kwock '71L, P'03, we were warmly welcomed by many College alumni and parents. However, our visit was met with some skepticism, which Serwer explained. "You know, we haven't seen a lot of Columbia faculty or alumni out here," he remarked. "One visit every five years just won't do, especially when Harvard, Yale, Stanford and other schools are here all the time." We assured Serwer that our trip marked a departure from the past, and that we intended to routinely visit Asia.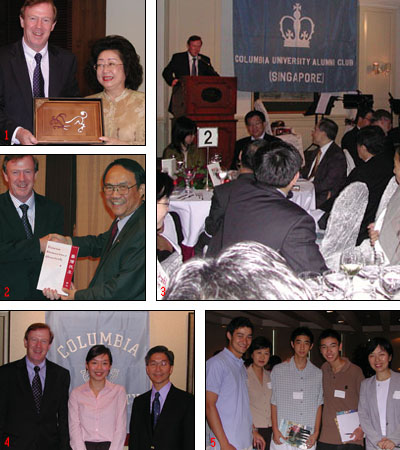 1-2. Dean Quigley is presented with a teak box by Deputy Minister Fan Sun-L of the Taipei Ministry of Education and a magazine by Deputy Minister of Foreign Affairs Michael Ying-mau Kau.
3. Dean Quigley speaks before the Columbia University Alumni Club in Singapore.
4. Dean Quigley with Claire Tsai '07 and Edward Lau '73 Business, president of the Columbia University Club in Hong Kong.
5. Mik Vasrahelyi '04 tells prospective students in Hong Kong about life at Columbia.

PHOTOS: KEN CATANDELLA AND KATHRYN WITTNER

We felt we could accomplish several important objectives during these trips: enhance the College's profile in an increasingly important part of the world, establish and strengthen relationships with local high schools, meet with incoming students to offer advice about their programs, have them meet current students and have their parents meet current parents, and explore fund-raising opportunities. The expectations were greatly exceeded: All but one student who was out of the country) admitted from Singapore in 2002 attended an advising session, and the positive reception we received from their parents was extraordinary. Sending a son or daughter 10,000 miles away to attend college in a big city is a courageous act; making a Columbia contact was reassuring to many of these parents.
By 2004, we were more confident about visiting Asia. We were no longer strangers, and the fact that Bollinger had visited Asia in April and that Quigley was accompanying us reinforced the University's commitment to community in Asia. "We are delighted to join the Alumni Office on this trip," Colombo said at a Singapore Alumni Club meeting. "It's a great opportunity to reinforce our relationships with high schools in each city and to introduce our new students and their parents to members of the Student Affairs team." Marinaccio echoed his thoughts: "What particularly impressed me was the graciousness and great enthusiasm with which we were greeted by all generations of Columbians — alumni, parents and incoming students. The commitment to Columbia in Asia runs deep. We have wonderful partners there to help us achieve our goal of attracting the best minds in world to our campus. This trip has made those partnership ties even stronger."

Columbia is competing not only with its U.S. peers for Asian students, but with China.

This trip was marked by opportunities we did not have on our first visits. Colombo, Marinaccio and Kathryn Wittner focused on meeting with students and parents, Catandella and I concentrated on building relationships with local alumni and Quigley met with all constituencies. We all were guests at the ministries of education in Singapore and Taiwan as well as the foreign ministry in Taiwan, and these meetings with government officials reinforced the visit's importance.
"The visits over the past four years have been very important to us in our efforts to increase club membership, embark on new activities and raise Columbia's profile in Singapore," said Serwer. "The presence of Tharman Shanmugaratnam, minister for education, at our dinner this year demonstrates the importance of the Columbia alumni community in Singapore to the government. And clearly, the presence of Dean Quigley demonstrates the importance that Columbia attaches to Singapore and the region."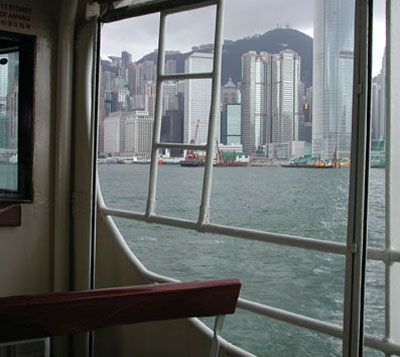 Skyscrapers rise from the shoreline in this view of Hong Kong harbor from the Star Ferry.

PHOTO: KATHRYN WITTNER

Quigley and Shanmugaratnam were the guest speakers at the annual Singapore club dinner, which featured a lively and thought-provoking discussion of the benefits of a general education and the Core Curriculum as compared with a more specialized curriculum. "The data show that our graduates will change careers many times," said Quigley. "Our Core Curriculum is designed to enable them to adapt to different situations by acquiring a basic understanding of many points of view." There appears to be a growing appreciation in East Asia of an education that prepares students for many career changes and one that encourages interdisciplinary approaches to education, which can only help Columbia's status in the region.
These visits also provided an opportunity to discuss ways of increasing contacts between Asian students and Columbia. "We look forward to enhancing the opportunities for exchanges with Columbia," said Michael Kow, Taiwan's deputy foreign minister, at the dinner in Quigley's honor. Many useful suggestions will involve follow-up in the coming year, including internship programs and student exchanges with learning institutes and high schools.
Whether in Seoul, Singapore, Hong Kong or Taiwan, however, it is clear that Columbia is competing not only with its U.S. peers for talented Asian students, but with China, whose dominance is felt throughout the region. This means that Columbia must continue to capitalize on the initiative begun this year by Bollinger's visit to Beijing and promote educational exchanges with the mainland as well as foster promising relationships with Hong Kong and Taiwan.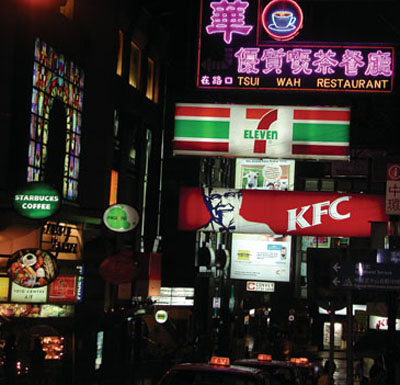 Neon signs for Starbucks, 7 Eleven and KFC are part of the mix in this street scene from Hong Kong's Lan Kwai Fong district.

PHOTO: KATHRYN WITTNER

Our visit gave Quigley the chance to talk to alumni and parents about the College's financial aid needs and specifically our desire to offer aid to international students. Columbia's current financial limits make it possible to offer need-blind admission only to domestic students, except in unusual cases.
The trip also allowed us to promote the student/ alumni connections program that the College has embarked upon as part of the plan to increase participation. "The opportunity to welcome our new students before they arrive on campus, and to discuss their programs and answer their questions, helps demystify the experience awaiting them," said Kathryn Wittner, who participates in these programs for the Student Affairs Office. "By the end of the summer, we will have met with half of the incoming class."
Bringing the Columbia community — alumni, students and parents — together has proven to be a winning formula, in the United States and abroad. "The trip is an important part of our participation plan. We are extending its reach to a global one," said Quigley.
Derek Wittner '65 is dean of alumni affairs and development for the College and deputy vice president of University Development and Alumni Relations.
| | | | | | | |
| --- | --- | --- | --- | --- | --- | --- |
| | | || | | || | | |


CCT Home


This Issue


Previous Issue

CCT Masthead