| | | | | | | |
| --- | --- | --- | --- | --- | --- | --- |
| | | || | | || | | |
OBITUARIES
Walter Wager '44, Devoted Alumnus and Spy Novelist
Walter Wager '44, class president, longtime CCT class correspondent and a devoted alumnus, passed away on July 11 in Manhattan. [more]

1931

Robert E. Kiehl, retired professor, Summit, N.J., on May 22, 2004. Born in New York City, Kiehl lived in Leonia, N.J., before moving to Summit in 1955. He was a professor at the New Jersey Institute of Technology in Newark for 22 years before retiring in 1968. For 10 years, he chaired the school's industrial relations department. Since 1955, Kiehl's main professional interest was opportunities for blacks in engineering. He conducted three national surveys and was a consultant to Bell Laboratories. Kiehl's first study was his doctoral dissertation in 1957, the second was a follow-up in 1962 and the third was conducted in 1970 for the United State Department of Labor. Kiehl earned a master's from Teachers College and earned his doctorate from Rutgers University School of Education. After retiring, he authored Robby Goes to Kindergarten, and in 1979, he published Duffer Golf. Kiehl is survived by his wife, Alice; daughters, Maren Schober and Kristin Brown; five stepchildren; 14 grandchildren and four great-grandchildren.

1937

Lawrence Gussman, retired engineer, Scarsdale, N.Y., on May 28, 2004. Gussman earned a B.S. and M.S. from the Engineering School in 1938 and 1939, respectively, and received the school's Egleston Medal for Distinguished Achievement. He was president, chairman and CEO of Stein Hall from 1953–71, former chairman of the Albert Schweitzer Fellowship and was a member of the American Institute of Chemical Engineers. Gussman authored A Personal Journey: Central African Art from the Lawrence Gussman Collection (Neuberger Museum of Art, 2001); the art is at the Neuberger in Purchase, N.Y. Gussman was predeceased by his wife, Catharine, and is survived by his children, William '64, '68 Business; Margaret McCormack; and John; seven grandchildren; and seven great-grandchildren.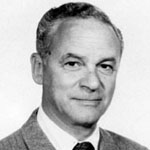 James S.L. Jacobs, physician, Encino, Calif., on March 14, 2004. Jacobs was born in London on November 7, 1916, and moved to New York City with his family in 1930. He received his medical degree from P&S in 1941, interned at Chicago's Michael Reese Hospital and had a number of teaching appointments, including instructor of neuropsychiatry at the University of Wisconsin Medical School and lecturer in post-graduate courses and lecturer in psychiatry at the American College of Physicians. In 1947, Jacobs became chief of the Clifton Springs Sanitarium and Clinic neuropsychiatric division. Two years later, he became chief of the psychiatric section of the Veterans Administration Hospital in Van Nuys, Calif., and in 1951 was named chief of the psychiatric section of the V.A. Hospital in Long Beach, Calif. He also was a psychiatric consultant at Harbor General Hospital and a member and supporter of Sigma Xi, the Scientific Research Society. Jacobs performed clinical research and published many articles on schizophrenia therapy and physiology, electric convulsive therapy, insulin coma therapy, adrenocorticotropic hormone and enzyme inhibitors, thyroid and adrenal function in emotional disorders, lipoid metabolism and adrenocortical function during insulin coma therapy. After leaving the V.A. Hospital, he went into private practice in Sherman Oaks and Encino. Jacobs' hobbies included raising orchids, gem-cutting, goldsmithing, deep-sea fishing and photography. He briefly was a professional photographer while a young man in New York City, and well into his 80s continued to develop and print photographs in his darkroom. One hundred of his photographs of herons, cranes and other waterfowl are part of the Los Angeles Museum of Natural History's permanent ornithology collection. Jacobs is survived by his wife, Marion; and daughters, Leslie and Ann.

1942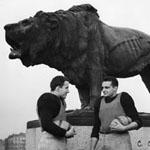 Paul M. Moriarty, retired Marine and attorney, Solana Beach, Calif., on May 20, 2004. Moriarty was born in Worcester, Mass., on January 2, 1920. He attended St. Peter's H.S., where he played football and was selected for the All-City football team. At the College, he earned a B.A. in political science and was co-captain of the football team under legendary coach Lou Little. After the attack on Pearl Harbor, Moriarty enlisted in the Marine Corps with several of his College classmates, including his lifelong friend, Jack Arbolino '42, and Gerald Green '42. Moriarty was commissioned a second lieutenant in 1942 at Quantico, Va., and served in the Second Marine Division in the South Pacific during WWII with the 3rd Battalion, 2nd Marine Regiment. He took part in combat on Tarawa, Saipan and Okinawa and earned the Bronze Star Medal with Combat "V" and Purple Heart on Saipan, where he was wounded as a result of an enemy grenade explosion while serving as a Platoon Leader in Company L. Moriarty also served as 3rd Battalion Plans Officer for the allied invasion of Okinawa. He was promoted to first lieutenant in 1943 and captain in 1945. Following the war, Moriarty served at the Newport Naval Station, R.I., Marine Barracks then commanded the Marine Detachment at the U.S. Embassy, Naval Forces, Europe, Headquarters, London, from 1946–48. While there, he commanded the USMC detachment in the parade dedicating the Roosevelt Memorial in London and was presented to the King and Queen of the United Kingdom and Eleanor Roosevelt at that ceremony. Following two years as an inspector-instructor with the Marine Corps Reserve in New Rochelle, N.Y., Moriarty served with the 1st Battalion, 2nd Marine Regiment as operations officer and executive officer in Camp Lejeune, N.C. (1950–52), was a professor of naval science at Marquette University (1952–54) and was then overseas as executive officer and later commanding officer (CO) of the 2nd Battalion, 4th Marine Regiment in Japan and Oahu, Hawaii. Moriarty was promoted to major in 1951. He completed the Junior School at Quantico in 1956 and taught at the Officer's Basic School for four years as chief of the Tactics Section and Assistant S-3 (operations officer). He was promoted to lieutenant colonel in 1959. Moriarty served as the chief public information officer for the Fleet Marine Force, Pacific at Camp Smith in Hawaii from 1960–63, then joined the First Marine Division, in Camp Pendleton, first as CO, 1st Battalion, 1st Marine Regiment and later as CO, Headquarters Battalion, 1st Marine Division. Promoted to colonel in 1965, Moriarty served as Marine Corps deputy director for information. In 1968, he became public information officer for the III Marine Amphibious Force in Vietnam. In September 1969, he returned to Camp Pendleton as CO of Headquarters Regiment, 1st Marine Division. Moriarty retired in 1973 after 31 years of service. Among his other military awards were the Legion of Merit with Combat "V," Navy Commendation Medal, Vietnam Cross of Gallantry, Presidential Unit Citation and United Nations Service Medal. After retirement, Moriarty passed the California Bar and practiced for 20 years in Carlsbad, Calif., specializing in civil litigation and trusts and estates, he earned his J.D. at The George Washington University in 1959. Moriarty's first wife, Gwyneth Hoffman, died in 1960; his second wife, Barbara Richards, died in 2000. He is survived by a son, Christopher '71; a daughter, Deirdre Moriarty-Witte; and stepchildren, Joan Richards and Robert Richards.
James G. Richards, retired television executive, Middletown, N.J., on April 1, 2004. Born and raised in Wilkes-Barre, Pa., Richards lived in Matawan before moving to Shadow Lake Village, Middletown, where he lived for 25 years. Richards graduated from Coughlin H.S. in 1938, where he participated in football, basketball and track and was a member of the National Honor Society. He attended Columbia on scholarship and later served in the Pacific during WWII as a Naval officer. After the war, he began his long and successful career in television with NBC in New York City, retiring after 41 years as studio operations manager. In retirement, Richards was an active member of the Shadow Lake Village Socializers and an avid golfer. He was predeceased by his wife of 40 years, Lois Edwards Richards, in 1981. He is survived by his sons and daughters-in-law, James G. III and Linda Richards, and Reid and Sylvia Richards; two granddaughters; and three great-grandchildren. Memorial contributions may be made to the N.J. Library for the Blind & Handicapped, PO Box 601, Trenton, NJ 08625-0601, or to Meals on Wheels of Asbury Park, 810 4th Ave., Asbury Park, NJ 07712.

1946

Arthur Snyder, physician, New York City, on March 15, 2004. A lifelong New Yorker, Snyder graduated from Columbia at 18 and received his medical degree from P&S in 1950. An internist and rheumatologist, he practiced medicine for 54 years, most recently as a founding partner of New York Physicians. His primary hospital was NewYork-Presbyterian; he held the academic appointment of assistant clinical professor. Snyder received national attention in the early '50s when, as a young resident on the night shift at Columbia-Presbyterian Hospital, he was awakened and summoned to the phone by a New York Times reporter seeking information on an anonymous patient's precarious medical condition. Unbeknownst to him, the patient was Russian leader Joseph Stalin. Snyder, commenting only on the medical facts, was then quoted on the front page of the next edition of the Times. The headline read, "Dr. A.I. Snyder Predicts Stalin's Death." Snyder served in the Navy during WWII, as well as the Coast Guard. He is survived by his wife of 32 years, Marilyn (Benstock); daughters and sons-in-law, Margaret and Robin Hamilton, and Katherine and Tim Culvahouse; stepchildren, Eric Berkeley, and his wife, Christina, and Nancy Berkeley Bynum, and her husband, Frank; sister, Judith Jaffe; and seven grandchildren.

1947

James E. Lovett, retired professor, Togus, Maine, on June 11, 2003. Born in 1922 in Albany, Lovett received his degree after serving in the Army from 1943–46 and earned an M.A. in English in 1948. He then spent two years at the University of Montpellier on a Fulbright fellowship. In 1959, Lovett moved to Istanbul, where he taught English and literature at Masif Kolej in Moda, then at the Duruggafaka Lisesi in Istanbul. In 1964, Lovett joined the English faculty at Robert College, where he taught until his retirement in 1986. On his return to the U.S., he settled in Friendship, Maine. Among the several volumes of verse published in Istanbul are The Grand Tour; Lovett's Turkish; and, with facing Turkish translation, O Istanbul/Ey Istanbul. A volume of his collected verse was published in the U.S., as well: The Shoemaker's Diamond. Of his prose works, Helen Never Went To Troy, a romance, takes place in 6th century A.D. Sicily of Emperor Justinian's day. Lovett is survived by his wife of 42 years, Carla.

1948

Frederick R. Karl, retired writer and professor, East Hampton, N.Y., on April 30, 2004. A biographer as well as a writer, Karl analyzed the lives of such literary icons as Joseph Conrad, William Faulkner and Franz Kafka. While a doctoral candidate in English and comparative literature at GSAS, where he earned a degree in 1957, Karl negotiated publication rights with the Conrad estate and later co-edited Conrad's correspondence with Laurence Davies. Karl's first book, A Reader's Guide to Great 20th-Century English Novels, covered Conrad's work as well as the writings of D.H. Lawrence, E.M. Forster and Virginia Woolf. He then wrote guides on Conrad's work, C.P. Snow and the British novel in the 18th and 19th centuries before publishing the biography Joseph Conrad: The Three Lives: A Biography. Among Karl's other writings were American Fictions 1940/1980: A Comprehensive History and Critical Evaluation and biographies of Faulkner and Kafka. Karl taught at City College from 1957–82 and was a professor emeritus there and at NYU. He retired in 2000.

1949

Kurt Haller, retired professor, Mansfield, Conn., on May 5, 2004. Born in Vienna, Haller fled Austria in 1938 at the age of 10. He settled in New York City, and after graduating from Stuyvesant H.S. completed his A.B. and received his Ph.D. in theoretical physics from GSAS in 1958. He held a post-doctoral fellowship at Washington University in St. Louis and afterward held a faculty position at NYU. In 1964, Haller joined the University of Connecticut physics department, where he spent the next 40 years. In 1973–74, Haller was a Fulbright-Hays Visiting Professor in Austria at the Institut fur Theoretische Physik, Universitat Graz. In 1978, he was elected a fellow of the American Physical Society, which cited his fundamental work on the consistent quantization of gauge theories. Haller was the principal investigator on a research grant in theoretical elementary particle physics from the U.S. Department of Energy from 1978 on. On the occasion of his 70th birthday, 28 physicists from around the world contributed scientific articles to his festschrift, which was published as three volumes of the physics journal Foundations of Physics. The same year, he became a member of Phi Beta Kappa. Haller served in several administrative capacities in UConn's physics department, including acting head, as well as on numerous university committees before he retired in 2003, at which time he was named a research professor. Haller is survived by his wife, Lottie; and sons, Paul and Geoffrey. Memorial donations may be sent to the University of Connecticut Foundation, 2390 Alumni Dr., Storrs, CT 06269, with a cover note directing the funds to the Endowment for Physics Research and Graduate Education, in honor of Professor Kurt Haller.

1950

Robert B. Hayman, retired naval commander and electricity executive, Tequesta, Fla., on June 23, 2004. Born in Brightwaters, N.Y., Hayman was a resident of Darien, Conn., before moving to Tequesta 10 years ago. During WWII, he was drafted into the Army; he later attended St. Ambrose University in Davenport, Iowa. At the College, Hayman served as battalion commander of NROTC and earned a B.S. in mechanical engineering from the Engineering School in 1951 as well as degrees from MIT, Fordham and Bettis Reactor Engineering School, Pittsburgh. Hayman helped develop the nuclear Navy and retired as a Naval commander after 21 years. He later was an executive at Consolidated Edison of New York for 23 years. At St. Jude Catholic Church in Tequesta, Hayman served as a Eucharistic Minister. He is survived by his wife of 51 years, Marie; children, Robert, George, Edward, Cathy, Anne, Elizabeth, William and John and their spouses; 18 grandchildren; brothers, John, Donald and George; and sister, Sally Kelly. Memorial contributions may be made to Covenant House of Florida, 733 Breakers Ave., Ft. Lauderdale, FL 33304.
George E. Walker, retired communications executive, Elmsford, N.Y., on June 3, 2004. Born on February 24, 1927, in Flushing, Queens, Walker was a WWII veteran and clarinetist in the Army Band. He worked in advertising and at NBC from 1950–70, and from 1970 until his retirement in 1990 was the president of Marketplace Communications. At Columbia, Walker was a music major and active in the band and at WKCR. He was a longstanding member of The Riverside Church. Walker is survived by his wife of 52 years, Helene E.M. Walker; daughters, Emily M. Bracchitta and Laura R. Walker; three grandchildren; and sister, Ruth H. Forsberg.

1959

Peter Hall, retired educator and psychologist, Mission Viejo, Calif., on May 14, 2003. Born in Germany in 1937, Hall was brought to the United States by his parents as an infant, fleeing just before WWII. He was raised in New York City and graduated from Stuyvesant H.S. in 1955. He received his Ph.D. in child and behavioral psychology in 1966 from UCLA. Hall's area of expertise was the study and treatment of learning disabilities and emotional disorders in children and adolescents. For more than 30 years, Hall was a school psychologist, diagnosing children with disabilities, placing them in appropriate programs, counseling their parents and helping design curricula. Later, he specialized in counseling emotionally disturbed teenagers and their families. Hall was well-known as a consultant and as a teacher at the university level, where he shared knowledge and experience with students and other professionals. He retired in 1999 due to illness but continued to teach and serve as a consultant as long as he was able. He is survived by his cousins, Michael Portis and John Portis, and by his longtime companion, Lisa MacGreavy Huggard.

1960

Constantine C. Menges, former national security aide, and think tank fellow, Washington, D.C., on July 11, 2004. Menges, a national security aide for Latin America during the Reagan administration who had a central role in planning the U.S. invasion of Grenada in 1983, focused on the continuing threat of communism via books and articles. Menges was born in Ankara, Turkey, the son of political refugees from Nazi Germany. The Menges family moved to the United States in 1943. Menges earned a B.A. in physics and then a doctorate in political science from GSAS in 1969, where he specialized in Soviet and German affairs. He helped individuals escape East Berlin in 1961, and in 1963, worked in Mississippi as a volunteer for equal voting rights. Before joining the Rand Corp., Menges taught political science at the University of Wisconsin. He entered government service in the late 1970s, first as assistant director for civil rights, then as deputy assistant secretary for education in the Department of Health, Education and Welfare. From 1981–83, Menges was a national intelligence officer for Latin American affairs at the CIA. From 1983–86, he worked for the National Security Council as a special assistant to the president, specializing in Latin America. Deeply involved in White House support for the Nicaraguan contras, Menges argued that an American strategy for combating communism in Latin America should include suppression of right-wing death squads and promotion of land reform. He contended that the invasion of Grenada helped avert a possible nuclear deployment crisis and strengthened President Reagan's hand in deploying intermediate-range missiles to Europe in late 1983. From 1990–2000, Menges was a professor at The George Washington University, where he founded and directed the Program on Transitions to Democracy. He began a project on U.S. relations with Russia and China and the new Russia-China alignment. Menges completed the manuscript for a book, China, the Gathering Threat: The Strategic Challenge of China and Russia. He also authored a memoir, Inside the National Security Council (Touchstone Books, 1989), and several other books. At the time of his death, Menges was a senior fellow at the Hudson Institute, a public policy think tank that he had worked with as a graduate student. Menges' recent work had focused on the threat to the United States of a growing pro-Castro alliance throughout Latin America; state-sponsored terrorism; and China's rise as a superpower. He is survived by his wife of 29 years, Nancy Menges; and a son, Christopher.
Lisa Palladino
Other Deaths Reported
Columbia College Today has learned of the deaths of the following alumni (full obituaries will be published if further information becomes available):
1941: William Braden, retired investment v.p., Lloyd Harbor, N.Y., on May 22, 2004. He is survived by three siblings, two children, two stepchildren and five grandchildren.
1941: Alan J. Englander, New York City, on May 24, 2004. He received a B.S. in chemical engineering from the Engineering School in 1942 and is survived by his wife, Mary; a daughter and son-in-law; and two grandchildren.
1945: Edward L. Donovan, Norwood, Mass., on April 27, 2003.
1950: Adam Rakowski, Oakland, N.J., on June 11, 2003. A star athlete while at the College, Rakowski broke football and baseball records. He is survived by his wife, Marie, and five children.
1955: Martin A. Meyer, West Simsbury, Conn., on May 5, 2004.
1956: Jules K. Roth, retired attorney, New York City, on May 20, 2004. Roth received a degree from the Law School in 1959.
CORRECTIONS
The obituary of Francis Martin Jr. '41 (May) contained a factual error. He was not a judge; rather, that was his father.
The obituary of Leon Quat '26 (July) contained an error and two omissions. He lived in Great Neck, N.Y., not Austerlitz; his wife, Helen (Shapiro), died in 2002; and his daughter, Joanna, died in 1989.
| | | | | | | |
| --- | --- | --- | --- | --- | --- | --- |
| | | || | | || | | |


CCT Home


This Issue


Previous Issue

CCT Masthead