| | | | | | | |
| --- | --- | --- | --- | --- | --- | --- |
| | | || | | || | | |
AROUND THE QUADS
Homecoming to Cap Columbia250 Festivities
By Lisa Palladino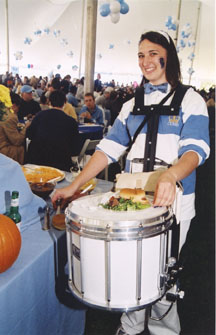 A member of the Cleverest Band in the World finds a convenient place to rest her food.

Join College alumni and other members of the Columbia community this fall as the University wraps up its year-long Columbia250 celebration at Homecoming on Saturday, October 2.
Two weeks earlier, on Saturday, September 18, Columbia fetes its neighbors from Morningside Heights, Harlem and Washington Heights with the C250 Community Festival, an all-day event for kids and adults alike. Informative sessions, fun activities and live jazz are just a few of the activities planned. For the latest information, log onto www.c250.columbia.edu/c250_
events/community_festival/.
On Saturday, October 2, Columbia's football team will seek to settle an old score with Princeton in the annual Homecoming game at Baker Field. The old score? It's the 200th anniversary of the duel between Princetonian Aaron Burr and Columbian Alexander Hamilton (Class of 1778) on the Weehawken Plains.
The pre-game show, with Columbia250 Closing Ceremonies, begins at 1 p.m. Don't miss your chance to participate in the historic Columbia250 Alumni Parade, complete with school banners and flags.
Homecoming would not be the same without the Big Top tent and children's midway carnival — and this year it's bigger than ever. Purchase tickets to the game and the barbecue at www.c250.columbia.edu/closing.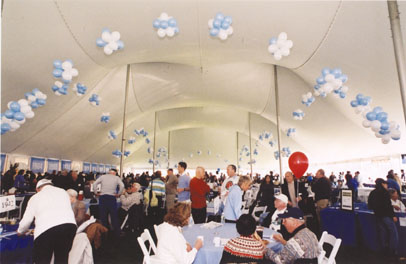 Alumni enjoy the big tent at Homecoming.

Closing festivities also include two C250 symposia. "Re:NEW Frontiers in Creativity" will take place on Thursday evening, September 30, and feature students, professors and alumni of Columbia's Computer Music Center, which has been at the forefront of electronic music and arts since the days of Vladimir Ussachevsky. It will present some of the foremost figures in electronic performance, including incoming Edwin H. Case Professor of Music George Lewis, recipient of the 2003 MacArthur Award.
On Friday, October 1, "The 21st- Century City and Its Values: Urbanism, Toleration, Equality" will take place at Miller Theatre. In three sessions — "Urbanism," "Toleration" and "Equality" — this daylong event will convene many of the world's leading scholars and practitioners in architecture, ethics, law and anthropology.
The symposia websites can be found at www.c250.columbia.edu/new and www.c250.columbia.edu/city.
| | | | | | | |
| --- | --- | --- | --- | --- | --- | --- |
| | | || | | || | | |