Tuesday, February 5, 2019
On February 5, Columbia University President Lee C. Bollinger and Columbia College Dean James J. Valentini welcomed former U.S. Congressman Beto O'Rourke CC'95 back to campus, where he spoke to College students in Low Rotunda. After O'Rourke's opening remarks, where he spoke about his life as a public servant, the event was largely centered around an opportunity for students to ask O'Rourke questions.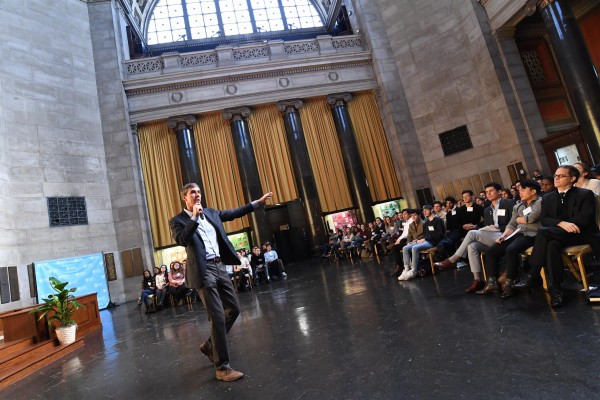 Eileen Barroso/Columbia College Alumni Association
Bollinger introduced O'Rourke — who previously served Texas' 16th Congressional district in the U.S. House of Representatives (2013–2019) and most recently ran for Senator of Texas in 2018 — and related O'Rourke's College journey to that of current students.
"He's here to talk to you in part because he once sat where you are," said Bollinger. "He knows how hard it was for you to get here and how hard you are all working to get the most out of your College experience. He knows how bright and inquisitive and engaged you are."
The students' questions ranged from questions about specific political issues to the origin of O'Rourke's first name. In response to a question about emotions in politics, O'Rourke — who studied English literature at the College and also served as co-captain of the crew team — addressed the impact of the lessons on storytelling that he learned while a student.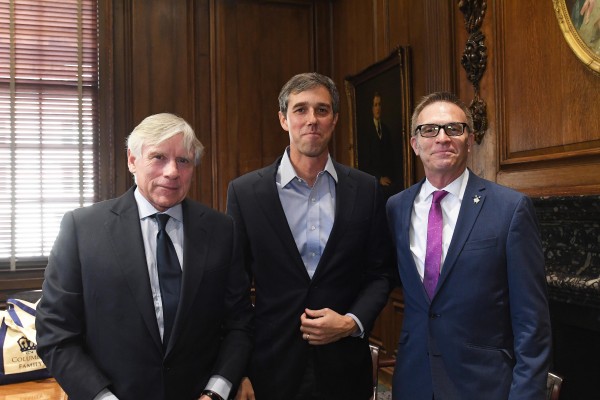 Eileen Barroso/Columbia College Alumni Association
"As an English major, the power of storytelling, the ability to listen to those in the classroom share what their perspective is on that story, what they found exciting and moving, or problematic, in the story that we all just read," said O'Rourke.
O'Rourke went on to address the values of what he learned from his College classmates. "With all due respect to the amazing professors that I had here, I'd argue I learned just as much from my classmates as I did my professors," said O'Rourke.
"Listening to the questions that they asked, the insight that they provided on what we were doing...the power of a story, the ability to emotionally connect with someone. ... But all those facts and figures — the truth, in other words — is not compelling enough obviously...so how can you represent the truth in a more powerful, impactful, emotional way? How do we tell stories about who we are?"
At the conclusion of the event, a long line snaked through the Rotunda as students lined up for an opportunity to take a photo with O'Rourke.
Photos from the event can be viewed on the Columbia College Alumni Association Facebook page.
A livestream of the event is also available.