Bianca Guerrero CC'17, a political science major from Yonkers, N.Y., has been selected for a prestigious 2016 Truman Scholarship.
Truman Scholars receive up to $30,000 for graduate study, as well as priority admission and supplemental financial aid at some premier graduate institutions; leadership training; career and graduate school counseling; and special internship opportunities within the federal government.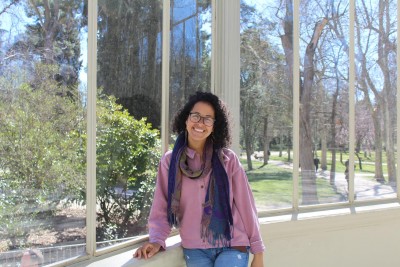 Guerrero, along with 53 other 2016 Truman Scholars, was selected from among 775 candidates nominated by 305 U.S. colleges and universities. The awardees were chosen by 16 independent selection panels on the basis of the finalists' academic success and leadership accomplishments, as well as their likelihood of becoming public service leaders. Guerrero is Columbia's second Truman scholar in the past two years, following last year's winner, Harmann Singh CC'15.
"We are incredibly pleased that Bianca Guerrero has been selected as a Truman Scholar," said Scott Carpenter, associate dean of Global Education and Fellowships. "It is gratifying to see that the Truman Scholarship has rewarded Bianca's commitment to public service with this honor. The scholarship will help her become an agent for change on the important topics that animate her activism."
Guerrero plans to use her Truman Fellowship to pursue a graduate degree in education policy. She hopes to work with colleges, universities and officials on local, state and federal levels to make American institutions of higher education more accessible for low-income and minority students, with the ultimate goal of making sure that poor students of color are not only able to get into the college of their choice but also are able to graduate on time.
"The Truman Scholarship is the biggest honor I have received thus far. Of course, the scholarship money will be critical for financing my graduate studies but what I'm most pumped about is the Foundation's community," said Guerrero. "Truman Scholars feel a responsibility to the world around them — they see problems in the world and are willing to dedicate their careers to fixing them. I cannot wait to meet the other scholars, find out what they're passionate about, and work together to create a better future."
At Columbia College, Guerrero is a Kluge Scholar, a four-year scholarship program in which scholars are chosen for their intellectual pursuits, extracurricular achievements and promise for future growth and exploration. She serves as a mentor in Undergraduate Student Life's Columbia Mentoring Initiative, an inter-generational mentorship program that connects first-year students with returning students. In May 2015 she was selected to be a participant in the Columbia University-Japan Study Tour, a fully-funded 10-day academic visit to Japan that included lectures, sightseeing and a host of cross-cultural experiences; she is currently studying abroad in Barcelona.
Since August 2015, Guerrero has been interning at love.fútbol, a nonprofit organization that partners with and empowers underserved communities to plan, build and manage soccer fields for youth without safe places to play. She has also been a "City in the Community" intern at both the New York City Football Club and the Manchester City Football Club in Manchester, England. The latter was made possible by a 2015 Columbia University European Institute Summer fellowship, granted for research, language study, or internships in Europe.
Along with the support of her mentors, Lorenzo Gibson CC'16; Christia Mercer, the Gustave M. Berne Professor of Philosophy; and Shamus Khan, associate professor of sociology, Guerrero credits the Office of Global Programs and Fellowships with helping her prepare her application for the scholarship.
"The Fellowships Office has been supportive since day one," Guerrero said. "The Office organized and paid for my flight back to New York from Barcelona, where I am studying abroad. Without this financial support, I would have had to rescind my application. Once I got back to the States, Jodi [Zaffino], Dean Carpenter and Dean Michael Pippenger took time out of their schedules for face-to-face mock interviews that helped boost my confidence right before the real thing."
The Truman Scholarship Foundation was established by Congress in 1975 as the federal memorial to President Harry S. Truman. The Foundation awards scholarships for college students to attend graduate school in preparation for careers in government or elsewhere in public service. The activities of the Foundation are supported by a special trust fund in the U.S. Treasury.
Recipients of the Truman Scholarship must be U.S. citizens, have outstanding leadership potential and communication skills, be academically excellent and be committed to careers in government or the non-profit sector.
Guerrero, along with the other 2016 Truman Scholars, will travel to William Jewell College in Liberty, Mo., for a leadership development program on May 24, and will receive her award in a special ceremony at the Truman Library in Independence, Mo., on May 29.