Tuesday, November 27, 2012
The annual Columbia University Treelighting Ceremony will take place from 6 to 7 p.m. on Thursday, Nov. 29, on College Walk, followed by the annual Yule Log Ceremony from 7 to 8:30 p.m., in John Jay Lounge. All Columbia University community members are invited to participate in the Treelighting.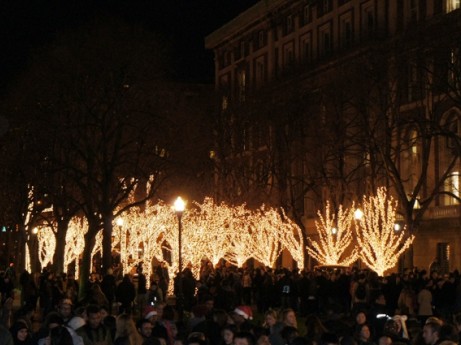 Treelighting Ceremony 2011
The Treelighting Ceremony is an annual celebration of the lighting of the trees on College Walk. The ceremony is held outside and features speeches by the dean of each undergraduate school, performances by some of Columbia's best choral and a cappella groups, and hot beverages and holiday desserts. This year's event will feature performances by Bacchantae, CU Gospel Choir and Notes and Keys, and remarks by Yanyi Luo, CC'13, a representative of the Columbia College Student Council, Sakina Pasha, BC '13, a representative of the Barnard College Student Government Association, Loren Myers, GS '16, a representative of the General Studies Student Concil, and Sheila Misheni, SEAS '14, a representative of the Engineering Student Council.
The Yule Log Ceremony at Columbia University can be traced back to the first decades of Columbia's founding as King's College. Its roots lie in medieval Scandinavia, where lighting a log was a pagan celebration of the warmth and spirit of the season. Each year, the Blue Key Society honors this tradition by processing with the Yule Log through campus and lighting the log in the hearth of John Jay Lounge. 
The event will feature remarks by Leila Khalili and Isabella Langone, Blue Key Society co-presidents, James Valentini, Dean of Columbia College, Avis Hinkson, Dean of Barnard College, Peter Awn, Dean of General Studies, and Donald Goldfarb, Interim Dean of The Fu Foundation School of Engineering and Applied Sciences, and an performance by the a capella group Non-Sequitur. Matt Martinez, CC'12, will read "A Visit from Saint Nicholas." There will also be beverages and treats. Attendance is limited to Columbia undergraduates due to space constraints.