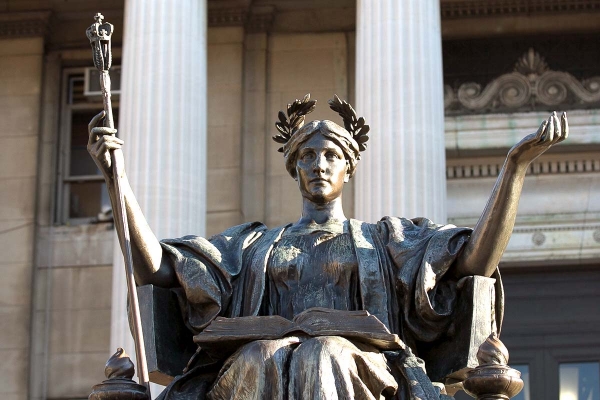 Following another year of extraordinary application numbers, 2,253 students have been offered admission to the Class of 2026 by Columbia College and The Fu Foundation School of Engineering and Applied Science.
Columbia Undergraduate Admissions announced final applicant numbers this week, which reflect a combination of applications received during the Early Decision and Regular Decision cycles. The schools received a total of 60,377 applications, virtually unchanged from last year's historic 51 percent increase to 60,551 applications. This year's admission rate was 3.73 percent.
The admitted class — which received the news via secure online access today at 7 p.m. — hails from all 50 states and 86 countries. Reflecting the growing diversity of Columbia's student body, the number of admitted students who identified as students of color increased by 4 percent over last year; first-generation college students increased by 3 percent; Pell-grant-eligible students increased by 2 percent; and the representation of international students also increased by 2 percent. Over half of admitted students have been offered need-based financial aid, part of Columbia's commitment to meet 100 percent of demonstrated need for all students admitted as first-years, regardless of citizenship.
"My colleagues and I have spent the past few months reviewing tens of thousands of applications, looking at and engaging with activity lists, transcripts, letters from teachers and counselors, and personal statements. Getting to know these talented students has been a privilege — each of them brings their own unique voice and exuberant, questioning spirit to the Class of 2026," said Jessica Marinaccio, dean of Undergraduate Admissions and Financial Aid. "Together they form an incredibly dynamic group, whose backgrounds, viewpoints and interests will enrich the Columbia community on every level."
This was Columbia's second year conducting virtual outreach, which allowed the Admissions team to connect with more than 50,000 prospective students throughout the United States and in 177 countries. Programs included live virtual tours and information sessions, student panels and chats, featured classes with faculty and joint sessions with peer institutions. Among a variety of access initiatives, virtual panels and workshops tailored for prospective students who are first-generation to college or from low-income backgrounds, and open houses about multicultural life at Columbia, were offered. In addition, on-campus tours resumed in the fall.
This was also the second consecutive year where applicants were not required to submit standardized test scores. In recognition of the profound impacts of the Covid-19 pandemic, the test-optional policy has been extended for the next two application cycles, through 2023–24.
Looking ahead, these admitted students will have until Monday, May 2, to respond to their offer of admission. An updated profile showing academic and demographic statistics for the enrolling Class of 2026 will be available at the end of the summer.
"Throughout April, we'll be offering both in-person and virtual events for our admitted students and their families," Marinaccio said. "We celebrate their achievements and look forward to helping them understand where Columbia Blue might take them and discover if, as we believe, this is the right place for them.
"We also recognize that not every applicant to Columbia will be receiving happy news from us," Marinaccio said. "We are grateful for their interest and wish them success in the future. Today we applaud all students who are one step closer to their goal of attaining a college education."