With a dramatic flourish, the clouds parted to reveal the sun as members of the Columbia College Class of 2018 entered the tents on South Lawn for their Class Day ceremony on May 15.
More than 1,200 students from the College took part in the ceremony, celebrating their accomplishments with family and friends from across the globe, as well as faculty and alumni from 1954 to 2017, who returned to campus to process in the annual Alumni Parade of Classes.
Academy Award-winning producer Dede Gardner CC'90 was Class Day speaker. Prior to the ceremony, Gardner emailed the graduating class and asked them to share their greatest fears. In her speech, she read many of these fears and encouraged the class to embrace their own. "You must honor and utter and behold that which you fear," she said.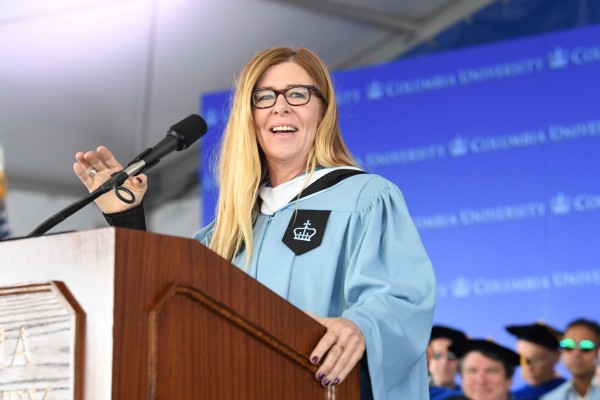 Photo: Eileen Barroso/Columbia College
Gardner currently serves on the Columbia College Board of Visitors, and is the first female producer to win two Academy Awards in the Best Picture category, one in 2013 for "12 Years a Slave" and another in 2017 for "Moonlight." She received a 2012 John Jay Award for distinguished professional achievement.
"Of all the stories, your story is your legacy, no matter when or how or if it gets told," Gardner said. "But it's honest articulation is on you."
Addressing the Class of 2018, Dean James J. Valentini highlighted "My Columbia College Journey," a framework for the Columbia College education that was introduced to students earlier this spring, and reminded students that their journey does not end with graduation.
"Though you are graduating, it is still your Columbia College journey, because Columbia College is now a fundamental part of you, and your experience here will forever influence your path," he said.
Columbia College Student Council Senior Class President John Avendano CC'18 spoke about discovering his community at Columbia.
Photo: Eileen Barroso/Columbia College
"What I wasn't expecting was that our passionate drive to be our best would actually bring us together,"
Avendano
said. "That will forever stand as the biggest lesson I learned here at Columbia."
Sam Goldberg CC'18, the Class of 2018's valedictorian, emphasized the lessons she will take with her from Columbia College into post-graduate life.
"Those treasured world-building conversations I have shared with my peers at Columbia have taught me that this work requires a deep commitment to listening, giving space, holding yourself and your communities accountable, trusting others' experiences — especially those to which you cannot relate — and being gentle with yourself and those that you love," Goldberg said.
The ceremony also included a presentation of awards by Lisa Hollibaugh, dean of Academic Planning and Administration, and Michael Behringer CC'89, president of the Columbia College Alumni Association, as well as a recognition of the winners of the King's Crown Leadership Awards given this spring by Cristen Kromm, dean of Undergraduate Student Life. The morning concluded with remarks by University President Lee C. Bollinger.
If you were unable to attend Class Day, the ceremony's live stream is available via Facebook.
Photo: Eileen Barroso/Columbia College
On May 16, graduates from the College joined the Class of 2018 from schools across the University as they and their families gathered on campus, from Low Library to Butler Library, for University Commencement, a ceremony dating back to 1758 in which students degrees are official conferred by the University president.
The following alumni were recognized at University Commencement: Shazi Visram CC'99, BUS'04, who received the University Medal for Excellence; and John C. Connell CC'76; James P. Gerkis CC'80, LAW'83; Teresa Saputo-Crerend CC'87, BUS'92; and Michael J. Schmidtberger CC'82, LAW'85, who were Alumni Medalists.
Can't join us for Commencement? Watch the livestream.
Some facts about the College Class of 2018:
represents 49 U.S. states

represents 58 countries

16.7 percent of graduates are from the first generation in their family to graduate from college

top five majors are political science, psychology, economics, history and English