Edward W. "Ted" Tayler, the Lionel Trilling Professor in the Humanities Emeritus and special lecturer in English and comparative literature, passed away on April 23. He was 87.
A Shakespeare and Milton scholar, Tayler — who specialized in poetry and prose of the 16th and 17th centuries — began teaching at Columbia in 1960 after completing a B.A. from Amherst College and a Ph.D. in English from Stanford University.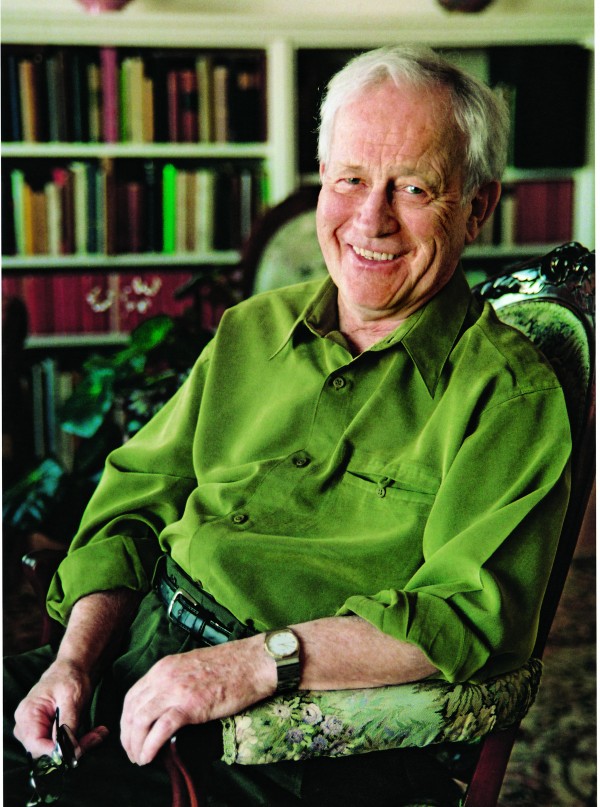 Photo credit: Eileen Barroso
While at Columbia, Tayler developed "Logic and Rhetoric," the predecessor to the Core Curriculum's "University Writing" course that is required of all Columbia College students. For his work, he received a Distinguished Service to the Core Curriculum Award in 1998.
"In creating Logic and Rhetoric, Ted Tayler was trying to get away from the cookie-cutter and formulaic writing, which ultimately shuts down thinking," Sandra Pierson Prior, head of the Logic and Rhetoric/Composition program from 1982 to 2002, said. "Logic and Rhetoric was designed to develop analytical thinking, so students could learn to approach any intellectual problem and deal with it logically."
Tayler, who was born in Berlin, Germany and grew up in Westfield, N.J., was known not only for his scholarship but also for his teaching, influencing countless students, including Tony Kushner CC'78, the playwright best known for his Pulitzer Prize-winning play Angels in America: A Gay Fantasia on National Themes.
"When you're 21 years old you have a capacity to be inflamed by ideas. Edward Tayler's Shakespeare class — his whole approach — made me want to be a playwright," Kushner told Columbia Magazine in 2003. "I remember leaving a lecture on Richard II and Twelfth Night, and I thought I was going to faint, I was so overwhelmed by the experience — it made the world look different. Tayler had his famous lecture style, a cigarette hanging out of his mouth — this small guy grumbling his way through, in a great performing style."
Tayler was also featured prominently in The New York Times' bestseller GREAT BOOKS: My Adventures with Homer, Rousseau, Woolf, and Other Indestructible Writers of the Western World, a book by David Denby CC'65, JRN'66, a film critic for The New Yorker. Denby, who studied "seventeenth-century Metaphysical poetry" with Tayler in 1962 while a student in the College, returned to Columbia 30 years later to retake Literature Humanities with Tayler.
Denby wrote in a 2013 edition of Columbia College Today (CCT): "...He [Tayler] was obviously brilliant, but he liked to jump around, keep students off balance, hint and retreat; I learned a few things about Donne and Marvell, and left the class with a sigh of relief. In the interim, he had become famous as a teacher and was now the sonorously titled Lionel Trilling Professor in the Humanities — the moniker was derived from Columbia's most famous English literature professor, a great figure when I was there in the early sixties."
Tayler published several books during his lifetime, including Nature and Art in Renaissance Literature (1964); Literary Criticism of Seventeenth-Century England (1967); Milton's Poetry (1979); and Donne's Idea of a Woman (1991). Highly regarded in his field, Tayler was honored with a Guggenheim Fellowship, two National Endowment for the Humanities (NEH)-Huntington grants and was named an "Honored Scholar" by the Milton Society in 1989.
Tayler received the Mark Van Doren Award for Teaching, which is awarded by the Academic Awards Committee of Columbia College in recognition of a faculty member's humanity, devotion to truth and inspiring leadership (1986); the University's Presidential Award for Outstanding Teaching (1996); and the Great Teacher Award from the Society of Columbia Graduates (1985).
Upon winning the University's Presidential Award for Outstanding Teaching in 1996, the following citation was delivered about Tayler: "An educational innovator, revered classroom teacher, and devoted mentor to both undergraduate and graduate students. Your students call you magical, learned and passionate, tough yet tender, witty, humane, wholly unique. Many report that you have changed their lives."
Tayler is survived by his wife, Christina Lee Moustakis; children William, David and Letta Melville BC'80, from a previous marriage to Stanley Craig Tayler; children Edward and Jesse Watt from a previous marriage to Irene Smith Tayler; and three grandchildren.
Read more about Ted Tayler in the Spring 2004 edition of Columbia College Today.