Felix Qiaochu Jin CC'16, a biochemistry and physics major from Rochester, N.Y., and Zoey Poll CC'16, an urban studies major from Los Angeles, have been named valedictorian and salutatorian, the top academic honors for the Columbia College Class of 2016.  
The awardees, who are both Junior Phi Beta Kappa, were selected by the faculty Committee on Honors, Awards and Prizes based on the strength, breadth, depth and rigor of their academic achievements, as well as on evidence of their intellectual promise, character and achievement outside the classroom.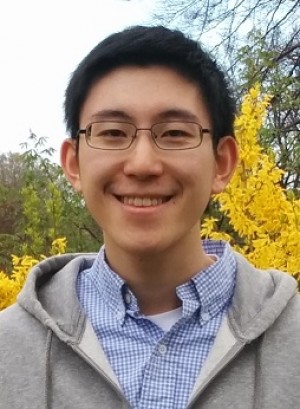 Felix Jin CC'16, Columbia College valedictorian
Jin, who has excelled in his coursework and research, was described in his nomination for valedictorian as "spectacular," "truly impressive" and "astonishingly gifted," by faculty members in the Departments of Biological Sciences and Physics.
He has worked in the biological sciences lab of University Professor and Nobel Prize-winner Martin Chalfie throughout his time at the College, first as part of the Summer Undergraduate Research Program (SURF) and then during the academic year. Chalfie, who takes on only a few undergraduates in his lab each year, said that during Jin's first experiment, he produced publishable and important data that led to additional experiments. Chalfie says that Jin's work since then has been equally as impressive.
Chalfie said Jin works at the level of a post-doc, sharing great questions and thoughtful suggestions at lab meetings, actively thinking about all aspects of his projects, designing effective experiments, and developing strong hypotheses to explain the results. He has also done research with Professor of Biological Sciences Ron Prywes.
"Felix Qiaochu Jin is an astonishingly gifted and intelligent student, probably the best undergraduate that I have ever had in my lab," Chalfie said. "[He] is confident, fearless, industrious and amazingly able…. He will be a star in whatever program is fortunate enough to have him."
Jin's physics professors also said that he was one the best students they had taught at Columbia. Professor of Physics Frederik Denef, Jin's instructor for a Thermal and Statistical Physics class, said Jin's performance was "off the charts" and that "Felix was in a category all by himself, another order of magnitude better than anyone else."
"Felix Qiaochu Jin is a spectacular, once-in-a-decade student, and I am delighted to support him with the physics department's highest possible recommendation for College valedictorian," said Jeremy Dodd, senior lecturer in the discipline of physics and the physics director of undergraduate studies. "Felix is perhaps the most accomplished, interesting and promising student I have advised over the past eight years, and his primary interests are not even in physics!"
Jin, a recipient of the College's James Patrick Shenton Scholarship, is also president of the Society of Physics Students and an accomplished pianist. Before coming to Columbia, he received a pre-collegiate diploma in piano from the Eastman School of Music at the University of Rochester.
"I am extremely honored to be valedictorian this year," Jin said. "At Columbia, I've had the opportunity to learn from outstanding faculty and do research with great mentors. I hope that being named valedictorian reflects both my broad academic pursuits and my commitment to specific scientific disciplines."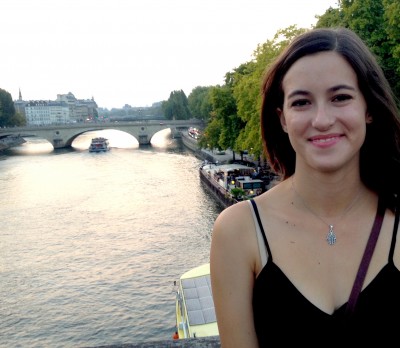 Zoey Poll CC'16, Columbia College salutatorian
Poll, who as salutatorian will speak at Columbia College Class Day, was also described in her nomination by faculty members as a "brilliant student" who stood out for her analytic strengths, her creative ability, her "incisive comments" during class discussions and her "intelligently-conceived, meticulously-researched, and cogently-argued research papers."
"In almost 30 years of teaching at Columbia there has rarely been anyone of her intelligence, generosity with her fellow students and enormous potential," said Gwendolyn Wright, professor of architecture, planning and preservation. "I am deeply impressed by her ability to move between deep passions and cogent analyses, to find commonalities and particularities between various groups and settings, to explore nuances with empathy."
Kathryn Yatrakis, dean of academic affairs for Columbia College and the Columbia College urban studies advisor, said Poll is "that rare student who is led by a vibrant and strong intellectual compass and it is that compass that guides all of her work." She described Poll as "unafraid to follow her academic curiosity no matter wherever it may lead."
Yatrakis said Poll decided to major in urban studies because she was "determined to examine, analyze and fully understand this emerging world from any and every intellectual perspective available to her." Because of her plans to study abroad, Poll completed the required junior-level Urban Studies Colloquium on Contemporary Urban Issues as a sophomore, excelling in the course, and her final paper was one of the best case studies that Yatrakis had received in many years.
Poll spent her junior year studying in Paris, at Reid Hall and at Université de Paris 1 Panthéon-Sorbonne, and was later selected from more than 500 applicants to participate in the Columbia University-Japan Study Tour as one of 50 undergraduate student representatives of Columbia. She received the Global Policy Initiative Fellowship for her senior thesis research on mosque construction in Western Europe, and her adviser, Sevin Yildiz, term assistant professor in urban studies, said Poll's thesis goes "beyond the expectations and requirements of an undergraduate project."
"In terms of the quality and level of thesis work, Zoey is, without hesitation, the best senior thesis student whom I [have] taught [in the] Urban Studies Program," Yildiz said. "She is a highly critical and intellectual thinker who is open to constructive criticism, feedback and guidance. She is also a very respectful, warm student and a supportive peer. I give her my highest recommendations."
After graduation, Poll, who is interested in urban studies, history, architecture and migration studies, will be pursuing a MSc in Refugee and Forced Migration studies at Oxford as the recipient of Columbia College's Jarvis and Constance Doctorow Fellowship, which provides a graduating senior with a funded year of study at Oxford.
Poll is passionate about painting and photography, and won the Office of Global Program's Study Abroad Photography Competition in Fall 2015. She has also worked as a French tutor through Columbia's Academic Resource Center.
"I am so honored and excited," Poll said. "I'm so grateful for all the inspiring professors I've had at Columbia and feel all the more indebted to them for their generosity with their time and their belief in my work."