Tuesday, November 22, 2011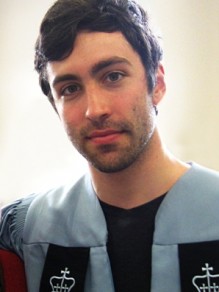 Alex Frouman, CC '12 Alex Frouman, CC '12, has received a 2012 Marshall Scholarship, which will finance him to study for up to three years towards a graduate degree in the United Kingdom. Frouman, a member of the University Senate and resident advisor, hopes to study economics at Oxford. The scholarship commission has not yet confirmed where Frouman will study in Britain.
The Marshall Scholars program, founded in 1953 and named in honor of U.S. Secretary of State George C. Marshall, aims to strengthen the relationship between the United States and the United Kingdom. Each year, up to 40 U.S. college graduates are selected for the scholarship. The goal of program is to help future American leaders gain an understanding and appreciation for contemporary Britain that will enable them to serve as cultural ambassadors to the United Kingdom for the remainder of their lives.
Frouman, who is majoring in math and concentrating in economics, said he hopes to further the mission of the Marshall program through researching economic policy and financial regulation. He believes that countries like the United States and the United Kingdom need to work together on financial reform because of multinational corporations and international competition.
"Countries like the US and the UK need to work together on regulating financial markets," he said. "I really thought my goals and my research on financial regulation would be an opportunity to strengthen the bonds between the two countries and an opportunity for the two countries to work together."
Frouman, who was born in New York and grew up in Westchester, has been a member of the Columbia University Senate for three years and is currently co-chair of the senate's Student Affairs Committee. He has also been involved with the Columbia Political Union and the Columbia Political Review and has served as a resident assistant and a tour guide for the Undergraduate Recruitment Committee.
He said his experience working with faculty, administrators, staff, and students on the Senate, the University's governance body, contributed to his interest in policy. His interest in financial regulation grew out of working with faculty and doing research in the economics department.
Frouman spent last spring working with a political science professor on U.S. financial regulation and is currently working with an economics professor on a research project on social security policy. He also worked as a summer analyst at Goldman Sachs and is a teaching assistant for an intermediate microeconomics course. He frequently attends lectures on campus related to the field.
"There's a lot of opportunity at Columbia to get exposure to these issues and hear from the leaders of the field," he said. "Everything here has been an inspiration for me to want to go into research and tackle these issues."
Frouman said when he started thinking about what to do after college, his advisor recommended that he look into programs like the Marshall Scholarship. When he learned that had been selected for the scholarship, it was one of the happiest moments of his life.
"I feel humbled and honored to receive the award," Frouman said. "My fellow students are a constant source of support and inspiration."
Frouman said hopes to earn an M.Phil in economics through the Marshall program and continue on to earn a D.Phil or a Ph.D. Eventually, he said, he would like to work in government or do research and teach at a University.
James J. Valentini, Interim Dean of Columbia College and Vice President for Undergraduate Education, said he is very proud of Frouman, whom he knows through the University Senate.
"He is richly deserving of a Marshall," Valentini said.